If you are tired of traditional masturbation sessions, you can brighten your experience by using a Fleshlight. Such a device allows experiencing a completely new array of sensations and is often used to train stamina and durability. This is definitely a thing you should try at least once in your life (though many users have fun with sleeves on a regular basis). However, if you have a shorter-than-average penis, finding a suitable sleeve might be challenging.

30 Seconds Summary
I am excited to announce my updated TOP 3 picks for September 2023:
Tight and rich in textures, covered in ribs and bumps, warmed, with pussy and butt entrance – these toys can convey the best climaxes in your life. It's time to discover something that appeals to you! Our ultimate guide is here to help you out.
Top 23 Fleshlights For Small Penis
The market offers an enormous variety of Fleshlights, but not all of them are equally suitable for guys with a small penis. This lineup includes the best 23 models that provide enough penetration and tightness for shafts of any size and girth.
1. Flight Pilot – Perfect Fit and Grip for Small and Medium Guys
A lot of users admit that this model vaguely reminds them of the famous Stoya Destroya sleeve. If you have ever had a chance to use this model, you realize what Flight Pilot may feel like. This is a really compact 8-inch long sleeve that would be perfect for normal and smaller-than-average penises. Even if it seems to be small don't overestimate it – this thing is immensely powerful. Flight Pilot will deliver you to the seventh heaven because its structures feel like paradise!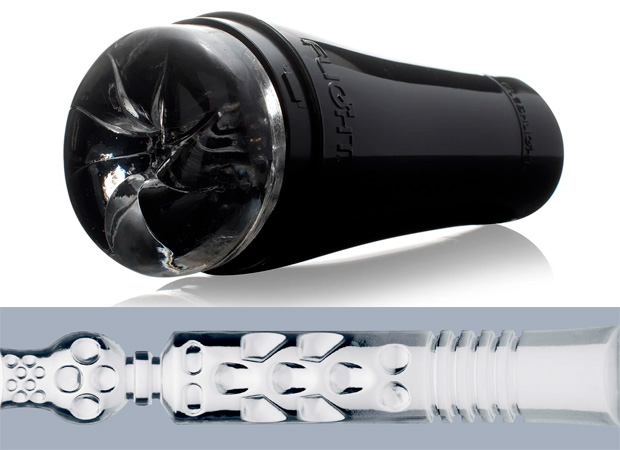 (more photos are available)
Being made of Superskin material, this Fleshlight feels very smooth and delicate, so theoretically, it can suit all sizes of cocks. Generally, this model is a great compromise between size and sensations, and you wouldn't even mind the lack of an extra two inches if your penis is rather small.
When it comes to the internal structure of the model, many users are raving about the combinations of chambers. It has not an extremely tight primary passage, so penetrating it won't be a problem. The textures chamber with fangs and bumps is exceptionally joyful. The subsequent entry grasps the penis not firmly and then provides moderate stimulation thanks to ribs. Since it's a quite ergonomic and tight thing, the experience is more intense and lifelike than in bigger models, sometimes even closer to anal sex. This thing is without a doubt not for a long-haul solo: its fantastic inner design makes climaxes quick and unavoidable even if your sensitivity is on a low side.
What Flight Pilot has to offer?
Intense textures and tight grip;
Compact and suitable for traveling;
Easy to clean and dry;
Great variety of structures.
2. Riley Reid (Quickshot) – Double Entrance For Varied Experiences
If you need a small and incredibly intense Fleshlight, the Riley Reid Quickshot model is nothing to sneeze at. It's even smaller than Flight Pilot sleeve, but its super-tight texture and double entrance will provide you with exceptional delight. The Fleshlight can be utilized for solo masturbation or couple foreplay – feel free to experiment and enjoy diverse experiences.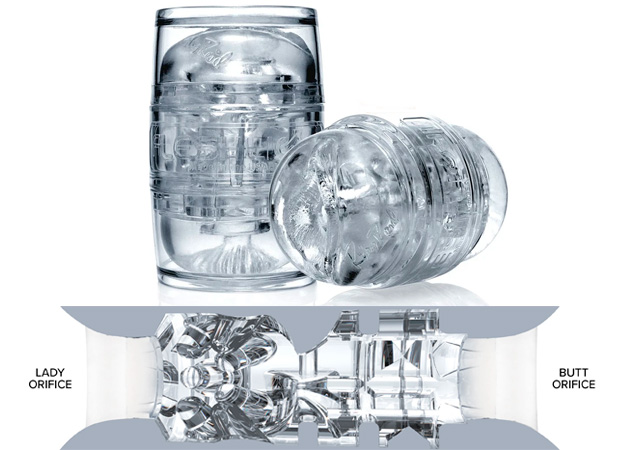 (more photos are available)
Unlike other similar Quickshots, this one has a progressively strong effect because of tighter passage and long fangs. The model is also visually appealing: you can boost your appetite for sex while watching your shaft penetrating the transparent device. The sleeve is also easy to maintain: you can wash and dry it in a jiffy.
The inward structure comprises a chamber with fangs that knead the penis head strongly, and the second ribbed chamber distributes the pressure more evenly allowing you to focus on the masturbation technique. The last one gives a tight hold but soothes pressure. Two entrances additionally have an alternate degree of grasps – guys with a smaller shaft prefer the butt orifice.
Advantages of Quickshot:
Can be carried discreetly;
Easy to clean and dry
Features two entrances (vagina, butt);
Non-costly;
Transparent.
3. Heavenly (Jessica Drake) – All-in-one Tight Sleeve
As you might have guessed our Top-3 Fleshlight has been named after one of the most popular porn stars. Jessica Drake has been in the erotic entertainment industry since 1999 and got numerous awards for the best intimate moments. If you want to level up your experience and encounter equivalent to sex with this superstar? At that point, you should attempt Heavenly (Jessica Drake) – this is a tight Fleshlight with a carefully designed internal structure. It will make you experience plenty of sensations while distributing the pressure and tension over the whole penis.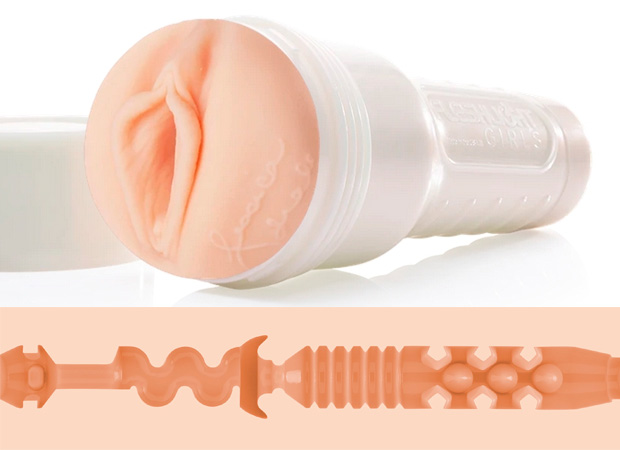 (more photos are available)
Heavenly makes users feel embraced with joy. To begin with, you enter the hole molded after Jessica Drake's labia. Inside, there is a chamber with little dabs that stimulate the head of the shaft and a smaller passage – it ensures a tight hold from the tip to the balls as you push ahead. The second wavy area discharges the tension but stimulates upper and lower penis sides as you move forward. The following purported 'lotus hub' feels to some degree like a boundary and compensates for a phenomenal vibe once you reach it. If you push harder and manage to reach the final passage, the fantastic finish with rounded dots will squeeze the last grasps of joy out of you.
Advantages of Heavenly:
You don't have to be 100% hard to enter the sleeve;
Optimal snugness;
Variety of surfaces that penetrate the whole penis;
Normal length.
4. Vantage (Quickshot) – Delicate and Long-Lasting
Ultra-compact and ultra-powerful, Quickshot Vantage is a perfect pick for traveling. Even though it's not half as large as a traditional Fleshlight, it ensures incredible incitement and would be the thing for a speedy performance or warm-up before intercourse with your partner. Since there are two entrances – vaginal and butt – the sleeve is anything but difficult to clean. Also, the model features tops for safe and hygienic storage.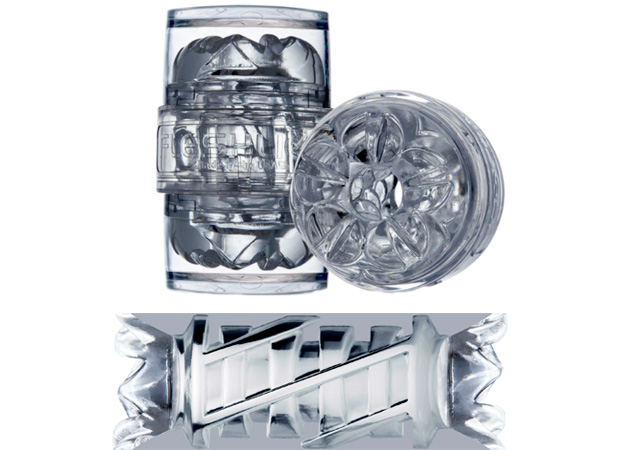 (more photos are available)
Judging by users' feedback, this gimmick provides delicate, smooth, and yet mind-blowing sensations – you can anticipate a steady and smooth climax. Vantage is as good as a real woman: it's quite delicate and won't prompt overstimulation. Yet, as you move further, and it starts stroking the whole shaft, each diagonal rib makes your erection escalate. Once you decide to release yourself and overcome this sweet unbearable sexual tension, you will be embraced by a mellow orgasm.
Pros:
The most compact sleeve in Fleshlight assortment;
Average snugness and an exceptional structure;
Non-costly.
Cons:
Lacks power and the suction of a conventional sleeve;
Suitable for long-lasting masturbation – it is not for a speedy play.
5. GO Torque
Looking rather like a sophisticated gadget, this sleeve is here to deliver a blast of exceptional sexual emotions. With its 6.5″ insertable length, it would be suitable for men with a small penis. This is one of the sleeves that makes you finish all of a sudden – while investigating its tight passages with an astounding number of surfaces, you won't notice the orgasmic wave coming.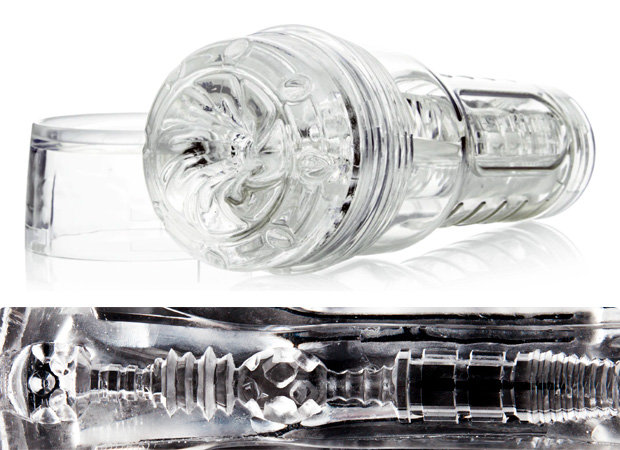 (more photos are available)
Beginning with a tight entry, the sleeve gets you into the universe of delight. At the point when you advance, you will be rubbed by various rings and fangs – it's never possible to predict what comes next! Even though this model doesn't boast much length, this little thing has a rich inner world that you'll definitely enjoy discovering. Try it in bed, in the shower, with your partner, with a mount – the sleeve was created for experimenting without limits.
Pros:
Compact & discreet;
Various surfaces for different sensations;
Optimal cost.
Cons:
Might be tight for girthy guys;
Hard to clean and dry;
Experience is far from lifelike.
6. Flight Aviator
Smooth and efficiently molded, Flight Aviator is an extraordinary model to help your stamina. With its amazingly tight grip and strong massaging texture, it's a perfect addition to your assortment of sleeves – the one that can be taken on a trip without problems. The model is sufficiently tight to satisfy guys with small shafts, and you don't even have to penetrate the entire passage. With Flight Aviator, you will get high reaching orgasms out of this world.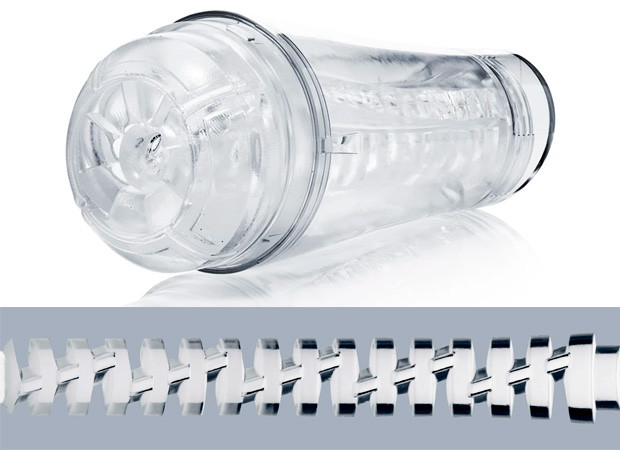 (more photos are available)
Despite the fact that its internal structure isn't varying, it ensures a bigger range of sensations than you anticipate. Users claim that this model would be great for a brisk masturbation session. The intensity is conditioned by the tightness rather than the ribbed structure. As you see on the image, the sleeve is narrow and ribbed, so small guys will find it intense enough, but experienced users might lack the variety of textures. Note that this thing is pretty noisy as the suction is on the high side – be prepared to use the sleeve alone.
Pros:
Non-costly;
Can be stored and carried discreetly;
Not difficult to clean, dries rapidly;
With its 6-inch insertable length, it's a perfect pick for guys with a little penis.
Cons:
The structure is mostly homogenous consisting of ribs only;
Feels too tight for clients with a thick dick;
The design is not lifelike (including orifice).
7. Fleshlight Ice (Lady) – Skin-crawling experience
Although this model looks like icicle, it will definitely melt your heart and soul Being one of rare 100% transparent Fleshlights in the brand's assortment, this model is here for you to enjoy watching your penis skimming through the ice of delight. Skin-creeping and toe-flipping experience is ensured: just look at the inward surfaces! With its 8.5″ insertable length, this Fleshlight created to massage your shaft full-blast from head to the balls.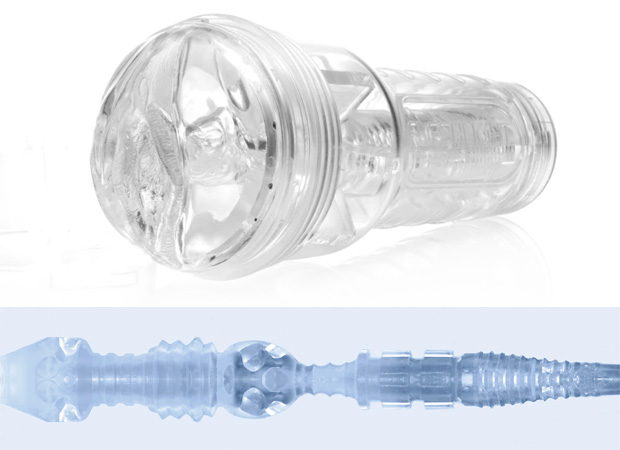 (more photos are available)
This thing is cool both in design and the way it feels. The entire sleeve is very narrow and tight: it begins with a truly spacious passageway so it feels not too intense at the beginning – but then comes a surprise. A tight ribbed section follows next – every inch of it sets you up to encounter a staggering impression of fangs prodding each spot of your substance. Harness all your patience because this sleeve is too awesome to resist orgasms in the first minutes of your solo sessions.
Pros:
Suitable for men with small shafts;
Sleek and stylish design with 100% transparency;
Great sensations even for the most experienced users.
Cons:
Might be very tight for beginners and girthy men;
Not useful for stamina boost – the stimulation is too intense for it;
Not lifelike.
8. Thrust – Perfect blowjob simulation
The model looks like a piece of ice but feels way too hot! This sleeve is cooler than any woman you tried: The Turbo Thrust model was intended to simulate oral sex. It can perform the massage of the entire shaft – this is what many users are longing for. Whichever sensation you like – profound throating, tip incitement with a tongue, or intense licking – the Turbo model can provide you with all of that!.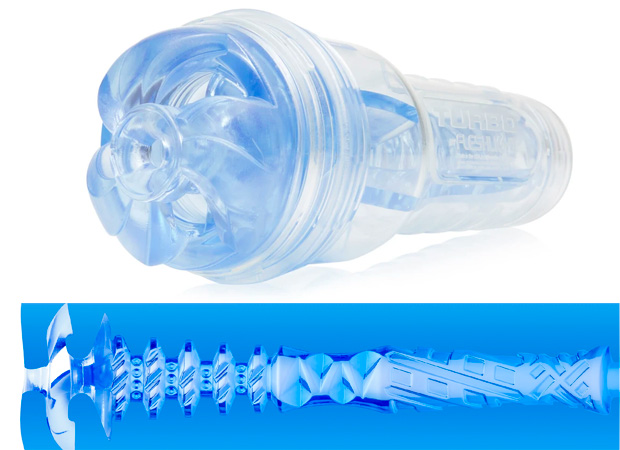 (more photos are available)
With its 8.5″ insertable length, Turbo causes satisfying sensual caress feelings. The transparent blue material will let you see the marvels going on inside the passage. It begins with a non-anatomical hole that resembles a butt opening. Three passages allow you to appreciate all types of oral delight: tongue, lips, and throat. The internal surface is generally ribbed, and the sleeve is tight – such a device is certainly not for the faint-hearted! Even if you have a small and non-girthy shaft, this thing won't leave you untouched.
Pros:
Simulates all types of oral sex;
Tight grasp for great sensations;
Suitable for small and short penises.
Cons:
Hard to clean;
Not appropriate for men with a high sensitivity level.
9. Mini-Lotus – Your first guide to the world of sleeves
You're new to Fleshlights? Let Mini Lotus model be your first love: in spite of the fact that its internal surface isn't varying, this sleeve will caress your shaft intensely for ultimate orgasmic joy. Mini Lotus is ideal for getting introduced with such type of masturbation: it allows understanding how sleeves work, and how a penis feels inside them. Having a 9-inch insertable length, this model is appropriate for guys with practically any penis size, so even if you have a small shaft. The degree of friction and tightness is just right for both quick solo sessions and long-haul masturbation.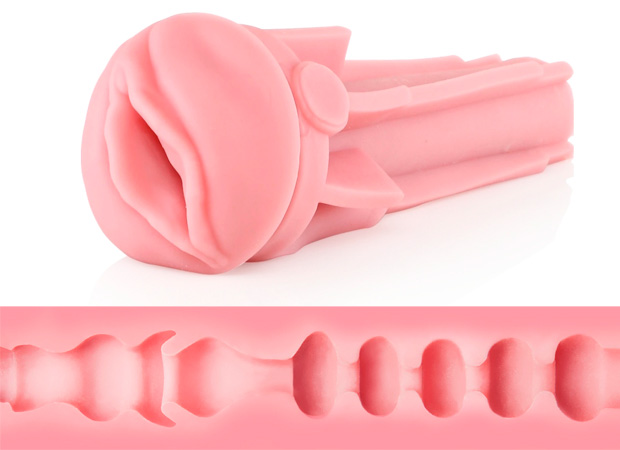 (more photos are available)
Smaller than average Lotus welcomes you with an appetizing pink orifice, and its first chambers appear to be extensive enough. Yet, when you begin propelling inch by inch, you get amazed by perpetual narrow entries – they take a pleasant grip on the head and shaft. The sweet tension will embrace the entire member from the tip to the balls. If you push strongly enough, you will reach the last Lotus chamber that embraces the head and stimulates it greatly.
Pros:
Suitable for members of different sizes;
Amazing pick for the first-time sleeve users;
Fairly easy to clean thanks to the absence of small inner details;
Pretty lifelike orifice.
Cons:
The inner texture isn't diverse, so it's not suitable for seasoned users;
Might be tight for novices, however appropriate for improving stamina;
Bulky.
10. Shameless (Brandi Love) BUTT – Unusual anal-like sensations
If you have ever watched porn movies with Brandi Love, a genuine MILF queen, you know for sure that the Fleshlight molded after her butthole has a mind-boggling inward surface. First, the sleeve greets your shaft with a quite tight specked section, yet one you continue further, you encounter much more stunning sensations. It makes you need to push further but its force is entirely tolerable. Think it's too big for your penis? Don't worry – you will feel a steady grip all the way long.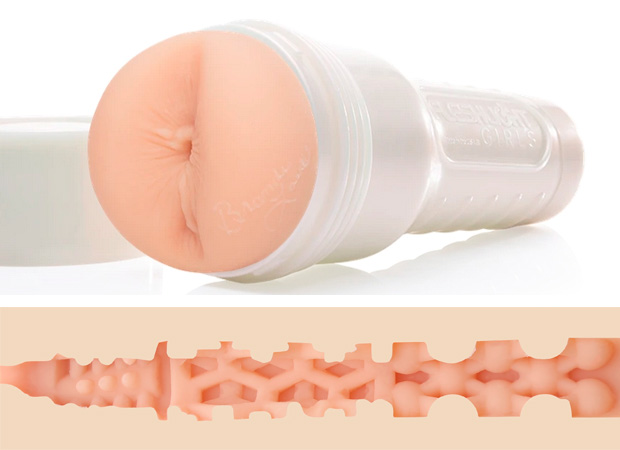 (more photos are available)
As you move through the sleeve, your sensations become more intense, sweet and euphoric: users particularly like the last chamber with enormous knocks that rub head enjoyably. Thanks to the variating surfaces, you can switch between the sensations. In spite of the fact that it feels neither like vagina nor like butt, the general experience is above average.
Pros:
Different surfaces for diverse sensations;
The ideal grip and extraordinary experience;
Butt entrance is good for guys with small shafts.
Cons:
Hard to clean;
For a few users, the gadget comes up short on the authenticity of sensations.
11. Tasty (Elsa Jean) – Ultimate solo experience
Elsa Jean, a sex bomb of the porn industry is a petite blonde who showed up on the screens in 2015 and turned out to be exceptionally popular thanks to shooting in more than 480 movies! If you want to get closer to the star, check out her exclusive Fleshlight design: she collaborated with Fleshlight to create the Tasty model. With the magnificent orifice molded after Elsa Jean's pussy and a mind-boggling internal structure, it will make you crave for more!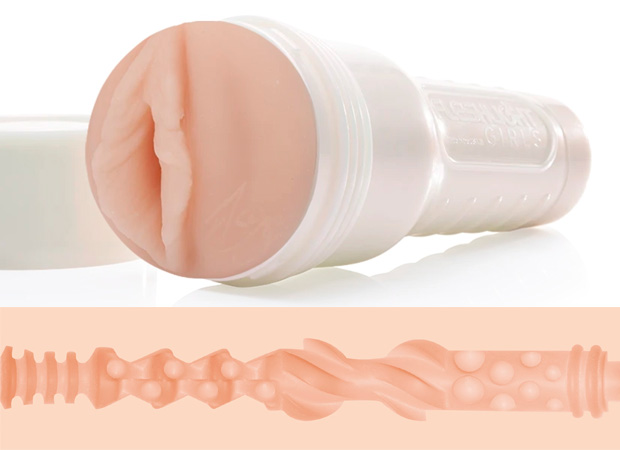 (more photos are available)
The insertable length is actually enormous: it reaches 9.5 inches, so the sleeve is often recommended to the guys with a large penis. However, it's pretty tight, so it will also appeal to the guys with smaller members. With a 0.5-inch diameter, this model is probably the tightest in the Fleshlight assortment. The passage begins with a ringed section that compensates for an incredible suction starting from the head. From that point forward, there are three little chambers with dots and bumps, as well as a tight entry for most extreme weight. The last chamber slightly releases the pressure and touches the penis tip with truly huge specks.
Pros:
Various surfaces inside;
Suitable for all sizes of penises;
It provides a tight hold – incredible for experienced clients.
Cons:
Hard to clean and dry;
Not reasonable for men with a sensitive shaft.
12. Spice (Eva Lovia) BUTT
For the most experienced users, this model offers a great variety of surfaces, but even if you are a beginner with a small penis, you should definitely consider the Spice model. It combines various textures and provides diverse experience being tight and yet delicate enough. Molded after Eva Lovia's butthole, it inspired users for the new masturbation records and mind-blowing sensations – you can be the next to enjoy this remarkable sleeve. Regardless of which type you pick – hole or butt – you will appreciate the tight passage followed by an open chamber with a large number of bumps. Most users admit that this sleeve offers all they need and nothing they don't. Even if you tried various models before, this one won't leave you untouched.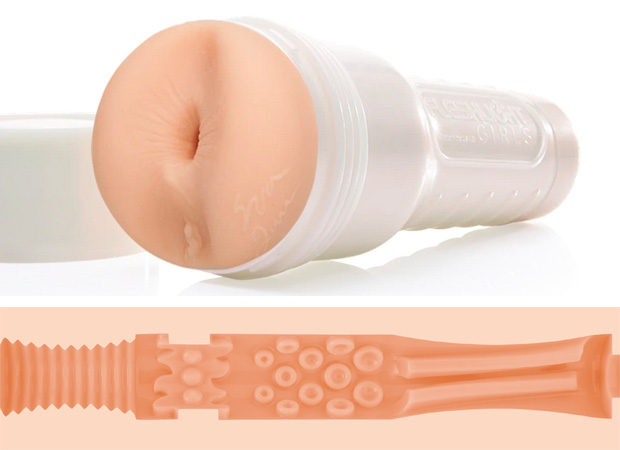 (more photos are available)
What else? This model was created for experimenting: even a single loot at its surface arouses erotic fantasies. The tight entry provides intense but gentle stimulation, while the inward structure gives more incitement. Spice BUTT is a model that requires a few masturbation sessions to get the flavor of. In spite of the fact that it's not as exceptional as Stoya, it can be a decent addition to your sex toy collection.
Pros:
Suitable for men who need intense but delicate stimulation;
Equally great for males with different penis sizes;
Perfect for a long-haul masturbation session;
Creative inward surface.
Cons:
Medium intensity;
The experience is not realistic.
13. Punk (Joanna Angel) BUTT
Admirers of super-ribbed Fleshlight will get maximum pleasure from this model since it includes an enormous assortment of textures – all with a various force of grasp. Fantastic anal sex experience is ensured! Chamber by chamber, this sleeve will grasp and massage your shaft with high intensity. With the butthole molded after Joanna Angel, you will get pleasure from every inch of this model.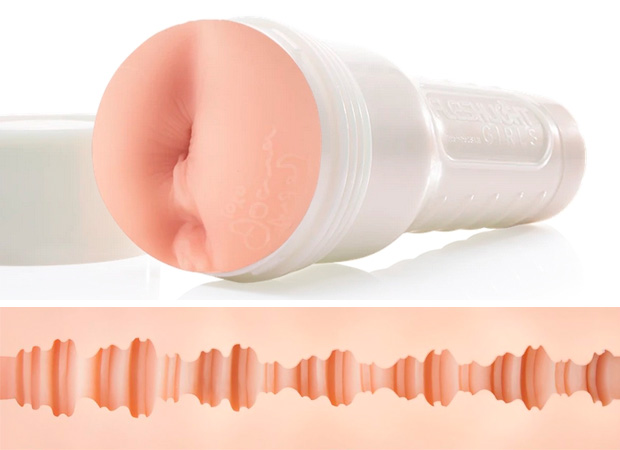 (more photos are available)
In the event that you don't look for an assortment of surfaces; however, need to encounter similar butt-centric sex, this toy is actually the thing. Customers claim it out doesn't require a lot of lube and has an astounding snugness to eventually reach mind-blowing climaxes.
Pros:
Great force;
Suitable for little penis sizes;
Not difficult to clean.
Cons:
Some clients come up short on the selection of surfaces;
Good for a quick performance – not suitable for quick solo sessions.
14. Siren (Anikka Albrite) BUTT
If you have ever dreamt of anal sex with Anikka Albright, imagine how great your pleasure will be when you try the Siren sleeve – a Fleshlight molded after her sweet butthole. Some parts of its internal surface resemble the Destroya model – it combines bumps and ribs for exceptional performance.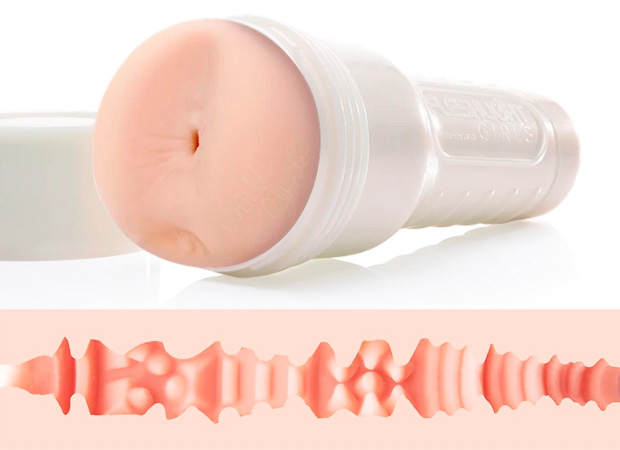 (more photos are available)
What users adore about this sleeve is completely varying experience and allows you to get joy from a wide range of surfaces – ribs, specks, spirals, and tight entries. Some other advantages? First of all, you don't need to utilize a lot of lube – this thing is snug and comfortable enough. Also, you can control the suction, which, coincidentally, might get insufferably high.
Cons:
Offers various inner surfaces;
Suitable for various sizes of penises;
Quiet;
Easy to clean and dry.
Cons:
Lacks a realistic feel;
The butthole can be torn easily.
15. Tease (Tera Patrick)
If you're in search of a sleeve with a great combination and diversity of surfaces, this model should be on the top of your list. Tease offers an outstanding set of internal structures – each chamber gives an explosion of sensations and amazing orgasmic vibes. Add a little bit of lube, alter the suction level, and you will have the masturbation experience you've never had before.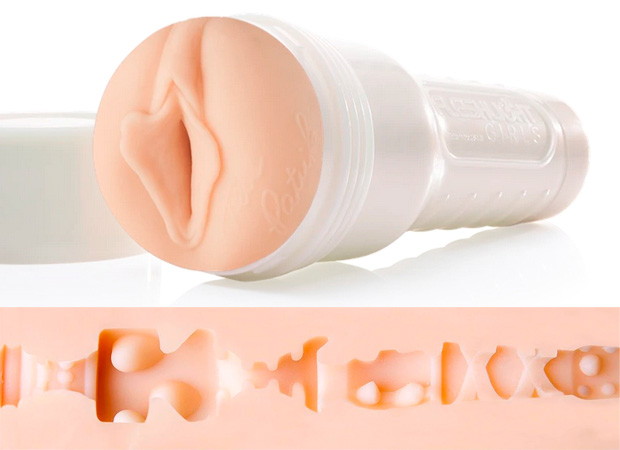 (more photos are available)
Tease inner texture starts with a tight ribbed chamber – however, it's only a glimpse of something larger. From that point onward, you will feel the extreme backrub by the enormous fangs and advance into a restricted ring. At that point, the rollercoaster of emotions will be trailed by a tight entry with pleasant surfaces. Proceed slowly and enjoy every moment of ceaseless delight grasping your penis.
Pros:
Great combination of small and large chambers;
Quite extreme;
Realistic orifice.
Cons:
The variety of surfaces makes it hard for some users to reach orgasms;
Difficult to clean.
16. Reign (Nikki Benz) BUTT
If a regular sleeve doesn't satisfy your sexual hunger and you want something snug for your penis, try Reign by Nikki Benz. With the rich variety of textures and tight passages, it can invigorate even the most coldhearted men. To squeeze the maximum pleasure out of this sleeve, don't forget to use enough lube, especially if you are craving for a fast solo session.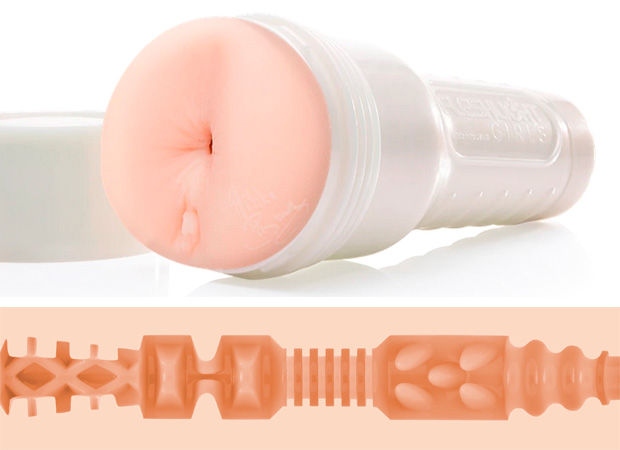 (more photos are available)
With its unique crosswise ribs, tight rings and square bumps wrapping up by prodding fangs, this model is a treasure for admirers of extraordinary anal sleeves. Note that this thing is designed to fit all sizes of penises, even thick ones: the model is flexible and ought to be added to your sex toy collection. Remember to change the suction and try this thing with a shower mount: extraordinary orgasms won't take long to come!
Pros:
Tight and moderately intense;
Combines various surfaces;
Lifelike anal sex experience.
Cons:
One of the noisiest Fleshlights;
Requires much lube;
Difficult to dry and clean.
17. Heartthrob (Brandi Love)
Want realistic experience and medium stimulation power? Opt for Heartthrob Fleshlight: its delicate hole is designed to imitate the vulvar lips of Brandi Love, one of the sultriest MILFs on the pornography scene. This sleeve was made for users to enjoy the tight grasp of wavy passages with various ribs. Don't hesitate to adjust the suction and speed of movement, and enjoy comfy & pleasant masturbation for as long as you wish.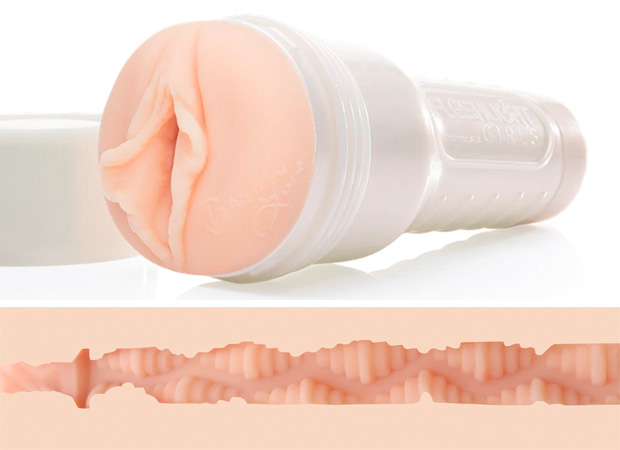 (more photos are available)
At the point when you enter the sleeve, your penis is held by a tight ring which is continued by the long wavy passage. In spite of the fact that the inner texture isn't varying, users claim masturbation with this Fleshlight is far from being called boring – this model was created for long-haul sessions and stamina training. The cleanup and dry time are really short due to the absence of complex surfaces.
Pros:
An extraordinary thing for admirers of ribs and wavy surfaces;
Moderate stimulation;
Good for stamina training.
Cons:
Not created for speedy performance;
Lack of surfaces.
18. Misfit (Joanna Angel)
If you aren't a fan of bumps and fangs but prefer a multitude of rings and wavy passages, Misfit is here to fulfill your dirtiest wishes. With its sleek and sweet orifice molded after the vulvar lips of Joanna Angel, a well-known pornography star, this sleeve ensures exciting stimulation and moderate embracing of dick without over-incitement and agonizing sensations.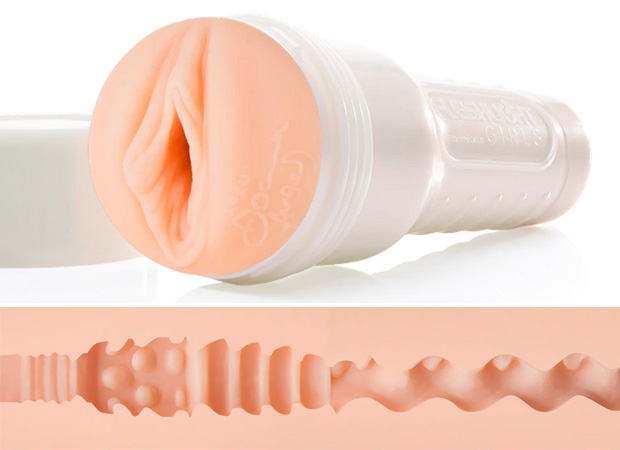 (more photos are available)
Simply investigate this magnificent sleeve: with a conventional assortment of surfaces and ribs, it conveys sublime smooth joy. The passageway begins with a limited ribbed segment that acquaints you with the chamber with huge spots for appropriate shaft rub. The segment gets more tightly: while invigorating the whole length of your pole, the ribs end up by a wavy passage – this is the place you draw nearer to the pixie climax. Remember to include some lube and warm the sleeve up for a reasonable experience.
Pros:
Optimal incitement;
Variety of surfaces and snugness levels;
Realistic experience;
Quite easy to clean.
Cons:
Some users find the sleeve not tight enough;
Not suitable for speedy and super-strong climaxes.
19. True Lust (Kendra Lust)
The fact that it was molded after Kendra Lust's pussy makes this model the object of desire for anybody. It's great both outside and inside, and you will enjoy discovering every inch of pleasure in this model. True Lust boasts a large range of surfaces and would be a perfect pick for experienced users, so feel free to add it to your personal collection of Fleshlights. It guarantees a tight grip and mind-blowing stimulation to help users level up their sexual experience.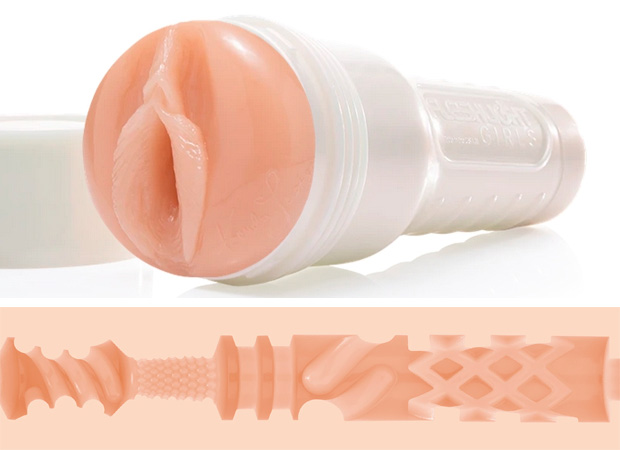 (more photos are available)
The inward surface starts with slanting ribs – this chamber prepares your member for a tight entry canvassed in minor stubs. They massage every spot of your shaft and maintain the persistent hold for greatest joy. The following chambers are a bit bigger: their ribs provide extra incitement. However, you don't feel squeezing snugness, which permits arriving at climax exactly when you need it.
Pros:
Various surfaces;
8.5″ insertable length makes it suitable for men with different penis size;
Beautiful orifice.
Cons:
Not tight enough for some users.
20. Trigger (Teagan Presley)
What can be better than a handjob is done by someone else? Let Trigger be your ultimate assistant in that. The sleeve has an appealing orifice molded after Teagan Presley, the hot thing from Texas who starred in many popular porn movies, including Superbad. She inspired the Fleshlight team to create something that combines snugness with dotty stimulation. The result astonished a lot of users: they admit once you penetrate the sleeve, you don't want to quit it.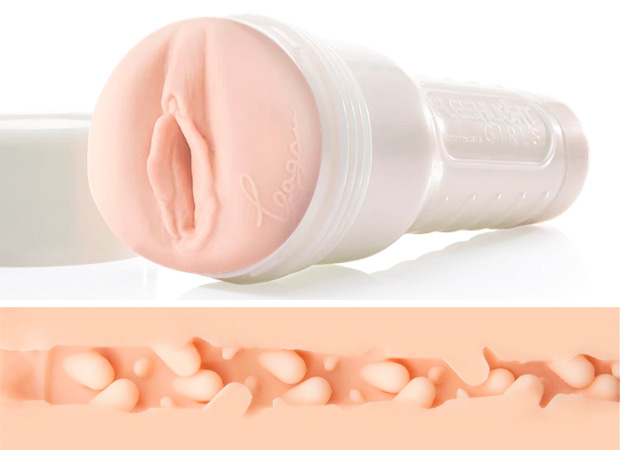 (more photos are available)
The entire sleeve features protruded bumps that massage the penis from the tip to the balls – men adore feeling them sliding along the shaft and restoring their position. Thus, even if you are not too sensitive, you will still feel every fang caressing the dick. Jaw-dropping orgasms are unavoidable.
Pros:
Optimal tightness and stimulation;
Suitable for males with different penis sizes;
Amazing orifice.
Cons:
Hard to clean;
The texture isn't diverse enough.
21. Booty Lust (Kendra Lust) BUTT
If you enjoy the scenes with Kendra Lust, one of the most famous MILFs on the scene, imagine how enormous your pleasure will be when you enter Booty Lust. With its entrance molded after Kendra's butthole, it delivers a wide range of new sensations: there is a large variety of textures, each with its own type of stimulation.
(more photos are available)
Overall, the sleeve is quite tight but that's not the only thing making it so appealing. Diagonal and horizontal ribs will massage your shaft intensely while large bumps stimulate the cock head. The last chamber is big enough – it helps to release the pressure on the tip of your penis. But it's not necessary to reach the last section because you will be ready to explode with pleasure after the first few inches.
Pros:
Pretty tight;
Features various surfaces;
Suitable for men with a small cock.
Cons:
22. Wonderland (Madison Ivy) BUTT
Sometimes, the secret of successful masturbation is hitting the right spots. Wonderland is here to do it all for you. Made in collaboration with Madison Ivy, this model features a butthole imitating her derriere, and a fantastic inner texture – this curve makes anal sex experience completely different! If you lacked tightness and stimulation in certain zones of your penis, this thing will make you understand your body better.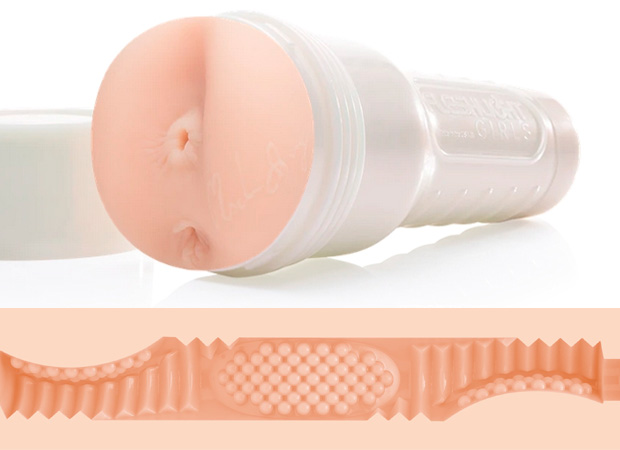 (more photos are available)
The inner texture consists of pads with small dots and ribs – they stimulate every single penis inch delivering the ultimate joy and pleasure. But the best thing about this Fleshlight is its inner curve that makes the experience more lifelike and provides additional stimulation. Turn the Fleshlight as you wish and discover what feels better. This model is perfect for experimenting.
Pros:
Awesome inner texture;
The great curve for extra stimulation;
Easy to clean;
Suitable for men with different penis sizes.
Cons:
Not suitable for long-haul masturbation.
23. Super Tight Sleeve
If you are completely new to the world of sleeves, start with this basic model – it allows imitating anal sex in a pretty lifelike manner. This model is devoid of any inner textures, and there's only one narrow channel. However, its tight grip is too powerful to resist. No matter how large your penis is, this thing should be tried for stamina training.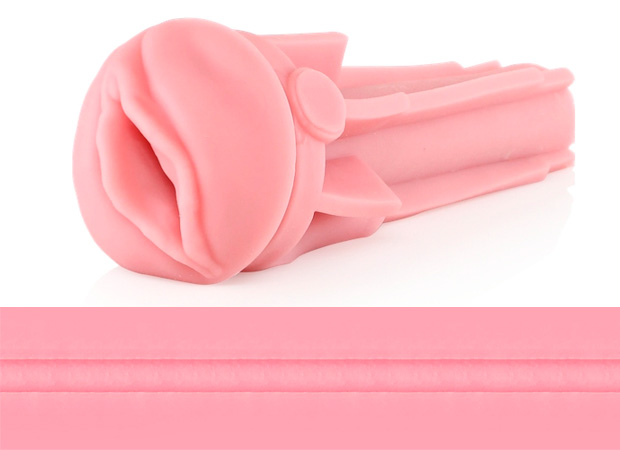 (more photos are available)
Do not forget to add more lube to reduce friction, and enjoy using this thing with the shower mount. Super Tight Sleeve is a true find when you need authentic anal sex experience.
Pros:
Pretty tight – suitable for strong orgasms;
Non-expensive;
Easy to clean and dry.
Cons:
No inner textures;
Not suitable for girthy guys.
Fleshlight Comparison Features
A Fleshlight is a simulator of vagina or butt that's made of skin-like material and is used to assist men with masturbation. They are named so because of material that copies the touch and feel of genuine skin (it's classified "sleeve"). The sleeve is put in a plastic case that looks like a flashlight. This word pun inspired sex toy manufacturers to call the device a 'Fleshlight.'
The internal case can be designed to remind of the feel of a vagina, butt, or mouth – the sensations are defined by the depth, grip, and the inward structure. There's an enormous number of colors accessible from fair to dark skin, or even exotic colors, while some models are fully transparent for a man to enjoy watching his member inside.
A correctly chosen Fleshlight allows reaping maximum pleasure from masturbation. But if you have a small penis, finding a suitable model might be problematic. Here are a few tips and guides that will make your experience way more enjoyable.
Why Do Men Rave About Fleshlight?
There are a few reasons why artificial vaginas are getting so popular.
The sleeve is made to generate the strongest sensations ever – when you utilize enough lube and keep the gadget warm, you can be fascinated by a very lifelike masturbation process.
The toy is ideal for improving stamina and sexual performance. It helps men overcome preliminary ejaculation and master the new skills – a Fleshlight will keep going for whatever length of time that you can. Also, this is a cool option for a warm-up before sex with your partner.
Such gadgets are profoundly flexible and easily adjustable. You can change the suction level by turning the base top or pick sleeves with different passageways that emulate a butt, or lips. Besides, there is a huge number of sleeve inner surfaces accessible: ribs, specks, spirals, etc. That allows for mind-blowing sexual sensations
Some Fleshlights are molded after porn stars' orifices/buttholes and are named after them – it multiplies sexual arousal. That is an incredible solution for the fans to both watch and 'feel' their idols. Alternatively, a 'Fleshjack' gadget has been created for gay men: their entrance is molded after the buttholes of popular gay porn stars.
It can be your lifetime toy. Fleshlights are not hard to clean and dry: if you care about your toy, it can serve for a considerable length of time without mold formation or tearing.
Thus, every man can find a suitable Fleshlight option regardless of his penis size – the choice of models is simply tremendous.
How To Pick an Appropriate Model?
Which Fleshlight model will suit your needs? Let's observe the major types of masturbators.
Classic models
This is a recommended pick for novices. An exemplary model has some straightforward internal structure and a passageway copying vagina/butt/mouth – you can purchase each of the three to differ your sensations. Such models have a normal girth and length (around 10-12 inches), but not all of them are snug enough for small penises – you should read the reviews before buying such a gimmick.
Go/Flight
This is a compact adaptation of the Classic model. Since Go is slender, it is recommended to guys with a normal or little penis. If you understand that you don't utilize the whole length of Classic models, a minimized option would be perfect.
Flight models are smaller than Go and typically have unnaturally-looking openings. Their material is pretty tight, and they provide very intense penetration. Thus, it's a great option for users with a small member.
Ice
While most by far of Fleshlights comes in normal skin hues, Ice is completely transparent, which means you can see what's inside. This model is a hit among couples who want to watch the procedure in detail. Incidentally, it's accessible in all forms including Classic, Go, and others. If you adore masturbation aesthetics, consider adding such a model to your collection of sleeves.
Turbo
This model should rather be utilized by experienced men. Turbo simulates a wide range of sex sensations and usually has different points of insertion – the sensations rely upon where you enter the sleeve from.
Lady/Guy porn star models
As we have referenced, those Fleshlights are designed to imitate the genitals of female and male pornography stars. Aside from the visual appealing, such Fleshlights offer all sorts of inner textures – you are free to vary your experience and enjoy new sensations every time.
Freaky Fleshlights
In the event that you don't trouble yourself with the realistic look, try the sleeves inspired by horrors, Sci-Fi, comic books, etc. If you fancy the idea of having sex with a vampire, zombie or an alien, this is your chance.
Vibro
This option is highly recommended to guys with a small shaft because Fleshlights with a vibrating unit provide additional stimulation and provide a wider scope of sensations. Some of them have different entrances and multiple places where the vibrating bullet might be places. This is another extraordinary treat for experienced sex toy users.
Pros and Cons
| Pros | Cons |
| --- | --- |
| Realistic look and feel make up for authentic masturbation experience | Traditional Fleshlights are pretty large and bulky – they aren't designed for discreet use |
| SuperSkin material in classic Fleshlights can serve for years. The material is temperature-responding and warms up quickly. | Models for small penises aren't always suitable for girthy guys |
| Sleeves for small penises are pretty tight and provide intense sensations. | Sleeve with inner textures are hard to clean – they require some time for maintenance |
| Perfect for both solo and couple use. | Not all lube variations can be used with SuperSkin material: only water-based lube works well |
| It helps to improve stamina and performance lasting for as long as you need. | Fleshlights are pretty expensive |
| A rich selection of models | |
Maximize Pleasure
To maximize your pleasure, just as the thing's life expectancy, read our recommendations and suggestions:
Don't spare personal lubricant – it will improve the sensations and decrease friction. Of course, friction might be your friend when you have a small penis, but sometimes it gets simply unbearable. At the point when the sleeve feels excessively sticky, trickle water, add some more lube, and go on. Use a suitable type of lube! Remember that silicone toys are not compatible with silicone-based lubes, just as their oil-based alternatives.
When you only start, your whole experience may appear to be cumbersome. Some men admit they don't get pleasure by using a sleeve for the first time. It all comes with experience and time. Attempt various things as holders for your sleeve to discover which one works for you better.
Try utilizing the gadget in the shower where you can fully relax and enjoy the masturbation.
Try a Fleshlight together with your partner! It might zest up your sexual life and let you find new sources of satisfaction.
Remember to flush the sleeve with tap water after each utilization. If you maintain it appropriately, it will serve you for years.
Mind the size and tightness of the model. Guys with a small penis are recommended to try BUTT versions of sleeves as they are usually tighter.
Try various sleeve structures. It will allow you to discover your sexual preferences. Some men adore ribs, while others enjoy having fangs and dots caressing their shaft.
Do not share your Fleshlight with other users even after washing. Your sleeve must be completely yours (and your permanent partner's). This is the fundamental rule that will save you from sexually-transmitted diseases.
Before You Start
In spite of the fact that the sleeve looks and feels very authentic, it needs warmth to simulate the feel of the vagina completely. Users admit that when the sleeve is warm, they feel genuine pleasure! How to heat up the sleeve? Using warm water is an evident solution: leave the toy in water for a couple of moments, and it will be prepared for use. On the other hand, you can buy a special sleeve heater, but if that's expensive for you, just leave the sleeve wrapped in a towel for a few minutes (it should be removed from the case).
At the point when it's warm enough, add lube. Choose lube thickness depending on the inner texture of the toy. The thicker is the lube, the lower is the intensity of the textures. Thus, users with a small penis are recommended to use thin or medium water-based lube.
Maintenance and Care
It's very important to keep your Fleshlight clean because it's the warranty of safety and hygienic use. Maintenance of the sleeve requires some time and effort. Be ready to dedicate at least 10 minutes to the cleaning and drying of your toy after each masturbation. This is what you should do:
Run warm faucet water through the whole sleeve and hole after each session. If it's possible, remove the sleeve from the case; if not – expel the two shell tops. Clean the gadget until it's thoroughly cleaned from sperm and lube.
When you care about a costly brand model, don't utilize cleanser or some other aggressive chemical – it can decrease the toy's lifetime drastically. Instead, apply 70% isopropyl alcohol to guarantee appropriate cleaning.
After washing, let the toy get dry without the cap. When the dampness vanishes, apply some cornstarch or special powder – it will enable the sleeve to restore its delicate structure.
As you see, the maintenance procedure is really simple, and you should perform this procedure after each use. It will prevent the formation of mold and microbe buildup.
Tips and Tricks
For experienced users, even such a fancy thing as a Fleshlight can get exhausting after long haul use, regardless of how great it is. But it doesn't mean you should throw it away. Feel free to experiment with your toy to get maximum pleasure from it and discover its new possibilities.
Here are a few ideas for the users with a small penis.
Holding a large case is very tiresome, but you have two alternatives. First, try using the toy without hands: there are different Fleshlight mounts accessible that allow installing a toy on any surface. It broadens the spectrum of available positions, so you can find something that is more pleasant than simply sitting or staying while masturbating. Also, you can take the sleeve out of the case: it reduces the suction, but you will be able to control the grip.
Take the toy to the shower. Make the water stream stimulate the right sports and apply some pressure for a fantastic climax together with your sleeve.
Use various lube types and brands. You're sensitive? Pick a product with numbing properties. If you lack sensitivity, use a thin water-based lubricant. An accurately picked lube can completely change your experience.
Your partner is welcome. This isn't as clumsy as it might seem. She or he can hold the Fleshlight or watch you masturbating. It's ideal for boosting your stamina just as heating up before intercourse. Don't miss out on such a great experience!
Does the sleeve have two orifices? Use all of them – entrance is what defines a great deal of your sensations, don't even question that. If a usual orifice opening doesn't feel tight enough, try butt versions.
Final Thoughts
A Fleshlight is the best thing you can buy for training your stamina and experiencing the whole gamut of new sensations. Even if you have a small penis, you can find pretty tight models that will grip and massage your shaft for the ultimate joy. A Fleshlight allows for experimenting and enjoying sex without limits.
The cutting edge materials utilized in sleeves feel like a genuine vagina yet include textures that add delight. With all those ribs, specks, and other extravagant surfaces inside, you will turn masturbation into art. Butt and vagina-like entrances add realism to your sensations. With this feeling of the smooth skin, a Fleshlight becomes a better alternative to traditional masturbation.
Striving to address the needs of each user, the market offers an abundance of sleeves with different entrances, colors, and sensations. If you have a small dick, you can always find joyful sleeve models.   Size, shade, surface, delicateness – with all things considered, the sex market offers everything that could possibly be picked to completely fulfill your sexual hunger.