It has been a long time since male masturbators meant a term that most people felt uncomfortable using or even thinking about. Once a taboo, today, masturbators of all sorts, sizes, and colors have become an organic part of men's sexuality and reshaped the traditional landscape of the sex toy market.
30 Seconds Summary
I am excited to announce my updated TOP 3 picks for May 2022:
More and more manufacturers are designing products geared exclusively towards satisfying the desires of men who are open-minded, self-accepting of their unique sexual needs, and willing to experience something new.
Choosing a male sex toy that will make all your sweetest dreams and fantasies come true is an arduous task. It may take many an hour to get to know what today's sex toy industry has to offer, how various male masturbators differ, and what qualities a good product should feature.
Top 35 Male Masturbators
A high price may be a misleading marker as more expensive toys are not necessarily the very best. To help you make sense of it all, we have compiled a detailed list featuring 35 most exciting strokers that you will want to try.
1. Tenga Zero Flip Hole
Zero Flip Hole is a new, sleek, and futuristic-looking male masturbation toy by the famous Japanese company Tenga. On the outside, the toy boasts a handy tube-shaped white design, which looks modest enough to not attract unwanted attention and to disappear discreetly in your drawer when not used. Inside, Tenga Flip Zero is packed with exciting nubs, ridges, and bumps made of soft TPE. These features work in synergy to deliver the most intense pleasure possible.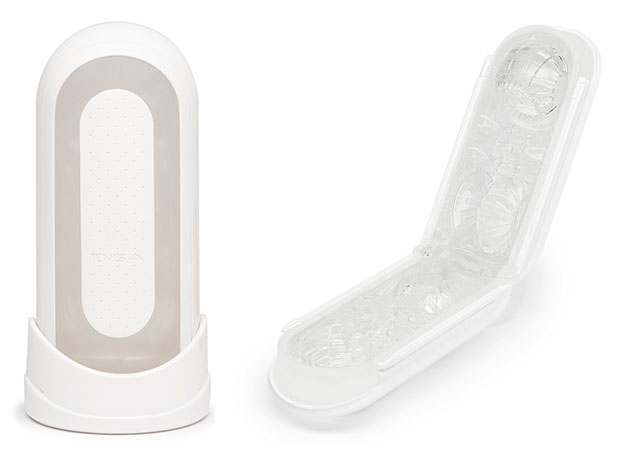 (more photos are available)
On entering the toy through its half and inch canal, you will immediately feel the stimulating power of its ridged wall and rippled dome. The midsection includes a triple row of soft and gentle balls that increase the excitement as you pass through them. Finally, when your penis head reaches the layered end orb, you'll be amazed at the powerful enveloping sensations the toy can give.
The end orb part is located about 6 inches deep, so your penis should be at least 15 cm long when erect to fully enjoy the intense head stimulation. However, men with erection length of under 4.5 inches will still be able to experience unparalleled sensations from all the intricate details that lay the inner walls of the sleeve.
Men can also tailor the toy's suction power to their needs by using the manual suction/pressure pads on the outside. The narrower size not only makes it feel extremely tight from the inside but also provides a much handier grip on the toy.
One of the most exciting things about this Tenga sleeve is its flip design, which allows opening the masturbator like a book and applying lube in abundance for a smoother slide. This unique construction is also convenient when it comes to cleaning. You can easily access every nook and cranny inside the toy to properly wash it after each play session.
Pros:
Great size for men under 6 inches in length and 2 inches in girth;
Elegant and discreet design;
Intricately detailed and enjoyably versatile internal structure for all-around stimulation at every penetration stage;
Soft internal TPE textures caress your penis gently, offering plenty of thrill;
Powerful vacuum suction generated by its one-way valve lead to explosive orgasms;
Easy-to-clean flip design;
Lube spills are very unlikely.
2. Kiiroo Onyx
Kiiroo Onyx is an automatic male masturbator that can pump you at the rate of 140 strokes per minute. Take the fun up a notch by synchronizing the toy with your partner's Pearl 2 vibrator or another Onyx 2 device and discover all the exciting possibilities that a partnered play has to offer. If you don't currently have a partner, the toy will easily connect to any VR porn content of your choice and imitate the motions you see on the screen.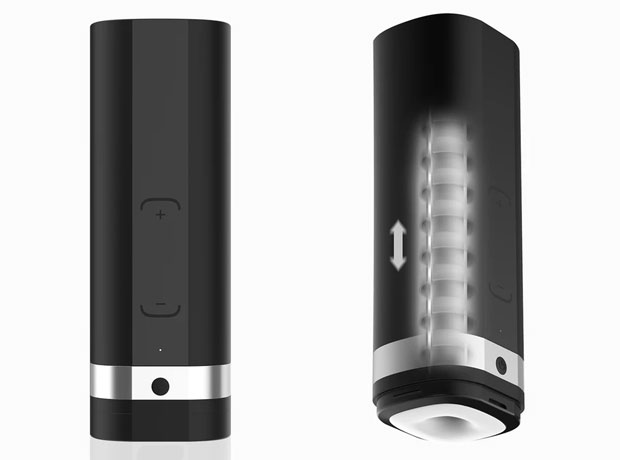 (more photos are available)
The toy design is extremely smart. It comes in a 10-inch long and 3.5-inch wide hard case with slightly flattened sides for a handier grip. The interior of the Kiiroo Onyx model features ten little soft rings that contract and expand at different intervals and with varying intensity, depending on the setting or a complex of settings you pick. Combine this amazing functionality with the incredible Lotus texture created by Fleshlight, and you will immediately understand why this toy is called the best sex robot ever.
Pros:
Equipped with 10 soft rings that contract and expand at your command;
Touch-sensitive controls for easy manipulation;
USB rechargeable;
The sleeve and the case are made of high-quality skin-safe materials;
Compatible with VR content;
Suitable for long-distance partner play.
3. Fleshlight Flight Pilot
Fleshlight Flight Pilot is a sleek portable male masturbator built to bring you all the fun of a full-scale Fleshlight model in a much more compact package. Both the case and the sleeve come in a refined, more discreet design, which makes it hard to identify their intended function at first sight. Being a lighter and smaller version of the traditional Fleshlight toy, the Flight Pilot is very travel-friendly, fits nicely into your luggage, and does not draw unwelcome attention.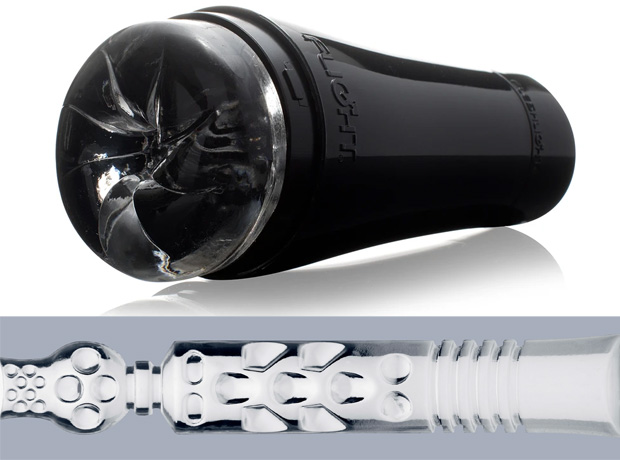 (more photos are available)
The Flight Pilot model boasts an excitingly varied sleeve texture, which reminds strongly of the iconic Stoya Destroya sex toy. Its insertable length of around 17.5 cm should be able to accommodate the majority of men, while people with longer and girthier penises seeking full penetration will probably be more comfortable with regular-sized sleeves.
The inner part of the sleeve is soft and translucent. It starts with a whirl-like opening that leads to three different sections, each boasting its own unique texture and arrangement of details. The small and bumpy entry passage evolves into a rounded chamber decorated with fangs turned inward. Moving deeper, the user will get into a long section with bumps projecting inside the canal at the angle of 45 degrees. A ring of bumps at the 5 inches depth marks the entrance to the final chamber with thickly ribbed walls that offer extra pleasant sensations.
Due to its smaller size and narrower girth, Flight Pilot feels even more intense than its bigger Destroya prototype. You won't have to wait long to experience powerful stimulation from all the bumps and fangs in the first two chambers. Such a heavily textured toy is not meant for lengthy sensual self-loving sessions; it is designed to give you quick and mind-blowing orgasms within a few minutes, which is just what a busy traveler needs.
The shorter length of the Pilot model means that cleaning this multi-textured toy should not be a problem. Just run enough water through the sleeve and use your finger to help with the cleaning. All in all, Flight Pilot will make a terrific purchase for smaller men who seek intense stimulation and don't expect the toy to be very lifelike. It will also serve as an excellent travel companion because of its compact size and super discreet design.
Pros:
Delivers the functionality of a full-fledged Fleshlight in a much more compact package;
Tighter and shorter sleeve perfect for averagely-sized men;
Discreet, travel-friendly design;
The SuperSkin material of the inner sleeve possesses superb warming properties;
More affordable compared to regular Fleshlight toys.
4. Zhang Xiao Yu Onahole
Zhang Xiao Yu Onahole is a wonderfully textured and ultra-realistic vagina model, boasting a soft skin feel on the outside and a fantastically structured inner canal for intense and comprehensive stimulation. Built after a real-life prototype, this toy pussy can bring you to a hard and satisfying orgasm in no time!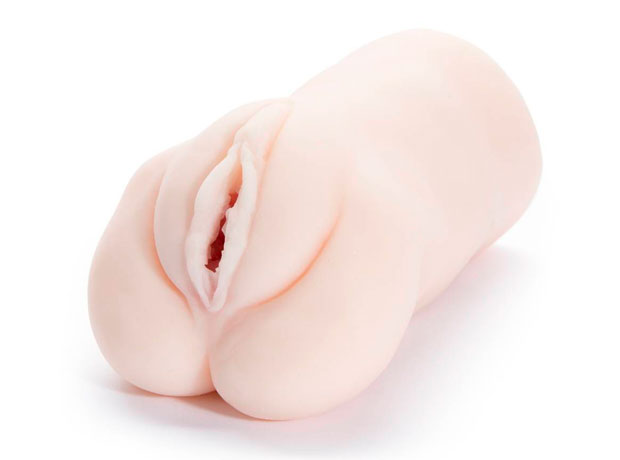 (more photos are available)
This hand-held sex device utilizes a novel double-layer technology. Its outer layer feels like it's made of real, warm, and smooth skin. And the inner surface of the canal is lined with slightly harder, more stimulating material, which enables a higher friction rate and an amazing suction feel.
Divided into several inner zones, the onahole offers a different kind of stimulation at every stage of penetration. The first section of the tunnel features vein-like textures and circular patterns for incredible stimulation right off the bat. The second part of this 5.5-inch pleasure canal is decorated with vertically ribbed textures, which then change to large bulges intended for more targeted stimulation. Moving further, you will find yourself in a snug cavern adorned with micro ribs, bumps, and nodes that leads to a niche specifically designed to hug and caress your penis head.
The Zhang Xiao Yu pussy is super easy to handle and will be a great fit even for unexperienced sex toy users. The model is 100% watertight, so you can have all the fun in the world with it when taking a shower or soaking in the bathtub. Even though it is one of pricier adult toys, the Zhang Xiao Yu onahole with its superbly realistic design, soft outer feel, and densely textured zoned inner canal will give you a delightful return on your investment.
Pros:
Divided into a few different zones, each boasting its unique stimulation pattern;
Double-layer technology ensures a highly realistic look and feel;
100% waterproof;
Its relatively compact design makes the toy a friendly travel companion;
Easy and intuitive to use.
5. Fun Factory Cobra Libre II
Fun Factory Cobra Libre II is a waterproof and USB rechargeable cap specifically designed to stimulate men's most sensitive zones. This half-sleeve toy does not thrust, stroke, or create suction; instead, it vibrates enjoyably around the penis tip and frenulum, teasing, pleasing, and bringing you closer to fantastic orgasms. This male toy boasts a well-considered, ergonomic design that makes it super-easy to hold, use, and clean.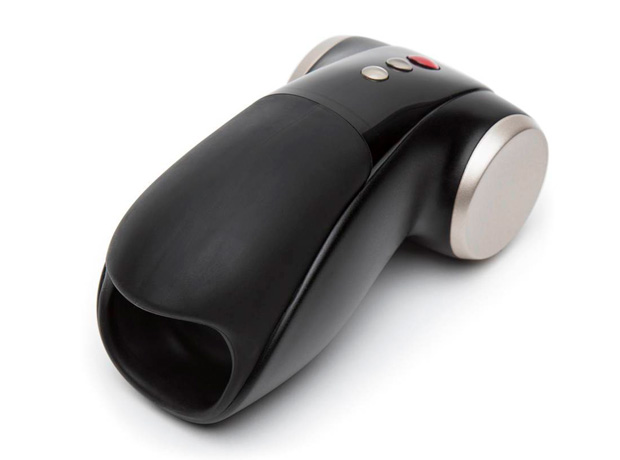 (more photos are available)
On the outside, the Cobra Libre II model is made of sturdy and durable ABS plastic and metal. The inner part of the sleeve is soft-as-silk, skin-safe silicone, which ensures very lifelike sensations during masturbation. Equipped with dual motors – one for stimulating the penis tip and the other one for pleasing the upper part of the shaft – the toy offers 11 enjoyable vibration settings.
The masturbator size is 3.15 by 2 inches, which is enough to fit men of varied anatomy. However, those with much bigger or much smaller parameters may experience some difficulties with using it. The inside canal narrows down slightly at the end, creating a cozy and tighter space for more targeted stimulation of the penis head.
The 11 settings of the Cobra Libre II toy include six different patterns and five speeds of vibration. Navigating through these is easy: just press and hold the Fun button to start the device and then use the plus and minus buttons to switch between the different settings. One of the coolest features of this toy is its versatility. Its unique design allows you to turn and angle the device any way you like to make sure you receive breathtaking stimulation in all the right zones.
Note that when using the Fun Factory Cobra Libre II vibrating masturbator, you'll need to keep a towel close at hand. It is not only because this excellent toy will make you ejaculate profusely, but because it is not designed to keep your fluids inside, so if you use it to cum, things can get somewhat messy.
Pros:
Packed with 11 thrilling vibration settings to give targeted stimulation to your penis tip and frenulum;
Easy to use and adjust to your specific wants and needs;
Quiet and discreet;
USB rechargeable;
Completely waterproof;
Easy to clean.
6. Lovense Max 2
Lovense Max 2 is a smart male masturbator toy designed to take the traditional sexual pleasure to an entirely new level, and it does the job excellently. This automatic flashlight-like device vibrates and compresses your penis, bringing you super intense ecstatic sensations.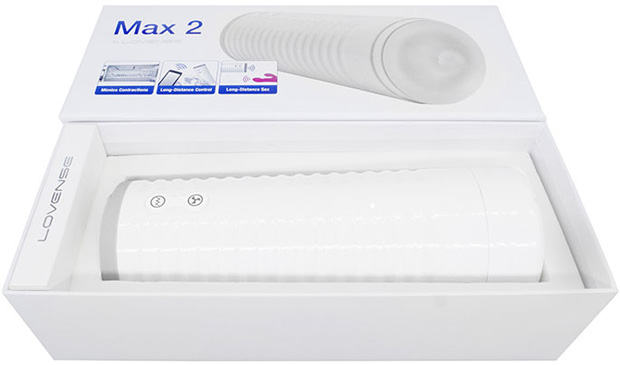 (more photos are available)
The toy can be used for solo fun or by couples separated with a great distance. Thus, when you sync it up with another Lovense sex device such as Nora via Bluetooth or Wi-Fi, you can enjoy virtual sex with your female partner wherever she is.
At first glance, Max 2 looks like a regular male stroker; it is a long container with an insertable TPE sleeve textured to mimic the insides of a woman's vagina or another pleasant opening. However, under the surface, this toy proves to be a much more intelligent device loaded up with electronics that maximizes and completes your masturbation experience. It has a built-in vibrator that sends vibes throughout the sleeve, giving your penis 360-degree compressions. With 7 vibration and 3 compression settings, there will always be something new to try.
The toy also boasts a revamped case exterior, a much more realistic inner sleeve, increased diameter of the orifice, a greater length, and a USB charging option. Its native app enables you to create your custom vibe patterns and even share them with the rest of the Lovense Max 2 community!
Pros:
Great toy for single male singles and heterosexual couples separated by distance;
360-degree compressions and vibrations for hands-free orgasms;
Handy app for long-distance fun;
100% hypoallergenic, nicely textured TPE inner sleeve for incredibly pleasurable stimulation;
USB magnetic charging makes the process extremely easy.
7. Thrust Pro Elite Alana
Thrust Pro Elite Alana is a doggy-style vagina and ass masturbator that is built to look and feel incredibly realistic. This phenomenal, full-scale doll with perfectly carved pink lower lips and a pleasurably tight ass will give you a rock-hard erection just from looking at it.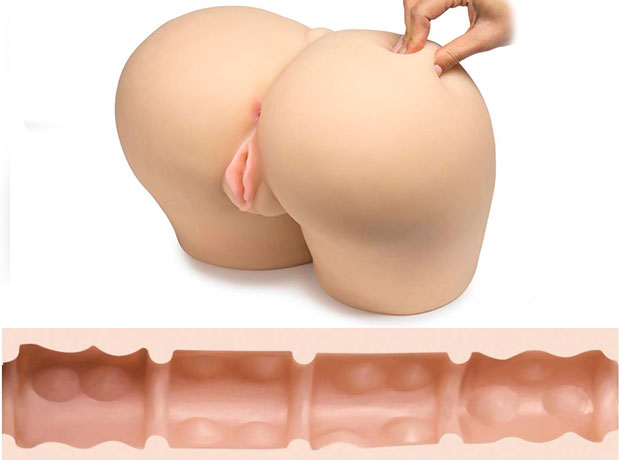 (more photos are available)
Its two inner canals also have plenty to offer. The vagina is 7.5 inches in length and can snugly fit even bigger and girthier men. The 5.5-inch ass canal feels delightfully tight and realistically imitates all the stunning sensations you get from anal sex with a real partner. Both passages are distinctly ribbed to give all your hotspots proper stimulation.
The Alana toy comes in the popular doggy-style position, which not only makes accessing those sweet holes easy but also provides a lot of room for creativity. You can dress it in sexy lingerie, stroke and squeeze the soft skin, give your sex doll ass a good spanking, and switch between the two openings as often as you want without even slowing down. All you need to keep the fun going is a sufficient supply of lube to make sure you get a smooth slide to a smashing orgasm.
Pros:
Two orifices for vaginal and anal penetration with maximum exposure and easy access;
Feels realistic thanks to the super soft TPE material;
Well-balanced and weighty enough to be used for hands-free fun;
Completely waterproof.
8. Tenga 3D Spiral
If a traditional Fleshlight pocket pussy is too rigid for your liking, you are guaranteed to enjoy a softer and much more flexible Tenga 3D Spiral toy. It provides a unique and highly enjoyable combination of smooth and textured surfaces that you can switch between depending on your mood and needs.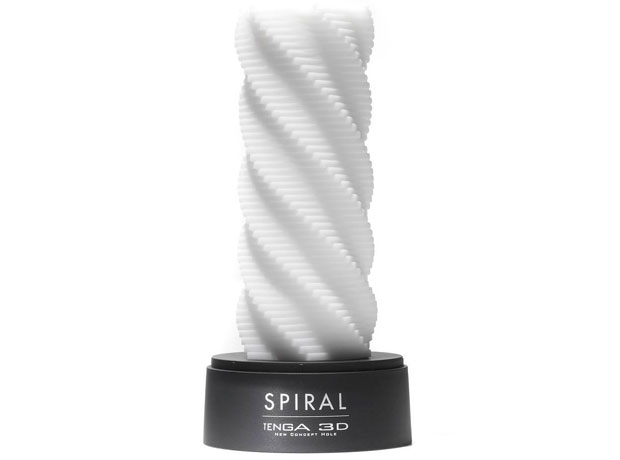 (more photos are available)
When looking for a more sensual, slow-paced stimulation, keep the intensely ridged side out. Its ergonomic design will ensure a handy grip on the toy, while the delicate inner texture with varying degrees of tightness is gradually driving you to the verge of pleasure. If you want to experience the full-ribbed effect that this twisting, profoundly stimulating design can give, flip the toy inside out and let its large, spiraled waves caress and tease your penis, making your whole body shake with excitement.
The ultra-soft, antibacterial elastomer that the toy is made of feels fantastic and is stretchy enough to accommodate male erections of any girth. The open-ended structure of the 4.5-inch long toy means that it can snugly fit men of any size.
Pros:
Versatile toy offering two unparalleled stimulating patterns;
Design allows controlling stimulation tightness and applying extra pressure where needed;
Ultra-soft, silicone-like elastomer material that stretches well;
Temperature-responsive;
Easy to clean, dry, and store.
9. Fleshlight Launch
It is hard to call Fleshlight Launch a toy since it is basically a robot designed to deliver you all kinds of sexual pleasure. This Internet-enabled sex toy is capable of synchronizing with a variety of adult sex video games, films, as well as VR glasses through wireless Bluetooth connection to provide a full-blown erotic experience. Launch is nicely compatible with all male toys by Fleshlight.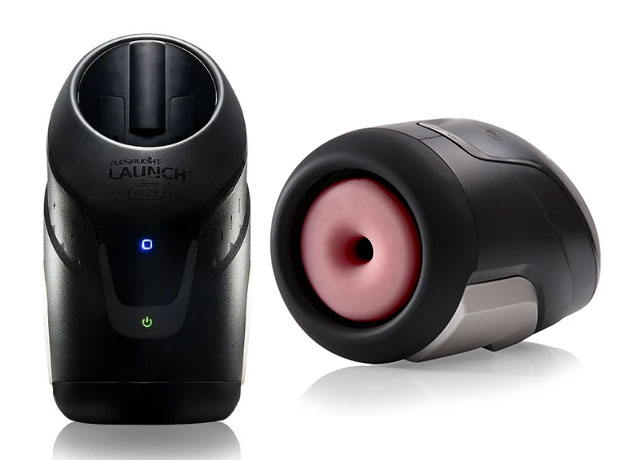 (more photos are available)
Fleshlight Launch is an advanced hands-free sex toy that can go at as many as 180 strokes per minute. You can choose between the two available operation modes – manual and interactive. When it is set to work in the manual mode, you get full control over the device movements, their speed, and frequency. In the interactive mode, the toy is in complete sync with the video you are watching at the moment.
Pros:
A whopping 180 strokes per minute;
Compatible with a wide range of full-sized Fleshlights, Pearl, and Kiiroo Onyx toys;
Lightweight and does not create any discomfort when lying on your lap for a long time;
Fully rechargeable, the toy gives you 2 hours of fun after just 3-6 hours of charging;
Responsive, touch-sensitive controls;
Interactive VR mode allows for nearly hands-free masturbation.
10. Autoblow A.I.
Autoblow A.I. is one of the most sophisticated blowjob machines in the market designed to imitate real-life oral sex. It is built to give you incredibly realistic and super powerful sensations that lead to mind-numbing orgasms – all completely hands-free! Just put it on, pick the desired setting, and relax while the toy is doing the rest. Its ten pre-programmed AI-powered erotic experiences and ten different speeds will surely give you something to choose from!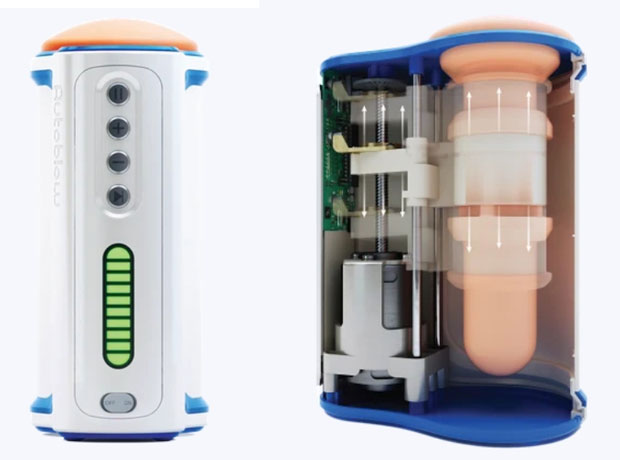 (more photos are available)
The machine boasts 250 gripping points that embrace your penis and caress it from various angles. The innovative AI technology behind the device is capable of analyzing and memorizing your preferred settings to offer you individually tailored pleasures.
The Autoblow A.I. sex device uses interchangeable sleeves made of hypoallergenic silicone. These are 100% body-safe and can accommodate any penis size. Besides, Autoblow A.I. is a 3-in-1 solution since it is available with three different types of sleeve textures to realistically imitate oral, vaginal, and anal sex. Note that sleeves for anal and vaginal sex are not included and should be ordered separately.
The Autoblow A.I. model makes 50% less noise than the previous versions of the device thanks to its redesigned, fan-cooled motor. Compared to older versions, this pleasure toy has a sturdier motor that is three times as powerful. In short, you will experience a much more intense yet quieter stimulation.
Pros:
Mains-operated device with no downtime required;
50% quieter toy equipped with 3x more robust motor;
Amazingly realistic sleeve textures for all-around fun;
10 hands-free BJ experiences with 10 speeds to try.
11. Kokos 18 Dream
Kokos 18 Dream is a unique, dual-layer vagina-like masturbator toy, modeled after an adult virgin woman. Unlike older products of the Meiki no Shoumei series, the Meiki 18 feels firmer and sturdier. This 19.5cm toy boasts incredible, almost fantastic interior structures with many tiny details for added stimulation, and its closed-end design helps create a vacuum with a powerful suction feeling during penetration.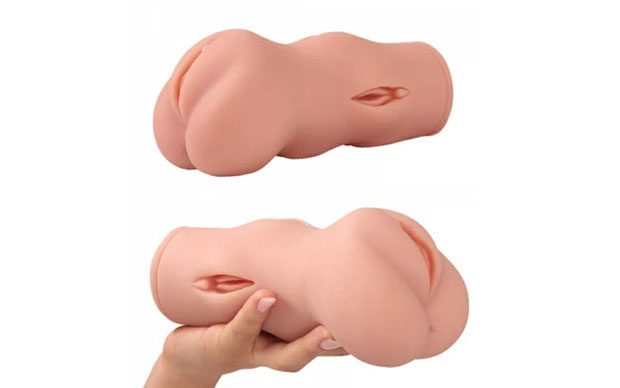 (more photos are available)
Its exterior is no less remarkable. 18 Dream has a modern and sleek look with its multiple, beautifully sculptured vaginal lips scattered all around the casing. This innovative design helps boost your tactile and visual sensations during use.
Inside, the toy feels like a real woman's vagina. The tight, thick, and intensely ribbed spiral canal leads to the chamber filled with lots of delicate, soft bubbles designed to stimulate your glans at every possible angle. Even though it is heavily textured, the inner canal manages to be exceptionally soft, yet not soft enough to penetrate the toy with a bit flaccid penis. Also, note that comparatively girthy men might feel too tight inside this toy vagina to fully relax and enjoy the experience up to the grand finale.
Pros:
Soft TPE material feels extremely nice to the touch;
Beautifully built and adorned with multiple vaginal lips for added visual and tactile stimulation;
Feels unbelievably tight inside;
The heavily textured canal offers intense and thrilling sensations.
12. THRUST Realistic Vagina Kit
THRUST Full Force Realistic Vagina Kit is a 6-piece joy pack that includes three delightful vaginas, each having its own name. The toy will be an exquisite treat for all savvy users seeking sensual diversity. All the three strokers included in the kit come with a different length and tightness, which enables you to switch between them based on your current desires and needs. Moreover, they all boast a distinct and prominent texture pattern intended to give you a different kind of stimulation every time.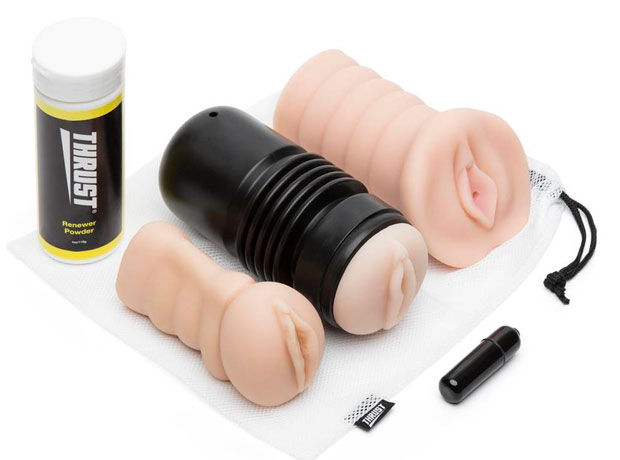 (more photos are available)
The petite Eva is 5 inches in length, while its inner structure is the closest to what a real woman's vagina feels like. The 6-inch Abbie is the tightest of them all and offers a mind-blowing contrast between outer firmness and inner softness. Finally, the skilled Chloe, with its ribs, bumps, and varying textures, promises the most versatile and profound stimulation.
If you feel like adding a bit of buzzing fun to your experience with these three ladies, use the bullet vibrator that can work at 3 different speeds and give you a lot of pleasure even under water! Also, the kit includes a specially designed renewer powder and a storage sack to keep your delightful collection safe and in the top-notch condition.
Pros:
Three differently textured vaginas of varying tightness and length;
100% waterproof bullet vibrator with 3 enjoyable speeds to choose from;
All three sleeves are made of top-notch, durable and body-safe materials;
Perfect for both beginners and more advanced users.
13. Svakom Hedy
That might well be the best Kinder egg meant for pure adult joy. Affordable and fit-for-all, this toy is a must-have for any man interested in masturbation. The length of this egg-shaped masturbator is 14 cm, which is sufficient for most average-sized men. The material of the Svakom Hedy product is stretchable, meaning the toy can accommodate an erection of almost any size.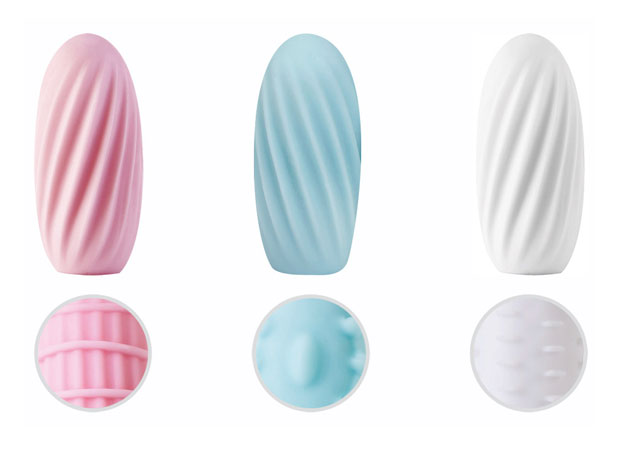 (more photos are available)
The egg-like shape of the Hedy masturbator with a thicker midsection and slightly squished ends ensures that your penis will not feel constricted when you grip it tight to apply pressure. Hedy is 3.7 to 3.9 inches wide, which is enough to give even a girthy penis some breathing space when you put on or take off the toy.
The inside textures of the Hedy egg vary depending on the color option you choose. There are Real, Soft, and Oral models that come in blue, white, and pink respectively. The Real option is perfect for imitating vaginal intercourse, and the Soft one is equipped with numerous delicate ribs that boost your sensations many times over. Finally, the pink Oral model is designed with circular rims that create the suction feel reminiscent of real blowjob.
Due to the soft TPE material used here, the pleasure egg is extremely easy to handle. Depending on your current needs and desires, you can squeeze it firmly or rub softly against the shaft. You have all the control over the experience! Note that an egg like this will safely last for 5-6 uses, after which it will start to gradually tear, until you'll have to replace it at some point.
Pros:
Super soft and 100% skin-safe TPE material;
Stretchy, can accommodate an erection of any size;
3 different patterns to choose from;
More durable than the majority of regular egg masturbators;
Easy-to-handle and clean.
14. Kiiroo Titan
Titan by Kiiroo is another interactive male masturbation toy worth trying out. It is going to be of great help to men who lack stamina and cannot last long enough when they are with their sex partners. The vibration pattern of the Titan toy and the speed of its strokes can be adjusted to your likings with the help of touch-sensitive pads. With the total of six different vibration settings available here, you are guaranteed a truly awesome stimulation experience carefully tailored to your individual needs.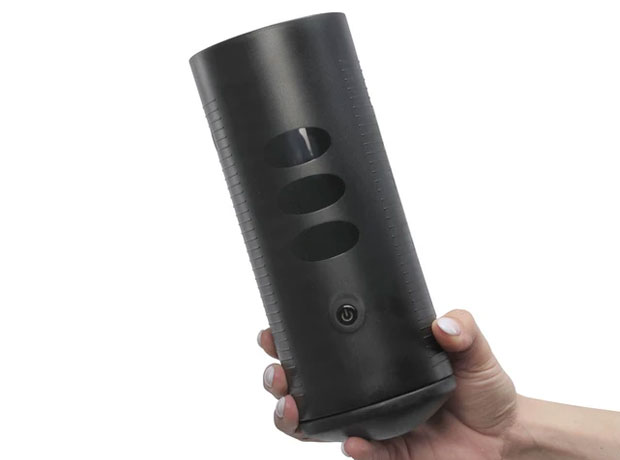 (more photos are available)
The product is highly versatile and allows you to revel in all sorts of erotic pleasures. It is suitable for discreet solo fun or can be connected to your partner's sex toy and synced with it to give you both incredibly joyful time. If you are without a partner and do not feel like doing all the hard work by yourself, connect the device to interactive adult content of your choice and relax, while the Titan machine is busy making you happy. With over 4,000 X-rated 2D and 3D movies compatible with this device, your evenings will never be boring or lonely again.
Even though the Titan's real-feel sleeve is equipped with nine impressive vibrating bullets, its operation is unbelievably quiet, allowing you to enjoy your personal time in comfort without distractions.
Pros:
Ultra-quiet operation;
3 rows of 3 vibrating bullets each allow you to adjust stimulation to your needs;
Compatible with other interactive sex toys and VR content;
Equipped with a soft and textured real-feel sleeve;
Perfect for building up your stamina.
15. Fleshlight Stoya (Destroya)
Open up an entirely new world of exquisite erotic experiences with the popular Stoya Destroya model by Fleshlight. This handheld male masturbator will make you feel as if having sensual intercourse with a real woman – a skilled and patient giver aware of your most intimate needs.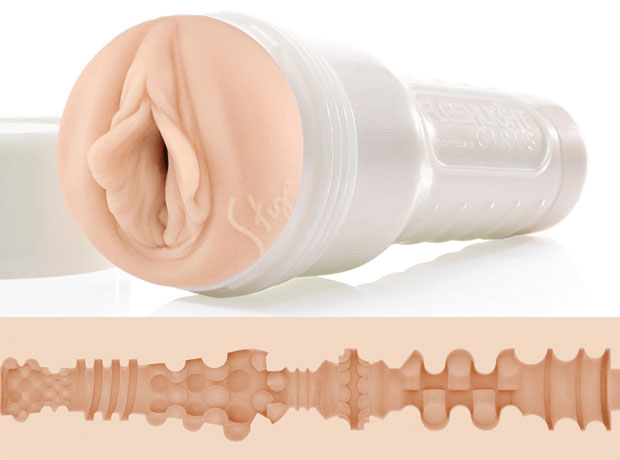 (more photos are available)
The silky-soft material of this well-designed pocket pussy will gently caress and rub against the delicate skin of your erect penis. In the meanwhile, its multiple ribs, rings, bumps, teeth, and fangs will provide targeted stimulation of your most sensitive erogenous zones, gradually building up the excitement, which will eventually lead to a mind-blowing, knee-shaking orgasm.
The Stoya Destroya model is best suited for men who enjoy tight penetration, followed by intense stimulation. Users need to be prepared that the pleasure granted by this toy will be so piercing that even the most enduring men will not last long.
Pros:
Ideal sex toy for men who love intense and tight stimulation;
Amazingly varied texture with bumps, fangs, rings, and teeth;
Soft and smooth material feels very lifelike;
It is easy to take care of this model;
Comes at a reasonable price.
16. TENGA Flip Orb Orange
The Tenga Flip Orb Orange is a beautifully designed masturbator toy for the ultimate male pleasure. Its ten firm orbs with a parallel pattern are immersed into the super soft, nubby texture of the sleeve and provide mind-blowing, all-embracing stimulation that can be as delicate or intense as you wish. Using the convenient pressure pads, you can control the intensity of suction in the sleeve as well as regulate the pressure of the orbs.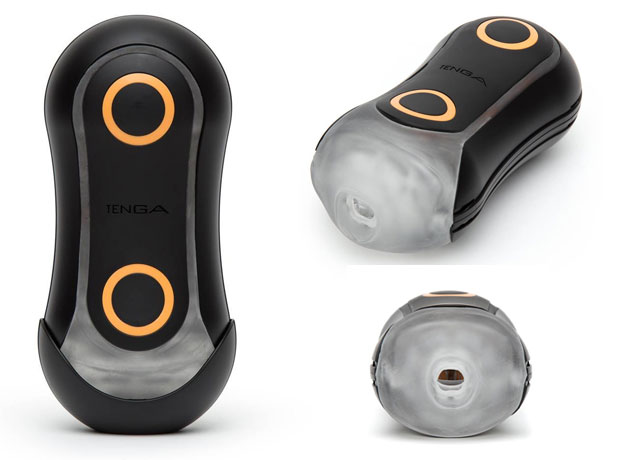 (more photos are available)
Like other Tenga flip products, this toy comes with a handy book-like design, which flips open easily to let you clean, dry, and lubricate the toy from the inside. To make the most out of each Tenga Flip Orb Orange experience, don't forget to apply a sufficient amount of lube on the toy and yourself before getting down to business.
Pros:
10 hard orbs surrounded by the soft, nubby texture for more intense sensations;
The flip hole design makes it super easy to clean, dry, and lubricate the toy from the inside;
The ergonomic hard case of the sleeve makes handling and operating the device a breeze;
Manual pressure pads allow to control and adjust stimulation intensity;
The product comes at an attractive price.
17. Turbo Thrust
The Fleshlight Turbo Thrust masturbator is the best possible alternative to oral sex that people have invented so far. This male pleasure toy is designed to deliver the ultimate BJ experience due to the transparent nub textures of its tight canal, which provide intense stimulation of your most sensitive areas.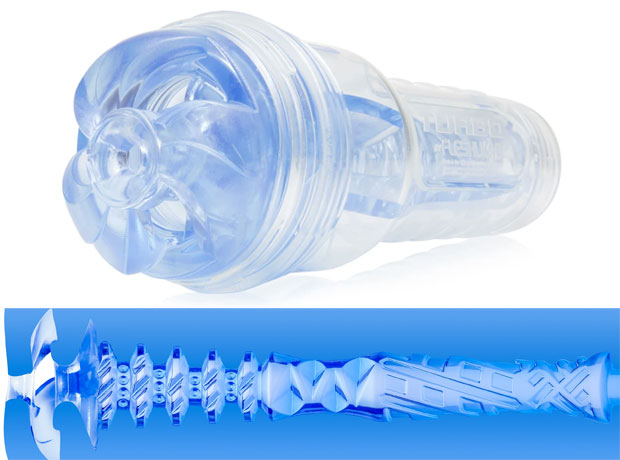 (more photos are available)
The Turbo Thrust sex device has three separate holes located at a distance from each other. To get inside the main sleeve, you will go through all of them, one by one. When inside the inner sleeve, you will experience four different chambers, each boasting a unique structure. There will be ridges, diamond-shaped protrusions, broad and square bumps, and crisscrossed ribs.
The toy utilizes a variety of textures inside and out that are meant to stimulate you in different ways. Its three entrance points help imitate the feeling of being caressed by real lips, tongue, and throat. The inner textures are more subtle and less grasping than in the Ignition model but are great for slowly building up your excitement.
All in all, the Fleshlight Turbo Thrust model is a perfect choice for men seeking an authentic oral sex feel but willing to arrive at their orgasm at a slower and more controlled pace. Note that such a wide variety of textures and structures means that you'll need a lot of lube to make sure the penetration and use are both safe and comfortable.
Pros:
Three-point entrance design offers an incredibly realistic feel;
Varying textures of the inner canal stimulate you in an increasingly more intense way;
The transparent sleeve makes the whole experience a visual treat;
5 inches of insertable length can fit in a man of almost any size.
18. THRUST Pro Elite Alicia
The lovely Pro Elite Alicia torso doll with its tender bouncy breasts, slender waist, beautifully spread vagina, and a neatly carved butthole is an exquisite treat just to look at. However, when it comes to using the toy, Alicia is above all praise. With it, you can get as creative as you want to be: lie on top of it and give the doll your best while caressing the magnificent breasts, or roll her over and have your way with this supple beauty doggy style!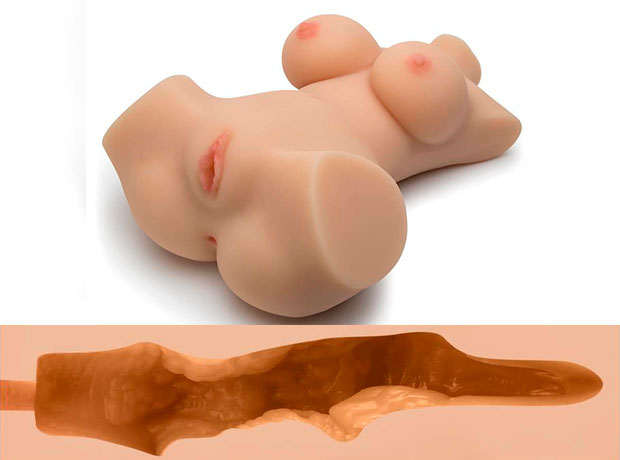 (more photos are available)
Alicia is made of durable, premium-quality material that offers you the feel of real, soft, and warm skin. Its orifices open the passage to two pleasantly textured canals. They are realistically detailed for the maximum authenticity of the experience.
Both canals are 5 inches long; however, the diameter of the openings is different. The vaginal orifice is very stretchy and can easily fit a man of any size, squeezing, and gently caressing his penis during penetration. The ass opening is much tighter and measures just 0.3 inches in diameter for more realistic sensations.
Pros:
Beautifully designed model with lifelike breasts, waist, labia, and tight ass orifice;
Medium-sized doll torso, easy to transport and care for;
2 penetrable orifices with deliciously textured canals;
Premium-quality materials ensure real-skin feel
19. Extreme Pleasure Hip Third Generation
Extreme Pleasure Hip Third Generation is a realistic hip-style sex device perfect for advanced users who want something substantial to toy with. This superbly carved replication of a woman's ass will fully satisfy even the choosiest onahole aficionado.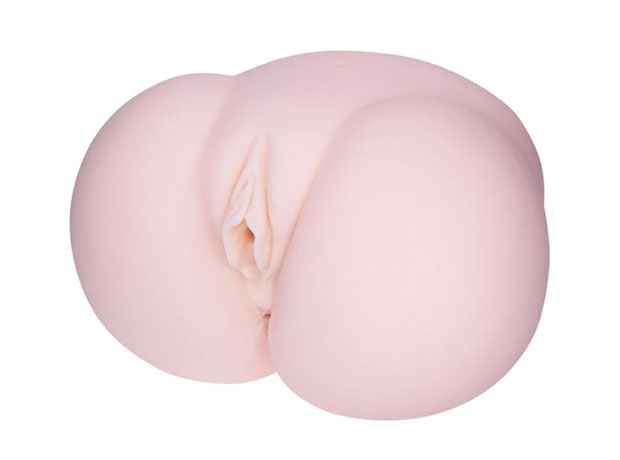 (more photos are available)
Pleasure Hip is a life-size prettily rounded butt weighing an impressive six kilograms. It feels natural and soft to the touch. Both orifices are nicely shaped, and the toy itself boasts impressive anatomic detalization. This beauty allows you to enjoy a variety of sex positions with ease and comfort: from missionary to doggy style and cowgirl – you will be impressed at how versatile this masturbator doll can be!
Like all the good male sex toys, this model has dual layers. The interior walls of the vaginal and anal canals are made with soft and durable pink material. Furthermore, both tubes are densely textured with different nubs, ribs, and bumps to stimulate your penis and give you tons of overwhelming sensations. The ass feels much tighter than the pussy, just like in real life.
Pros:
63 inches long dual orifice toy – enough to fit a man of almost any size;
Made of soft and durable TPE;
Heavily textured inner canals offer loads of stunning sensations;
Perfect for a variety of sex positions.
20. Thrust Pro Elite Sophia
Thrust Pro Elite Sophia is 4.5 pounds of pure and splendid pleasure. This dual-orifice, spreadeagled vagina and ass masturbator feels incredibly realistic both on the outside and inside. It behaves very quietly during use and comes in a 100% waterproof design, which is easy to clean and look after. Sophia can be a great companion in your solo play sessions or join you and your partner in bed to help spice things up a notch.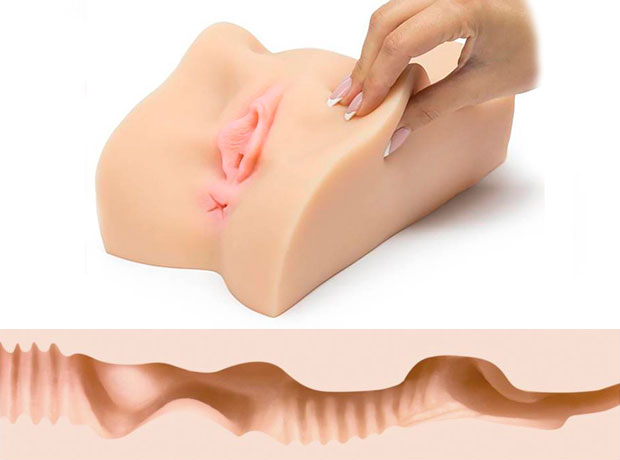 (more photos are available)
Both orifices of the toy open into fantastic pleasure passages with a soft interior and all the essential ribs, nodules, and bends to stimulate your erect penis from head to scrotum. Each canal is 5.5 inches long, which should be enough to accommodate an average-sized man with great comfort.
Cleaning the toy after each use is a walk in the park. Simply rinse it with warm water, dry with a towel, apply some talc powder, and it is all ready for a new round of adult fun. Also, don't forget to use some lube on the toy and yourself before your crazy ride starts. Doing so will ensure that your experience with the Sophia doll will be as smooth and comfortable as with a real partner.
Pros:
Has two entrances for versatile and creative fun;
Perfectly spreadeagled for easy and comfortable access to both orifices;
Built to look anatomically accurate for added visual stimulation;
Feels incredibly soft both inside and out;
Made of high-quality, soft and flexible TPE;
100% waterproof and ready to play in the shower.
21. Julia +
Julia + is a marvelously detailed onahole modeled after a well-known Japanese porn star. Made of silky-soft, smooth material, this adult toy feels great to the touch and is incredibly flexible. With your rock-hard penis inside it, you do not have to worry about the toy getting flabby or losing balance during use.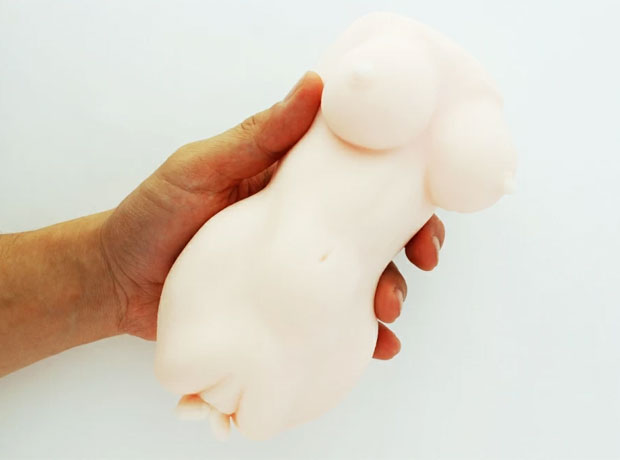 (more photos are available)
The Julia + toy is a dual-layer product with a considerably tougher material laying its inner canal. As you push yourself past its thrilling entrance point and into the pleasure passage, you will feel the toy's well-shaped lips gently pull, stroke, and caress your penis. Inside, the sensations will become purely electrifying.
The walls of the Julia + magic canal are built to provide you with comfortable and consistent pressure, while its numerous soft bumps will make sure that all your most sensitive zones get proper attention and care. Around the midsection, the toy has a notable bend, which completely changes the direction of your stimulation.
Whether you want a toy for sensual, slow-paced lovemaking, or something that can give you a more dynamic masturbation experience, the Julia + model is your go-to.
Pros:
Feels super-smooth and stretchy;
Nicely protruding textures of the inner canal offer unparalleled stimulation;
Easy to wash and dry;
Holds on to lube amazingly well.
22. THRUST Pro Mini Lea
THRUST Pro Mini Lea will make a superb addition to any sex toy collection, however advanced and kinky. The Lea sleeve is incredibly realistic and has one of the most exquisitely detailed, multi-textured inner canals for truly authentic vaginal penetration. Also, you can slip in a tiny bullet vibrator into its pocket to spice up your play.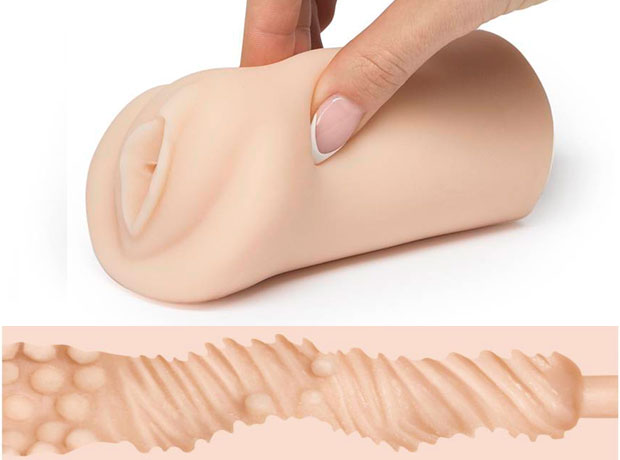 (more photos are available)
Its incredibly tight 5-inch long canal is decorated with exciting textures and stirring details like ribs and bumps to give your penis increasingly more powerful sensations with every new thrust. The Lea pocket pussy is 100% waterproof and ready for crazy bathtub adventures. You can use this delightful toy solo or let your partner join the fun.
THRUST Pro Mini Lea is also easy to clean and maintain. Its compact size means you can discreetly store this adult toy in your closet and take it with you on all your trips.
Pros:
Realistically detailed handheld masturbator featuring fantastic textures;
Comes with a bullet vibrator for more robust stimulation upon penetration;
5-inch long canal structured with multiple enjoyable ribs and bumps;
Compact size to act as perfect travel companion;
100% waterproof.
23. Maia Piper
The Maia Piper warming male toy is built to bring your self-play fun as close to the real thing as possible and make every masturbation session a memorable experience. Its 15 delightful vibration modes and 15 suction options enable you to customize your solo adventures to your individual desires.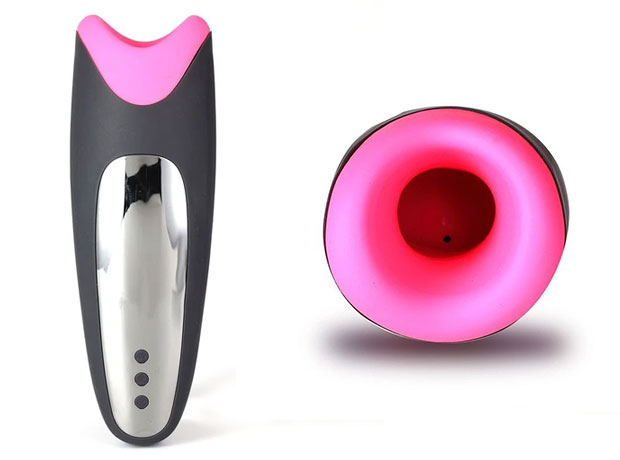 Check Price on PeepShowToys.com
(more photos are available)
The toy's heating function allows warming up the soft silicone sleeve from the inside for more realistic, close-to-life sensations upon penetration. You can switch between the three available temperature settings until you find the one that makes you feel the most comfortable. The warm and fabulously soft inner canal of the toy will help improve your blood circulation in the penis and make your self-stroking sessions even more pleasurable.
The vibration, suction, and temperature functions are controlled independently to give you more flexibility in choosing the perfect combination. The USB rechargeable Piper model is 100% waterproof and can be submerged, meaning your experiments with it do not have to stop when it's time to take a shower. Finally, its innovative self-cleaning mechanism makes caring for the toy a breeze.
Pros:
15 vibration modes and 15 suction options;
Warming masturbator with 3 different temperature settings;
Separately controlled functions for creative experiments;
100% watertight design;
USB rechargeable;
On a full charge, the toy can give you up to 3 hours of unparalleled joy.
24. Fleshlight STU
Fleshlight Stamina Training Unit is a product of outstanding quality. It is perfect for men seeking a budget-friendly male masturbator solution that can help build up their sexual endurance during real intercourse. After having used it for some time, you and your partner will be impressed at how much longer you can last.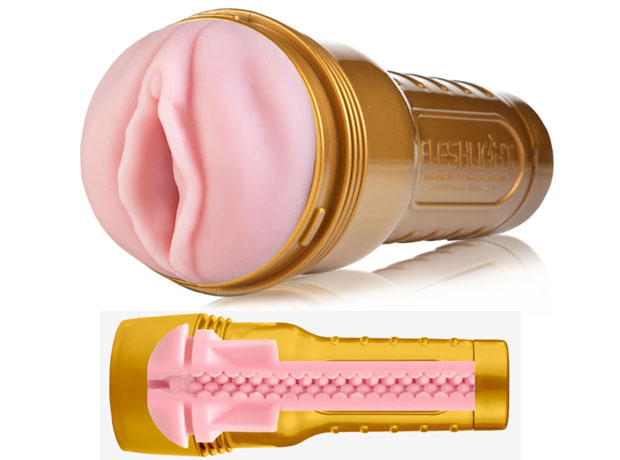 (more photos are available)
The STU device is an ideal pick for men who are new to masturbating with sex toys. It is handy, lightweight, easy to use and clean, and versatile enough to give you tons of exciting sensations. The toy case is removable and can be used with other compatible products if needed. The sleeve itself is made of the soft and 100% body-safe SuperSkin material that feels incredibly lifelike on the touch. The STU toy has delightful ribs and nodules inside to ensure that no part of your erect penis goes unattended.
The unique therapeutic effect of this toy doesn't mean it cannot give you the same intense satisfaction that other more advanced models provide. You can be sure that the orgasms you get with Fleshlight Stamina Training Unit are going to be every bit as fantastic and memorable as when you are having sex with a real person.
Pros:
Perfect for enhancing your sexual endurance;
Ribbed texture gives you intense and well-rounded stimulation;
Uses top-quality, skin-safe materials for the case and the sleeve;
Great toy for beginners;
Attractive price.
25. Quickshot Vantage
The Vantage model is one of the most popular products in the Fleshlight Quickshot series. Its translucent design makes using this half-sleeve especially enjoyable since you can see every tiny detail of your penis moving inside the toy and receive visual stimulation in addition to terrific tactile sensations.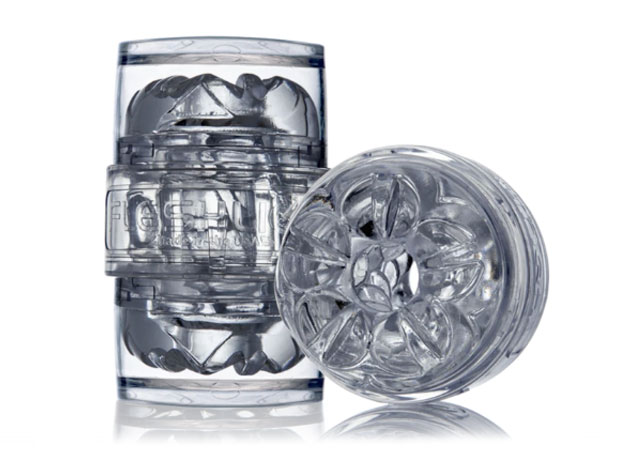 (more photos are available)
The open-ended construction of Vantage is also handy in terms of cleaning the toy. Besides, you can remove the sleeve out of its plastic case and hold it in your hands, adding proper pressure in all the right places and controlling the level of stimulation you get. The dual orifices here offer twice the amount of exciting possibilities you can try.
The SuperSkin textures of the half-sleeve with multiple nodules and chambers provide vigorous stimulation that leads to intense orgasms that leave you breathless. The toy can be used for solo masturbation or couple play during pre-sex stimulation. Its unique design allows playing with the Vantage toy as you caress your partner orally for added pleasure. Finally, its waterproof build means you can make your bathtub time much more productive.
Pros:
Convenient, open-ended design;
Translucent materials for added visual stimulation;
Dual orifices let you use it both ways;
Compact and travel-friendly;
Super easy to clean;
100% waterproof.
26. Fleshskins Blue Ice
The Fleshskins Blue Ice by Fleshlight is a sleeve-only male masturbator toy. Unlike other Fleshlight products, the Fleshskins Blue Ice model comes without an outer case to support its structure and is designed to be held by hand.
Instead of the traditional rigid Fleshlight case, this sleeve has four holes to put your fingers in, and its overall shape is ergonomic enough to provide you with a nice and handy grip on the toy. Such a unique design choice makes this product very comfortable for experienced users that know well what their needs and desires are and want to have full control over the tightness and intensity of their masturbation sessions.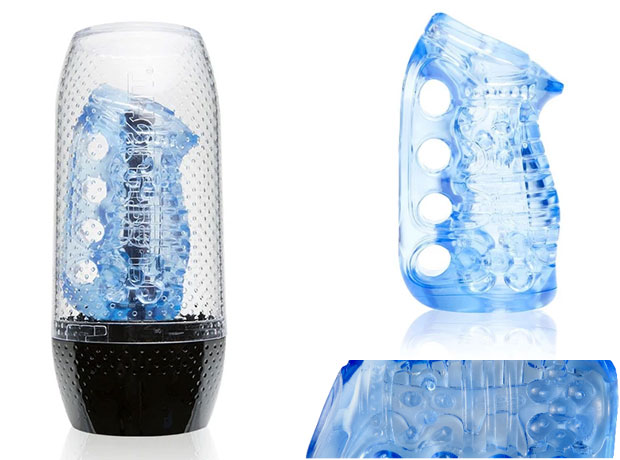 (more photos are available)
Made of translucent, densely textured material featuring bumps, domes, and ribs, the toy feels soft and highly stimulating while also providing 360-degree visibility of the penis as it thrusts back and forth inside the sleeve. Furthermore, the toy is open at both ends, meaning your erection can be any size and almost any girth and still feel extremely snug inside the sleeve. Because of its compact size, Fleshskins Blue Ice is travel-friendly and can accompany you on all your trips.
Pros:
Easy to use, clean, and transport;
Soft and skin-safe material;
Enjoyably textured with bumps and ribs;
Fit for all sizes.
27. La Bocca Della Verita
Any advanced self-pleaser should have an amazing oral toy like La Bocca Della Verita in his arsenal of sex devices. This thrilling blowjob stroker utilizes the so-called dual-layer technology, meaning that its exterior is built with softer and smoother material that imitates the real-skin feel, while internally, this sexy mouth is comprised of more stimulating and tougher stuff.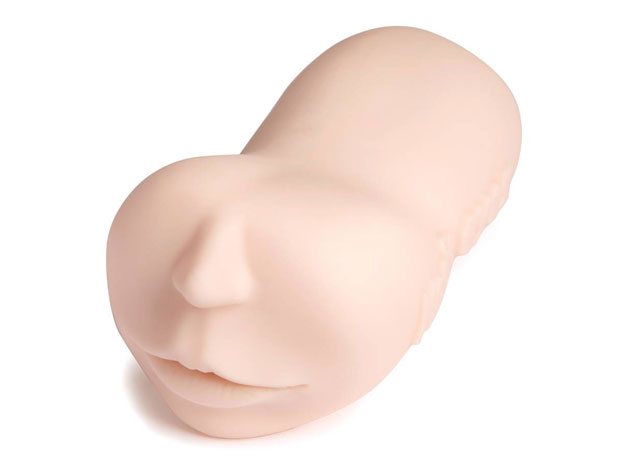 (more photos are available)
When you squeeze this gorgeous mouth open, you will see a set of rubber teeth and a playful soft tongue, which provide an obvious hint at guaranteed heavenly pleasure you will get with this toy. The ridged upper palate teases the head of your penis, sending goosebumps up and down your spine, while the soft and flexible tongue sensually caresses and stimulates the shaft from underneath.
The authenticity of the toy design is off the scale! Its inner anatomy is not limited to teeth and tongue. The genioglossus muscle, the uvula, every tiny detail of the gradually narrowing throat is meticulously replicated to provide you with fabulous sensations you usually have during real oral sex with an experienced partner.
Not every man gets to live out the deepthroat fantasy in real life, but with this awesome toy, all limitations are gone, and you can thrust yourself as deep and as hard as you want. The throat part of the toy has a narrower, tighter, and more prominently textured structure compared to a real woman's throat to give you enhanced stimulation that results in mind-blowing orgasms.
Closed to the rear, La Bocca Della Verita produces notable suction power for more realistic BJ simulation. Upon entering the mouth, you'll feel being sucked in deeper and deeper, until you are crying out with pleasure. To enjoy your La Bocca Della Verita even more, try submerging it into warm water beforehand to reproduce the warmness of a real mouth. Also, don't forget to apply enough lube for a smoother glide.
Pros:
Beautifully realistic and highly detailed mouth and throat design;
Provides super intense deepthroat BJ simulation;
Dual-layer technology imitates the real skin outside and inside;
Temperature responsive and easy to warm up;
Easy to hold and very flexible when used;
Waterproof and submersible.
28. 3FAP
The 3FAP sex machine is one of the weirdest-looking but most exhilarating sex toys you will ever get to try. The product has three enjoyable orifices located handily side by side, each with its unique texture and varying suction intensity. With this advanced toy, you no longer have to stop the fun to change the sleeve if you want to experience a different type of stimulation.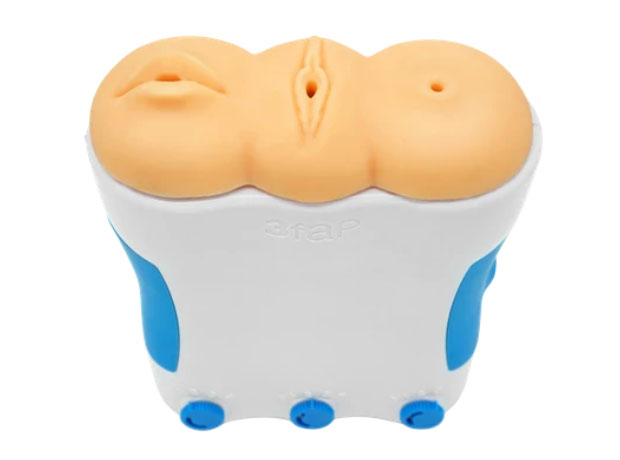 (more photos are available)
Lined with different textures, all three orifices give you a unique feeling and boast varying suction. The toy comes in two variations – one with three vaginas, and the other with three different orifices. The all-vagina toy will be an excellent pick for men who dislike anal or oral play and prefer sticking to the main course.
In the future, the manufacturer plans to extend the product range and come up with 3-in-1 anus-only or mouth-only solutions or ones that feature a wide variety of other enjoyable combinations.
Pros:
3-in-1 design for more profound, all-embracing stimulation;
Each sleeve has a distinguished texture and a different level of suction;
Available in two variations – 3-in-1 and all-pussy;
Great value for money.
29. TENGA Egg
This male sex product is designed for pure self-play joy. The Tenga egg-shaped masturbator is an inexpensive, discreet, and very straightforward model that can make a great starting sex toy for men who are not yet familiar with this sort of fun and cannot confidently state their preferences. Each Tenga Egg boasts a differently ribbed texture inside – embossed hearts or large waves – so men can choose the textured pattern that gives them the most pleasure at all the right spots.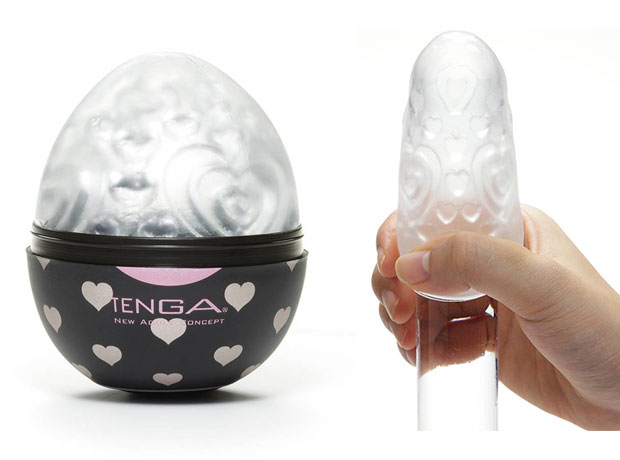 (more photos are available)
Even though it looks petite, the egg can stretch 12 inches, covering the entire length of your penis shaft and caressing your most sensitive zones with its soft TPE ribs and texturized hearts. The toy is neatly packed into a hard case to protect it from damage and comes complemented with a sachet of lube. All you need to do to get the fun started is to squeeze the lube into the toy opening and gently slide in.
Although this Tenga toy is advertised as a single-use solo masturbator, the egg can be shared with a partner for mutual stimulation and used multiple times provided that you take good care of it, wash, dry, and store properly.
Pros:
Super-elastic toy with soft ribs and varying textures for thrilling stimulation of your most sensitive spots;
The egg masturbator can stretch 12 inches and fit almost all erection sizes;
Comes in a rigid egg-shaped case with a bonus sachet of lube;
Small and discreet design will give you peace of mind during transportation;
Suited for singles and couple play;
Each Tenga egg can be used up to 10 times with proper care.
30. Doc Johnson UR3
The Doc Johnson UR3 toy is a great and very economical option for men seeking to make their masturbation sessions more exciting and diverse. This well-designed, realistic stroker features a thrillingly tight opening that leads to a soft and enticing tunnel. The inner canal of this male masturbator sleeve is lined with ribs to stimulate, excite, and caress all your hottest spots.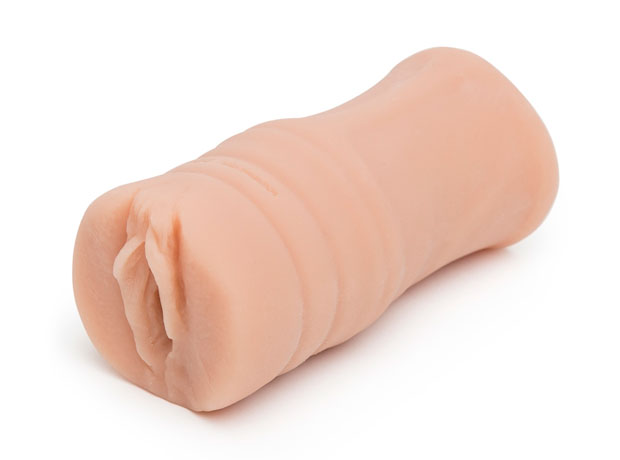 (more photos are available)
The masturbator utilizes the innovative UR3 material that ensures deliciously lifelike sensations during use. The Doc Johnson UR3 product is a very flexible toy that stretches nicely to embrace the entire length of your penis and make even the girthiest men comfortable.
To take full advantage of your Doc Johnson sleeve and make each session with the toy a tremendous success, make sure you always have enough water-based lube at hand.
Pros:
Beautifully ridged inner textures;
Ultra-realistic skin feel of the innovative UR3 material;
Stretchy and can fit men of varying sizes;
Hypoallergenic, skin-safe toy;
Easy to wash and dry.
31. Apollo Hydro Power Stroker
The blue and black Apollo Hydro Power Stroker is a luxury male toy that anyone seeking intense oral sex-like stimulation ought to try. Its outer layer of thin silicone feels very smooth to the touch and promises a good grip on the toy when it is used manually. Apart from the stroker itself, there is a suction cup included for when you want a hands-free experience. The sleeve is removable for better cleanup and maintenance.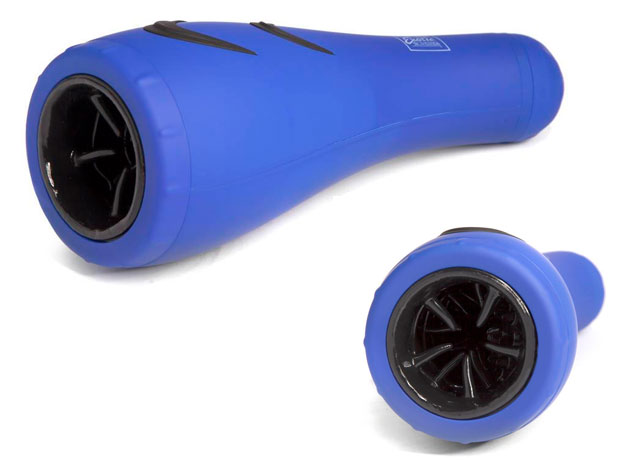 (more photos are available)
The inner walls of 4.5-inch deep Apollo Hydro Power Stroker are decorated with delicate fronds and nodules. Made of soft TPE, the sleeve feels flexible and squashy. This male toy boasts a whopping 30 different vibration features like patterns and speeds, so each new session with it will be different from the previous one. Despite such powerful functionality, the interface is surprisingly straightforward and intuitive.
You can take Hydro to the shower with you, as it is 100% waterproof. The sturdy suction cup that turns 180 degrees will keep the toy in place while you are enjoying yourself. Its watertight design also makes cleaning the stroker an effortless task.
Pros:
Improved design of the sleeve with extra-pleasurable nodules and fronds;
Powerful vibrations with over 30 different settings;
Reliable suction cup for hands-free experiments;
The removable sleeve is easy to clean;
100% waterproof.
32. Lifetime Stroker
The Lifetime Stroker masturbation device is believed to be the most true-to-life and anatomically accurate reconstruction of a woman's vagina. The toy has been meticulously designed and 3D printed to give you the most realistic and enjoyable vaginal sex simulation experience. The only downside of the all-silicone layout of this toy is that there is no other way to control or adjust its tightness against the penis except manually.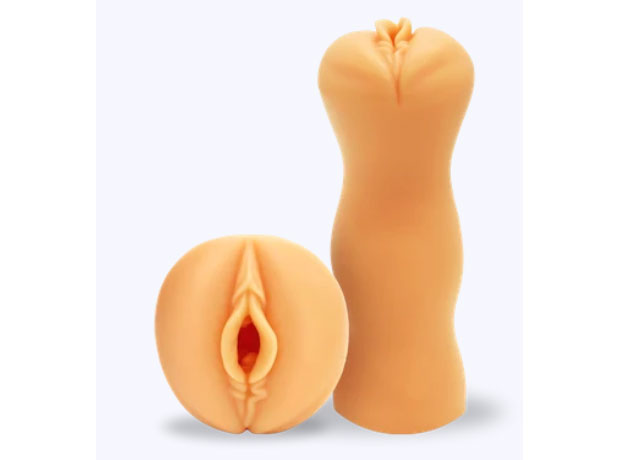 (more photos are available)
The design of this device is ingeniously simple: its external details like the beautifully carved vaginal lips feel soft, but not at all flimsy. Internally, the sleeve is pleasantly textured with either bumps or ridges that gently rub against your manhood as you thrust yourself back and forth inside it to maximize the pleasure.
The toy is highly stretchable and can fit penises of all sizes and girths quite snugly. Its open-ended design makes washing the stroker after each use hassle-free and quick. Since the Lifetime Stroker is made of silicone, which is a non-porous material, it is protected against bacteria and dirt, and also 100% hypoallergenic.
Pros:
Premium-quality soft silicone, 100% hypoallergenic and bacteria-free;
Realistically looking, 3D-modeled toy;
The open-ended design ensures quick and effortless cleaning;
This all-silicone toy is highly durable even if used regularly;
Two different texture patterns are available for this sleeve;
100% waterproof.
33. Belladonna's Pocket Stroker
Belladonna's Pocket Stroker is a realistic and very accurate replica of the famous porn star's pussy. The stroker is made of the soft UR3 material that gives it a smooth, skin-like feel. The model boasts a convenient open-ended design that not only fits men of all sizes perfectly but also makes caring for the toy and keeping it in the tip-top condition super easy.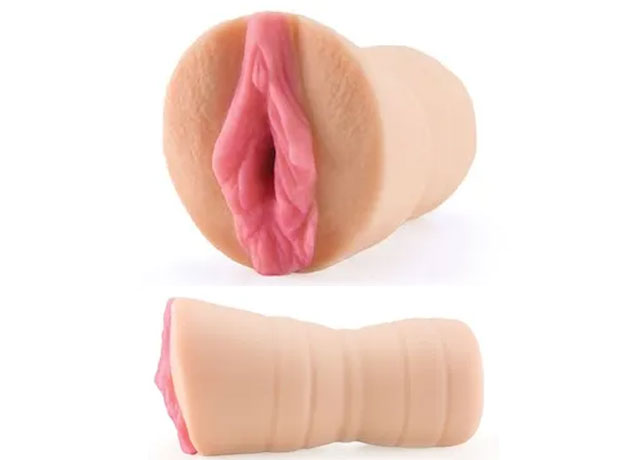 (more photos are available)
The inside canal of this 6-inch sleeve has ribbed and contoured textures to imitate the feel of a real vagina. The slightly ribbed exterior offers a handy grip, so you can be sure that the toy stays in your hands even during the most slippery moments. The antibacterial compound used in this toy helps it stay clean and fresh in order to serve your dirtiest needs for a much longer time.
Pros:
6-inch long and 2.5-inch wide, this open-ended toy can fit in any man;
Comes in a very travel-friendly size;
Utilizes the novel UR3 material;
Its ribbed outer layer ensures a secure and reliable grip;
Heavily textured on the inside for intense and mind-blowing stimulation;
Easy to wash and dry.
34. Tracey Cox Clear Stroker
This 5.5-inch masturbator sleeve for male stimulation is built with much thought to men's most daring desires and needs. The Tracey Cox Supertight Stroker boasts a modern and sleek open-ended design that makes users of all sizes feel comfortable wearing it. Its translucent walls made of soft plastic with many delightful inner ribs let you and your partner observe and enjoy what is going on inside the sleeve.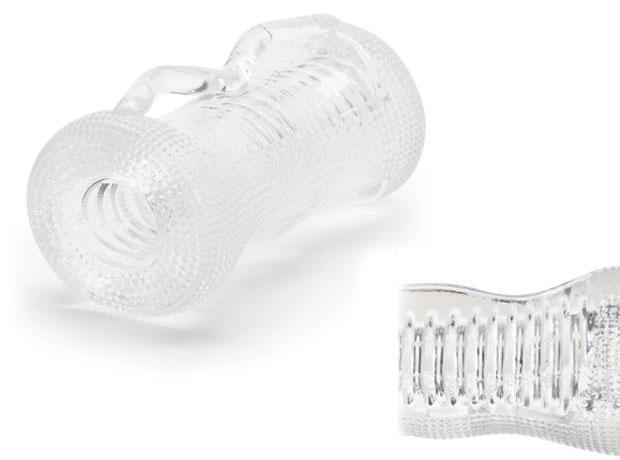 (more photos are available)
This Tracey Cox toy offers a snug fit and feels very tight as it is; however, if you crave for additional and more targeted stimulation, the sleeve will allow you to apply extra pressure manually and have all the control over the process. The stroker is submersible, so feel free to take it with you to the shower for a bit of self-fun in the morning. Also, washing, drying, and keeping it in the perfect condition should be easy.
Its compact size and discreet design make the Tracey Cox Clear Stroker toy a great travel mate that can accompany you on all your trips and cheer you up whenever required.
Pros:
The toy is 5.5 inches long and can snugly fit any man due to its open-ended design;
Stimulating inner ribs help maximize your sensations during self-play;
Its discreet design makes the sleeve super travel-friendly;
Translucent material lets you see every single pulsation happening inside;
Submersible and easy to wash.
35. Lovehoney Ultimate Nodules
Lovehoney Ultimate Nodules is a versatile and reversible male stroker equipped with 5.75 inches of delightfully patterned length and two different exciting textures to enjoy. Its 1.5-inch inner canal does not feel as tight as other Lovehoney products of this class.
The first one of its two delicious textures is a side with multiple rows of elevated ribs that caress and tease your penis with every stroke, giving you intense and robust stimulation. The other side features rows of soft bumps designed for a more relaxed, slow-paced experience.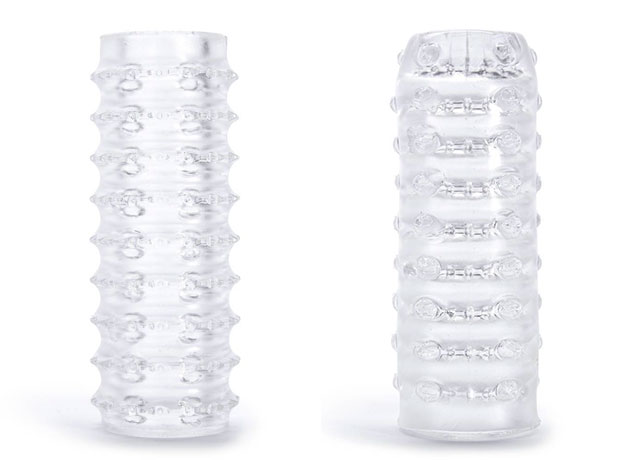 (more photos are available)
The Lovehoney Ultimate Nodules stroker will make a superb purchase for singles and couples alike. Its transparent design allows you to see everything that is going on inside the sleeve. Furthermore, its closed-end design with an air hole makes it possible to experiment with suction.
The toy looks very discreet and does not attract attention when you carry it in your luggage. Since it is made of skin-safe rubber, the sleeve is submersible and super-easy to look after.
Pros:
Reversible stroker with dual textures for doubled fun;
Choose between titillating nodules or highly stimulating ribs;
Closed-end design helps create suction;
Suited for solo play and couple fun;
Travel-friendly, discreet design;
Submersible and ideal for bathtub experiments.
Male Masturbators Comparison Features
Are you a man looking to maximize and intensify your sexual pleasure? If so, a male masturbator is one thing you may want to consider. Not only do these sex toys work excellently on stimulating your most sensitive zones in a way you have never experienced before – they also can be of great help to men looking to understand their needs and wishes better to enhance their overall sexual endurance.
Male masturbators are not only a fun and handy thing to use when you have to play solo. They also can be of great help to men who suffer from various sexual function disorders, in particular, premature ejaculation. The inability to last long enough to satisfy yourself and your partner is a painful subject and a widespread medical problem that affects as many as 1 out of 3 males. Some modern male toys are specifically designed to help men promote their stamina and increase overall sexual prowess.
What are the most popular male masturbators of 2022?
Strokers are among the most popular male toys for masturbation. Don't be bewildered by the fancy name for it essentially means a fleshlight or an artificial pocket-sized vagina that closely or not-so-closely imitates the real thing and makes your masturbation sessions much more exciting and fun.
Strokers can be of varying shapes and sizes and feature unique exterior and inner texture. Typically, they are compact devices shaped to look like a vagina, ass, or mouth opening followed by a peculiar inner canal with a textured structure and many details for extra stimulation. Built to be worn on your penis, these products can pump, suck, vibrate, stretch and tighten to simulate oral, vaginal, or anal sex with a real partner.
Some strokers are small and discreet, which makes them a great travel companion; others are bigger and heavier with plenty of added functionality, such as VR compatibility, and are meant to be used at home only. There are masturbators that look and feel just like a real vagina or ass, and those that have a more futuristic, non-anatomical design. The choice is rich, and anyone, however versed and picky, can find a toy to their liking if they look close enough. Thoroughly analyze your personal preferences and needs to make sure the toy you are getting is perfect for your size and will feel comfortable, bringing you maximum pleasure.
How To Choose a Perfect Stroker?
In this detailed buying guide, we'll introduce you to the concept of male masturbators and show the pros and cons of different textures. We'll also explain how different toys can be used and give general advice on choosing a product that will make you truly and deeply happy. In the section above, we have carefully reviewed 35 male masturbators of varying forms, sizes, and intended purposes, so if you are still at a loss as to which toy to buy after reading this guide, feel safe to pick one of these products. We promise that you will not be disappointed!
Step 1: Decide on the type
Trying to categorize male masturbators is a hard task since the difference between their types is often so delicate and minute that by "stroker" many users may actually mean a sex doll torso or a vagina, and vice versa. The best way to describe the different products would be by subdividing them based on their appearance, functionality, and purposes. Roughly put, there are textured fleshlights, realistic masturbators, vibrating male products, dolls, and high-tech masturbation products. Let's take a closer look at each of these categories.
Textured fleshlights
Textured fleshlights are male-oriented sex products that come in the form of a soft plastic sleeve. Inside, these sleeves have a narrow canal with one or several chambers with walls decorated pleasantly with varied textures and details like bumps, ribs, ridges, orbs, nodules, teeth, fangs, etc. All these are located at varying depth, have a more or less pronounced structure, and are designed to massage your most sensitive zones at different angles. The inner canal of fleshlight sleeves can also bend and twist to make your sensations during penetration even more exhilarating.
Regular, inexpensive textured fleshlights are nothing but a sleeve that you put on your penis and operate manually. However, if you are willing to splurge a bit, you can get a fleshlight that also has a protective outer case of harder plastic, which can guard your beloved toy against dirt, dust, and damage.
Realistic masturbators
These are not very different from the previous category of strokers and can actually be the same thing that combines textured inner structure with an enjoyably realistic facade. In contrast to textured fleshlights, lifelike masturbators have a penetrable opening – or several of them – that looks like a very real mouth, vagina, or anus. With varying degrees of success, these male toys are built to replicate the real thing to the tiniest anatomic detail. So, for example, if it is an oral sex simulator, you can be sure there are going be lips, tongue, ribbed palate, narrowing throat, etc.
This category of adult fun products is designed to cater to the needs of men who not only seek incredible penile stimulation inside the sleeve but also want to tease and please their visual senses.
Vibrating male products
The only bone to pick with realistic fleshlights is that you have to do all the work yourself. Vibrating male masturbators are a new generation of adult toys that solves this problem at least partially. Such products usually feature a built-in or removable bullet vibrator that can be turned on/off at your discretion for hands-free stimulation. If the toy also comes with a suction cup, you are guaranteed tons of joy and fun without having to move a finger, so to say.
Sex dolls
These are not fleshlights in the straight sense of this word. Rather, they are versatile sex machines that closely imitate the anatomy and textures of flesh-and-blood people. Sex dolls can be of two types: full-body or torso-only.
Full-body dolls are equipped with all the necessary openings and curves and can mimic different ages, ethnicity, and satisfy your sweetest fantasies to the fullest. Torso-only sex dolls are basically an accurate replica of particular body parts you are most interested in, like a doll with a vagina and an ass in the doggy style position, or a spreadeagled doll torso featuring a vagina, an ass, and a set of beautiful breasts.
These toys are usually more expensive than regular realistic fleshlights, but they can give you an all-encompassing, profound stimulation of your tactile and visual senses. Sex dolls are meant to give men the kind of sensations that no other masturbator except for VR-compatible toys can match.
High-tech masturbation products
This is where the future of male masturbation lies. If touching, stroking, squeezing, and secretly fantasizing is not enough, and you want a real-deal experience, VR sex toys will help. Today's VR male sex gear can look like a traditional fleshlight or a more intricate machine for self-pleasing. Often called teledildonic products, these toys can be used to enable an interactive sexual experience between the two partners who are far away from each other.
Another outstanding capacity of the VR male masturbators is that they are compatible with a multitude of interactive X-rated films. Synchronizing with specialized video content, your VR device will accurately mirror the on-screen action and simulate the sensations experienced by the actors.
These are not all the products for male masturbation you can stumble upon today, and your ultimate decision should depend on your to-the-minute needs and wants as well as your budget. Be careful and patient to explore all the different options before you make your final pick.
Step 2: Choose the right material
The stuff your chosen stroker is made of ultimately influences the amount of pleasure you will squeeze out from the toy. To keep your self-loving fun on the safe side, always opt for products that are composed of skin-friendly, hypoallergenic materials such as silicone.
This is a non-porous option, meaning it is less likely to break or tear and let in all the nasty bacteria, which may cause unpleasant diseases. Besides, silicone products give you a genuine feel of touching and rubbing against real skin, which is essential if you want your sensations during masturbation to be as true-to-life as possible. Also, note that compounded materials like UR3 or ULTRASKYN are among the most delicate and realistic fillings for a premium-quality male sex toy.
If your toy includes an outer protective case, it can be made of less realistically feeling, but more durable materials like harder ABS plastic, rubber, or metal. Be sure to check if the stroker coating provides a handy and firm grip on the toy, so you can be confident that it stays tight in your hand even during the most slippery phase.
Whatever material you choose, always make sure that it doesn't contain things like phthalate, timethytin chloride, carbon disulphide, toluene, cadmium, and phenol. These are highly toxic components known to cause cancer. As a rule, they can be found in cheaper toys made of jelly-like stuff.
Step 3: Get the size right
Every penis is beautifully unique; therefore, extra caution and attention are required when it comes to picking the right size of your male stroker toy. You'll have to check that it is not too tight, which may make your manhood go numb when using the toy. Alternatively, it is vital to find a product that won't feel loose, which may result in less satisfying sensations. Always measure your length and girth to know exactly what you need.
Note that masturbation sleeves can be of the open-ended and close-ended design. The close-ended products are more likely to create a suction feeling and can stimulate your penis head. However, with an open-ended toy, you can be sure that you will fit in comfortably regardless of your erection size. Besides, such toys are super easy to clean and care for.
Finally, the material also matters in terms of how snugly the toy fits. Silicone toys are very durable and lifelike, but they don't stretch as well as sleeves made of TPE or TPR. Jelly products for male masturbation tend to give you the best stretch of them all; however, they may be seriously dangerous for your health, especially if used long-term.
Step 4: Pick the most stimulating texture
Strokers can come with different delicious textures and numerous additional inner details to enhance your sensations from the stimulation and guarantee the most mind-blowing orgasms ever. There is no way to know what you will like best until you have tried them all.
One possible way to get a better idea of what various ribs, dots, bumps, fangs, orbs, and other stuff feels like is to read the reviews provided by real-life users who have tested those.
The description of these products offered by the manufacturer or seller may give a generalized understanding of how different textures will work to stimulate you.
We also recommend finding a household item that offers more or less the same textures and trying it against your penis to get a rough idea of what a real stroker may feel like.
Finally, if you cannot choose which texture and pattern will suit you best, consider buying a fleshlight that comes with several removable and reusable sleeves, each boasting a unique inner structure. This way, you are guaranteed to always get exactly the kind of stimulation you are looking for at the moment.
Step 5: Consider what other extras you want your toy to have
As it has been already mentioned, the functionality of today's male sex toys is not limited to caressing your penis with their delightful ribs and titillating bumps or pleasing your sight with the anatomically detailed exterior. Male masturbators of 2022 can do and be so much more: they can vibrate, create suction, and be turned inside out for a different kind of stimulation. Some vagina imitators look like pussies of popular porn actresses; others come in the shape of an egg that you can easily take with you on a trip abroad.
How to use a male stroker to maximize pleasure?
Always use an appropriate lube to ensure a smooth slide.
Apply enough lubricant on yourself and inside the toy.
Do not thrust full length into the sleeve from the start. Give yourself some time to adjust to the new feeling by inserting only the tip of your penis first.
Make sure it doesn't feel too tight, and your penis is not getting numb.
As you ease yourself into the toy, firmly grasp the base of the stroker or hold it in the places specifically designed for this.
When inside, try to relax to let the stroker material adjust to your length and girth.
Once you and the toy have adjusted to each other, you can begin moving inside it.
Don't make any vigorous moves that may give you painful sensations.
Control the pressure and suction with your fingers for added stimulation.
Always properly clean and dry your stroker after each use.
A few more thoughts
Before you buy a masturbator, think about how you are going to use it. If you are an ardent fan of bathtub and shower fun, you'll need a 100% waterproof and submersible toy. Furthermore, if you want vibrations, it is best to opt for a USB rechargeable device, which is safer and more eco-friendly than traditional battery-powered buzzers.
If it's your very first masturbator, do not be too quick to buy a toy that is overly expensive, however cool its frills are. You might regret spending over $200 on something that you will only use a few times before you tuck it away to the garbage. Start with a product that is simple, affordable, and offers the most basic functionality to help you understand what is what and whether toy-enabled masturbation is your thing. As you get more comfortable with entry-level sex toys for men, you can gradually start making your way towards more luxurious and advanced options.
Think about how important keeping your toy a secret is to you. Some of these scream sex with every line and curve, while others tend to be more discreet and travel-friendly. Do not settle for something that makes you feel uncomfortable or ashamed. With so many delightful options to try, there will surely be a product that is meant just for you.
Carefully evaluate your needs, wants, and preferences before you decide on your future toy. Think about how and when you'll use it and whether or not your sex partner will be invited to join the fun. We hope that the above recommendations can help you narrow down your choice to one particular product that will give you incredible sensations for many years to come.
Proper Maintenance and Care
Delicate toys featuring gentle textures call for proper maintenance routine if you want them to stay in the tip-top condition to keep making you happy for a much longer time. Since masturbators are something that you get in direct contact with, making sure they are clean and free from harmful bacteria is paramount.
How to wash, dry, and renew your male product correctly will depend on its material and design. Thus, cleaning and drying open-ended silicone sleeves is a breeze, while deeply textured, close-ended toys with multiple curves and bends can pose a challenge. Jelly products usually clean well, but due to their porous structure, they tend to absorb a lot of water in the process. Therefore, you will need to make sure all the water has been removed, and the toy has been dried properly before putting it away.
Whenever you need to give your beloved sex device a cleanup, use warm water and soap with anti-bacterial properties. An even better choice would be using a liquid cleaning agent designed specifically for sanitizing sex toys. Applying a special renewal powder is also required for some materials. You csn clean non-submersible devices with a splash of rubbing alcohol.
If your device comes with a carrying case, don't neglect to use it to keep the toy clean, safe, and away from damage. When there is no storage bag, just put the stroker in a clean box and hide it away in a cool, dark, and nicely ventilated place.
Here are some more tips on how different masturbators should be cared for:
Identify the material
Porous materials are much harder to clean and dry, as they tend to hold on to moisture. Any remaining water that you fail to remove may lead to bacteria and mold growing in the toy. If it happens, your favorite stroker will become a source of unpleasant infections. Pay extra attention and care when cleaning toys that are made of jelly, TRP, latex, Cyberskin, or rubber.
Non-porous male masturbators are usually made of silicone, stainless steel, or borosilicate glass. For obvious reasons, silicone is the most widely used option when it comes to strokers. They are usually water-friendly and easy to wash and dry but note that such properties also make them a much more expensive option.
Consider the design
Washing open-ended masturbator sleeves is a dream come true. Just rinse them properly with a lot of warm water and bacteria-killing soap or toy cleaner, and wipe dry before you put them away. With close-ended toys, it is a completely different story. You will need to make sure you have washed away all the remaining lube or bodily fluids from its many nooks, corners, details, and textures. Once it's done, give your toy a proper drying to be certain there is no water left.
Remove all vibrating parts
If your toy comes with a dismountable battery-operated buzzer, don't forget to remove the vibrating part before you start washing the stroker. If the device is completely waterproof, you may rinse it with as much water as you like without worrying about anything.
Flip it inside out
If your toy has a dual-sided textured construction, use it to your advantage and flip the sleeve inside out to clean all of its details and patterns more thoroughly.
Follow the manufacturer's instructions
Do not disregard the manufacturer's advice on how their product should be cleaned, dried, and looked after. Read the instructions carefully to make sure you are using the right kind of cleaning agent and store the toy as best as possible.
A few DON'TS you need to remember if you own a male masturbator:
Don't rinse the device with hot water. It will not kill all the bacteria but may ruin the material and inner textures of your toy.
Don't submerge the masturbator into the water if it doesn't say 'Waterproof and submersible' on the box.
Don't forget to clean your toy immediately after you've finished using it unless you want to know what different types of nasty genital infections there are.
Don't be too shy to ask your partner to wear a condom if you are going to share the stroker. Alternatively, put one on yourself if you are using a toy you borrowed from somebody else. A condom may slightly reduce the sensations, but not to the point where you will not feel anything. Anyway, safety should always come first.
Tips and Tricks
When it comes to getting the most out of your sex toy, there are quite a few tips and tricks you can try. To ensure the maximum possible pleasure and satisfaction with the stroker, keep in mind the following recommendations:
Keep it scrupulously clean. Wash the toy after each masturbation experience to make sure it does not contain any infectious bacteria and serves its chief purpose excellently for a much longer time.
Use the proper lubricant. Most of today's male strokers are made to go with water-based lube only. Applying the wrong type of the lotion not only leads to reduced sensations during the self-play session but also shortens the toy service life.
Purchase specialized care items. Consider investing in products specifically designed to keep your sex toy clean, fresh, and functional for a long time. Such goods may include renewal powders, toy cleaners, bags for safe storage and transportation, etc.
Use your sex device hands-free. It is not necessarily true for all male masturbators, but there are a lot of them that come with a special suction cup or pads that can hold the item in one place and not let it move anywhere while you are playing with it. Such functionality will provide extra room for exciting experiments.
Get yourself comfortable. A golden rule of good toy masturbation says that you should feel as comfortable and relaxed as possible to fully appreciate the many opportunities that such products can give you. Do whatever helps you to get in the mood to make sure your toy play session is a complete success. It can be music, wine, lit candles, your favorite porn movie in the background – the choice is vast.
Try different positions. There are many enjoyable positions to try before you can confidently say which one works best for you. Don't be discouraged if you fail to get what you hoped for the first time you use a sex toy. Keep experimenting, and your efforts will be duly rewarded.
Explore all the different functions the toy has. You don't have to do it all in one session (you won't be able to, anyway), but remember that if something is there, it is there to give you unparalleled, orgasmic pleasure. Failing to test all the different features and options is a downright crime.
Share the toy with your partner. Don't keep all the fun to yourself. Bringing your new toy to the bedroom during playtime can be an excellent opportunity to connect with your partner at an entirely new level and study each other's needs more deeply.
Final Thoughts
A well-chosen male masturbator can become a terrific investment that will help significantly increase the quality of your sex life, whether you use it for solo fun or as a delightful accessory to spice things up with your partner. A sex toy like this will help you better understand your sexual preferences and desires and encourage your loved one to explore new possibilities for giving you supreme pleasure.
With a choice of male masturbators as big as it is today, finding the one toy that possesses all the needed qualities and characteristics is not easy. There is a wide range of factors to consider carefully before you can make your pick. Nothing should be ignored or overlooked since every tiny aspect of your new toy can ultimately influence the quality of your satisfaction. If you are operating on a tight budget, the task is further complicated as you will have to find the right balance between quality, functionality, and price.
Hopefully, this detailed buying guide has clarified the subject a little. Take your time to analyze all the advantages and disadvantages of the model you like and carefully read all the reviews from real users that you can find. If you don't want to waste your time and energy looking for a perfect adult toy, feel free to pick one from our detailed list of 35 male masturbators in 2022. They all have been rigorously reviewed and tested to make sure there is nothing but endless pleasure awaiting you.