A Fleshlight masturbator can add zest to your intimate life and let you open the new facets of joy. Going solo becomes not as boring as it seemed before when you have such a large variety of textures almost at your fingertips. This is a perfect opportunity to experiment and enjoy bright sexual life without the risk of STDs and any limitations.

30 Seconds Summary
I am excited to announce my updated TOP 3 picks for September 2023:
With all our Fleshlight models reviewed, you'll find it easy to choose a suitable Fleshlight (or two). The manufacturers have taken into account all customers' preferences and physical peculiarities to deliver a wide gamut of sleeves and their variations. Size, color, texture, softness – choose the most suitable parameters to satisfy your appetites as fully as possible.
Top 50 Fleshlights
There's a wide array of Fleshlights – every model comes with its unique inner texture and specific level of penetration intensity. Such toys make masturbation increasingly joyful and allow men to train stamina and discover their body better. However, it's crucial to select a suitable model. My Top-50 Fleshlights rating is here to help you make an informed decision.
1. Heavenly (Jessica Drake) – A Burst Of New Sensations
It's not surprising that the top Fleshlight has been named after this porn actress. Jessica Drake has been in the pornography industry since 1999 and got many prestigious awards for the best sex scenes. Want find out how it feels to have sex with this celebrity? Then you should try Heavenly (Jessica Drake) – this is a tight Fleshlight with a well-thought-through inner structure. It provides a lot of sensations and distributes pressure over the entire penis.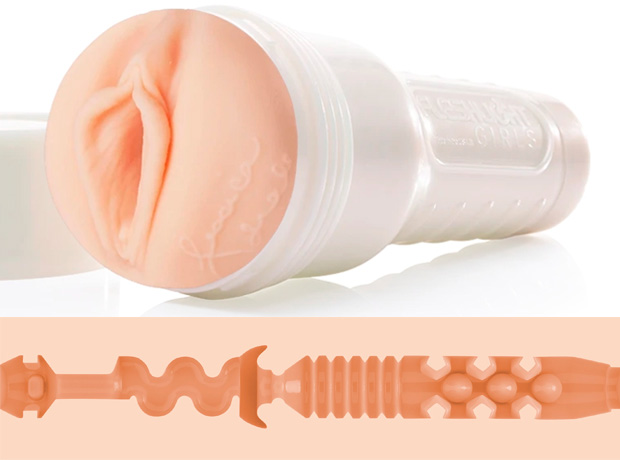 (more photos are available)
What does it look and feel like? First, you enter the orifice modeled after Jessica Drake's labia. Inside, there is a chamber with small dots that stimulate the head and a narrower tunnel – it provides a tight grip from the tip to the balls as you move forward. The second wavy section releases the pressure and caresses your member. The next so-called 'lotus node' offers some resistance and makes up for a fantastic feel once you penetrate it. The last chamber with dotted walls will make the final epic by softly massaging the head.
Advantages of Heavenly:
No full hard-on is needed to enter the sleeve;
Moderate tightness;
Variety of textures that stimulate the entire penis;
Optimal length;
The kit includes lube and clean & care pack.
2. Flight Pilot – Compact But Powerful (for Small and Medium Guys)
If you ever tried the Stoya Destroya sleeve, you know what Flight Pilot might feel like. This is a pretty compact Fleshlight – the length of 8" would be ideal for average penises. But don't underestimate it – this thing is more potent than it seems. Tighten your seat belt – Flight Pilot takes off to get you to the seventh heaven!
However, the high-quality Superskin material is pretty soft, so the sleeve can accommodate all cock sizes. A lot of users claim that this thing is easy to carry and feels fantastic – a perfect trade-off between sensations and size.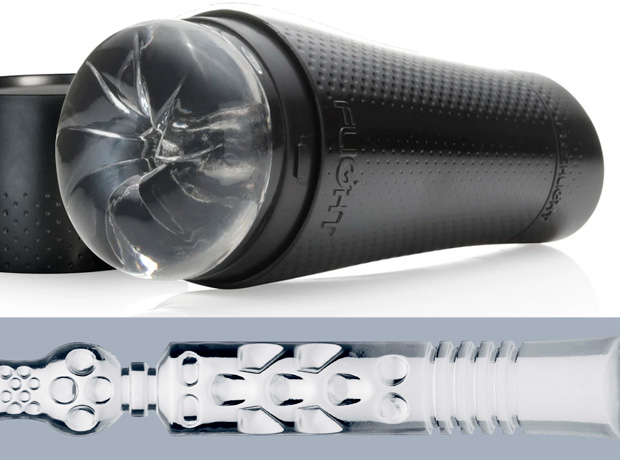 (more photos are available)
What about the inner structure of the model? It has a mildly tight entrance and some circular swirls that are easy to slip into. The textured chamber with bumps and fangs is very stimulating and is not hard to penetrate. The second passage grips the penis not very tightly and provides the relief in the ribbed section. Since it's a pretty compact and narrow thing, the experience is more intense and realistic than in larger models. This thing is surely not for a long-term solo: its increased stimulation makes orgasms fast and unavoidable.
Advantages of Flight Pilot:
Very intense effect;
Compact and easy to carry;
Easy to clean and maintain;
Great variety of structures.
3. Riley Reid (Quickshot)
In search of a compact and powerful Fleshlight? Join hundreds of customers who really appreciate the advantages of the Riley Reid Quickshot model. It is very compact and sleek, but even these few inches will provide you with incomparable pleasure. The Fleshlight can be used for solo or couple foreplay – it's a versatile item with two entrances: once is modeled after Riley Reid's vagina and another is a butt version.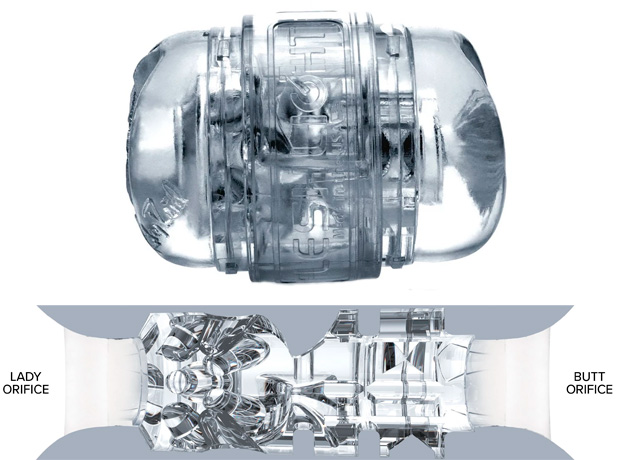 (more photos are available)
Compared to other Quickshots, this one offers a more intense impact thanks to more appealing entrances and fancy texture. The model is transparent, which means you can see and enjoy the process. The base is also compact and clear – you can easily wash the device and enjoy trouble-free maintenance.
The inner structure consists of a chamber with fangs that massage the penis head very intensely, followed by the second ribbed chamber. The latter provides a tight grip and yet helps relieve pressure. Two entrances also different grip levels – choose the one that appeals to you more.
Advantages of Quickshot:
Great for traveling and carrying;
Easy to clean and maintain;
Features two slots (vagina, butt);
Non-expensive;
Transparent.
4. Stoya (Destroya) – Unrelenting Grip of Fancy Textures
This Fleshlight is a true legend on the market of sex toys. Experienced and spoilt users switch to this option and never regret it! Destroya orifice is modeled after Stoya porn actress' labia, but it's only the tip of the iceberg. It has great fancy inner texture and can surprise even the most experienced and discerning users.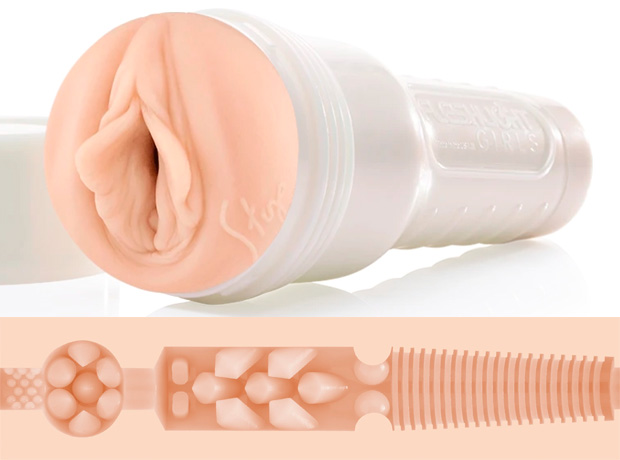 (more photos are available)
This device is not for the faint-hearted men: it would rather be recommended to the ones who like it hot and hard! The entrance starts with a tight passage and welcomes the shaft with a spacious chamber full of long fangs – a burst of sensations is guaranteed! After that, you advance further, get stimulated by another narrow passage and get into a bigger chamber with one more row of fangs. Sounds like a rollercoaster? It feels like that! Finally, the tight ribbed passage lets you relax a bit while holding the grip. Intense penetration at every inch is guaranteed!
Pros:
Pretty narrow and tight – makes up for intense stimulation;
Suitable for average shafts;
The kit comes with lube and cleaning supplies.
Cons:
Hard to clean;
Not suitable for beginners and owners of a large penis.
5. Thrust – Turbo-Stimulation For Unforgettable Blowjob Experience
The model makes your skin crawl only after looking at it. This icy sleeve only seems to be cold – in reality, it feels hotter than any woman you were with! The Turbo Thrust model was designed to imitate oral sex and provides more than a lifelike blowjob experience. No matter which sensation you prefer – deep throating, tip stimulation with a tongue, or intense licking – the Turbo model can provide all of that!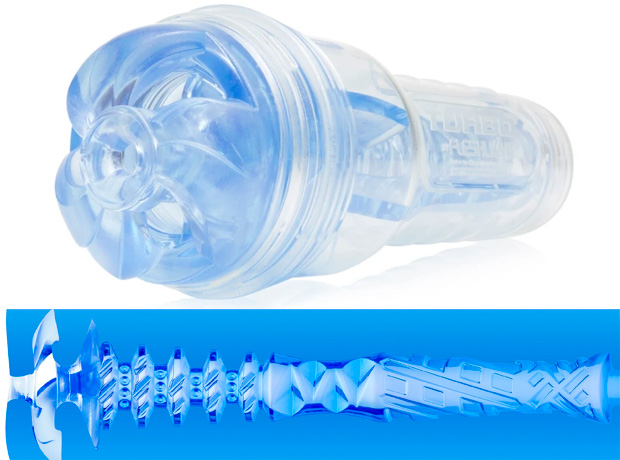 (more photos are available)
With its 8.5" insertable length, Turbo provides a fulfilling blowjob sensation. The transparent crystal blue material will let you see the wonders going on inside the tunnel. It starts with a non-anatomical orifice that rather reminds of a butt hole. 3-point stimulation allows you to feel all kinds of pleasure: tongue, lips, and throat. The inner texture is mostly ribbed, and the sleeve is very tight – such gimmick is definitely not for sensitive individuals!
Pros:
Simulates all blowjob experiences and types of stimulation;
Great design;
Tight grip for mind-blowing sensations;
Suitable for medium- and large-sized penises.
Cons:
Hard to clean;
Not suitable for men with very large and bulky penises.
6. Tasty (Elsa Jean)
Who doesn't know Elsa Jean? This petite blonde appeared on the screens in 2015 and became very popular featuring in over 480 films! If this long-haired beauty appeals to you, too, give a try to Tasty Fleshlight. With the orifice modeled after Elsa Jean's pussy and an intricate inner structure, it will give you an impressive buzz!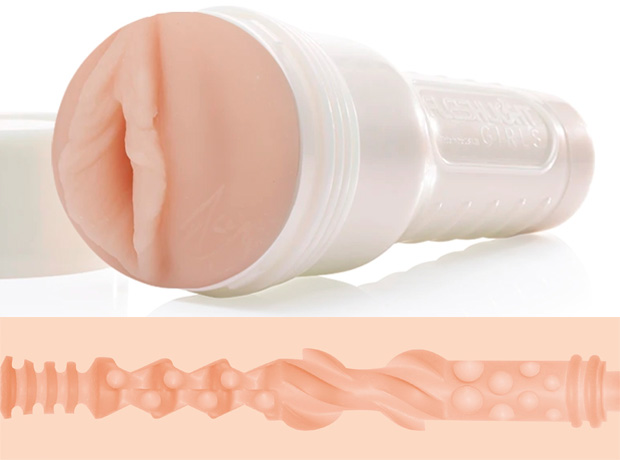 (more photos are available)
Featuring 9.5 inches of free space, this model is suitable for medium- and large-sizes penis owners. Its width is 0.5 inches only – it's one of the tightest models on Fleshlight collection. The tunnel of pleasure starts with a ringed protrusion that makes up for a powerful suction welcoming the head. After that, there are three small chambers with dots and angled protrusions with a tight passage for maximum pressure. The last chamber helps to release the tension and caresses the penis tip with pretty large dots.
Pros:
Various textures inside;
Suitable for large-size penises;
It provides a tight grip – great for experienced users.
Cons:
Hard to clean and maintain;
Not suitable for men with a sensitive cock.
7. Crush (Dillion Harper)
You're a fan of Dillion Harper? This young Starletta has made a lot of fuss in the porn industry with thousands of viewers falling in love with this pussy. It inspired the Fleshlight team to create the Crush model. This sleeve has everything you need and nothing you don't. Starting with a plump orifice and finishing by the tight passage end, it guarantees you a ton of delight.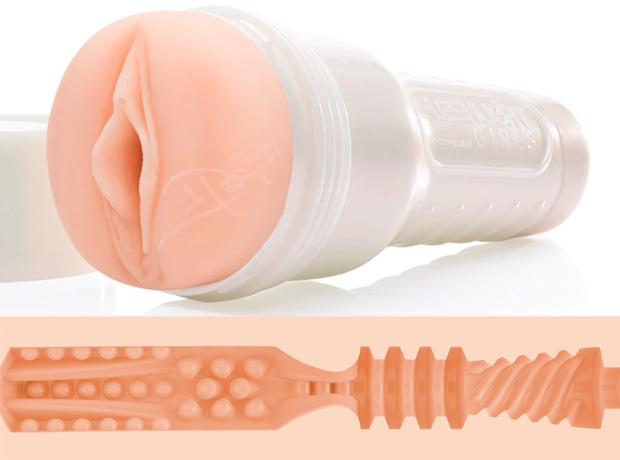 (more photos are available)
This model would rather be recommended to starters and users who are not into tight sleeves. Crush is here to prolong the pleasure: it caresses penis with small fangs and dots adding a boost of unbearable friction only in the last two chambers: one is ribbed, another one is spiral-shaped. Want to increase your stamina? This model would be just right to gain skills and experience – you can maintain hard-on for as long as you need and experience the fascinating orgasm only after penetrating further.
Pros:
An optimal inner texture for medium level of penetration;
Great for boosting stamina and training;
Suitable for large-sized penis;
The kit features cleaning supplies and lube;
Easy to clean.
Cons:
The sleeve might not be tight enough for users with a small penis;
Pretty wide entrance and the entire sleeve;
Quite bulky.
8. Utopia (Riley Reid)
Sometimes Fleshlights with fancy structures and textures simply lack the embracing sensation and tightness all along the shaft. This is not a problem with Utopia – a famous Fleshlight with the orifice modeled after Riley Reid's tantalizing pussy. The sleeve has a large capacity and offer an incomparable grip.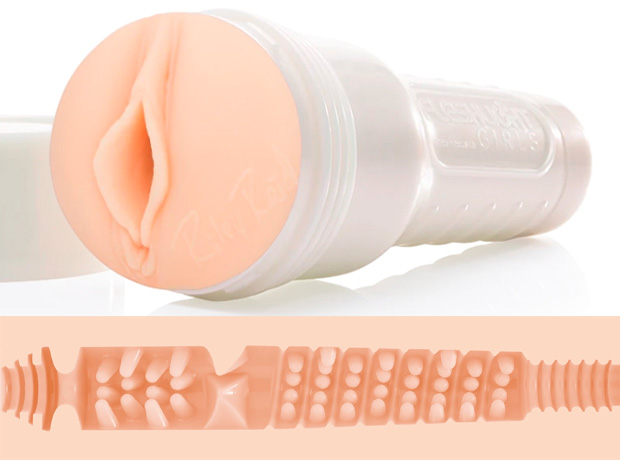 (more photos are available)
This thing would be just right for both intense play and a long-lasting solo – it all depends on how you use it. The long ribbed chamber is just right for building up erection and coming to the epic climax once you penetrate deeper. The secret of success here is to find the right lube – it can make a night-and-day difference to your experience.
Pros:
Suitable for both fast and long-lasting solo;
Realistic pussy and lifelike experience;
Not hard to clean.
Cons:
Lacks a variety of textures;
The intensity is not strong enough for some users.
9. Tornado (Alexis Texas) BUTT – Tight & Creative For Double Pleasure
If you're aware of the porn industry celebrity stage, you know who Alexis Texas is. This wild blonde is famous for her appetites for anal sex, so it's not surprising that Fleshlight decided to launch a device modeled after her derriere. If you like it tight, the Butt version of Tornado Fleshlight is just the thing. It goes without mentioning the creative inner structure of the sleeve – this whirlpool will make your head go round with pleasure.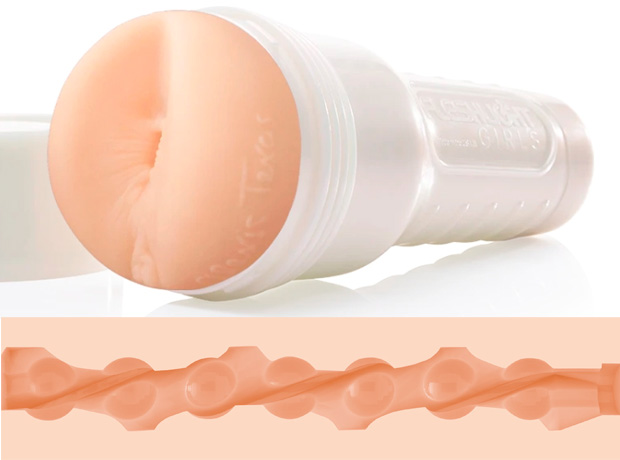 (more photos are available)
As you might have guessed, the Butt version has a narrow anal-like entrance and is not very spacious at the beginning. However, once you pass this sweet barrier, you will swirl into the spiral-shaped passage with a multitude of short fangs and dots. This is the sensation you've never experienced before! Many users claim that Tornado provides a completely new experience, and it's not only because of the alternative style of the orifice. We recommend this item to more or less experienced users with a stamina level above average.
Pros:
Suitable for mid- and large-sized users;
Creative inner texture with intense penetration along the entire shaft;
Relatively easy to clean;
Modeled after Alexis Texas;
The anal entrance feels tight enough.
Cons:
The model is not suitable for starters;
It might be too bulky for some users.
10. Ice Lady – Skin-Crawling Intensity
Ice, ice, baby! 'Cool' is exactly how the thing looks and feels. Being the only 100% transparent Fleshlight in the brand's collection, this model allows you to enjoy watching your penis gliding through the ice of pleasure. Skin-crawling and toe-toggling experience is guaranteed: take a look at the inner textures! With its 8.5" insertable length, this Fleshlight is ready to accept you all from the head to the balls.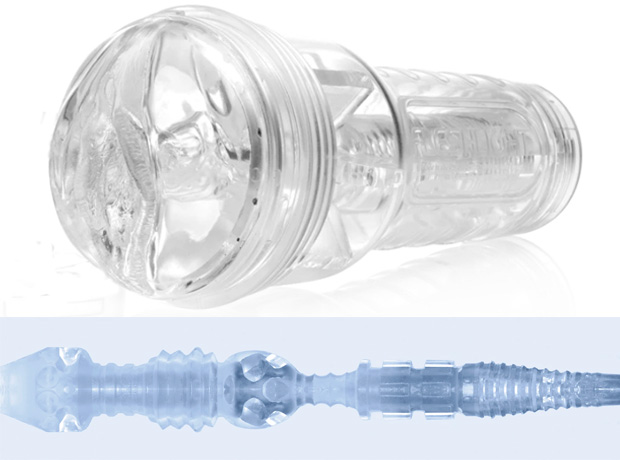 (more photos are available)
This thing is also sleek in how it feels. The overall passage is quite narrow and tight: it starts with a pretty spacious entrance so the head feels pretty safe, but don't let this feeling fool you. A tight ribbed passage follows – every inch of it prepares you to experience a mind-boggling sensation of fangs teasing every spot of your flesh. The further – the tighter. This thing will keep you at the edge of your patience from start to the very end.
Pros:
Suitable for men with small sizes;
Sleek and stylish design with 100% full transparency;
Great sensations for well-versed users.
Cons:
Might be too tight for starters;
Not good for stamina training – the stimulation is too strong;
Not all users like unnatural colors and designs.
11. Spice (Eva Lovia) BUTT
If you are an advanced user and want to enjoy a variety of textures, consider Spice model: it unites the best of both worlds being both tight and yet subtle. Modeled after Eva Lovia's butthole, it excites thousands of fans around the world – you can be the next to enjoy this outstanding sleeve. No matter which type you choose – orifice or butt – you will enjoy the tight entrance followed by a spacious chamber with a multitude of dots. Judging by customers' reviews, the model provides overall satisfaction and offers new sensations even to those who have tried a lot of sleeves before.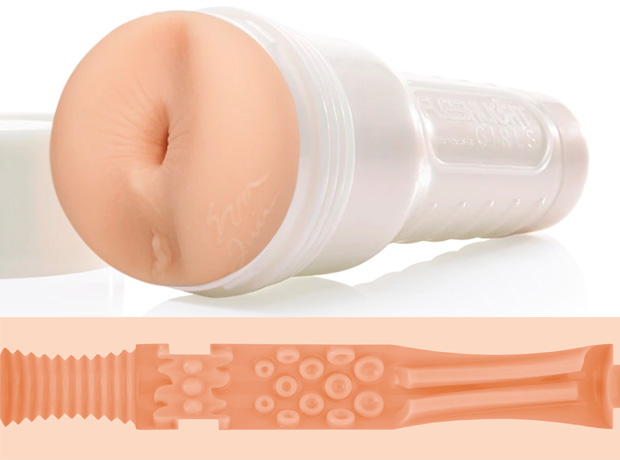 (more photos are available)
This thing is great for experimenting. Don't lets its appearance fool you: the tight passage isn't that hard to bear, while the inner structure provides more stimulation. Spice BUTT is a model that requires several sessions to get the taste of. Although it's not as intense as Stoya, it can definitely spice up your sex toy repertoire.
Pros:
Suitable for men who need subtle and delicate stimulation;
Can be used by men with a medium and large penis;
Perfect for a long flight;
Creative inner texture.
Cons:
Not very intense;
Wide chamber may be unsuitable for males with a small penis;
Not very realistic.
12. Punk (Joanna Angel) BUTT
Lovers of super-ribbed Fleshlight will all in love with this model because it features a large variety of sections – all with different intensity of grip. A satisfying anal experience is guaranteed! Chamber by chamber, this sleeve will embrace and relieve your shaft – you never know what comes next. This is exactly the effect that Joanna Angel wanted to reach, so enjoy the sweet butthole modeled after her anal zone, and the sleeve textures following after.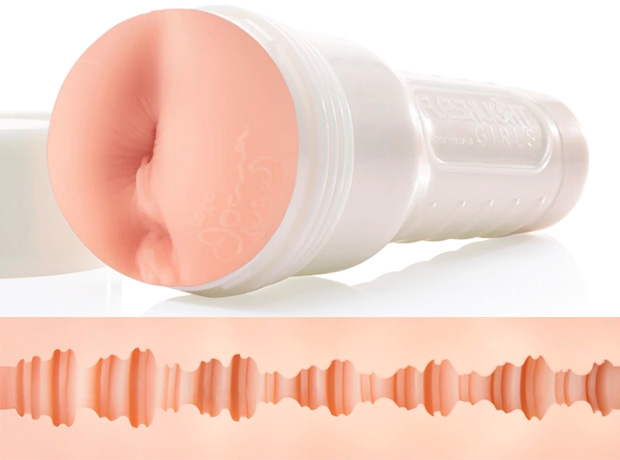 (more photos are available)
If you don't seek for a variety of textures but want to experience lifelike anal sex, this toy is exactly the thing. Users admit it doesn't require much lube and provides excellent tightness for ultimately joyful orgasms.
Pros:
Great intensity;
Suitable for small penis sizes;
Not hard to clean.
Cons:
Some users lack the choice of textures;
Good for a fast solo – not suitable for long-lasting sessions.
13. Vantage (Quickshot)
Ultra-compact and sleek, Quickshot is your best friend for traveling. It's less than half the size of the original Fleshlight, but provides mind-boggling stimulation and would be great for a quick solo or warm-up before full-fledged intercourse. Thanks to the two open ends, the sleeve is easy to clean (there are caps for easy storage, as well).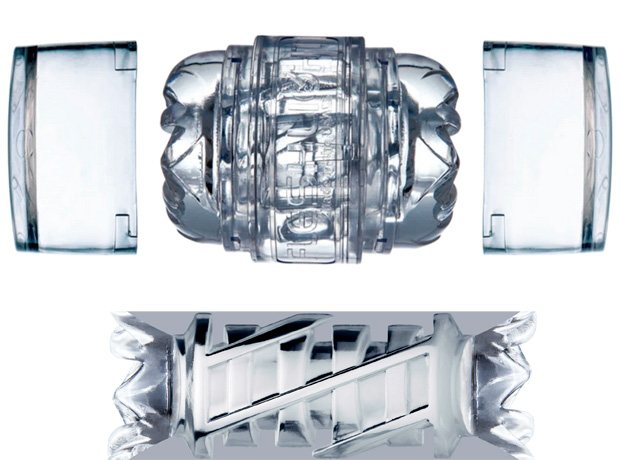 (more photos are available)
Judging by customers' reviews, this little thing provides gentle, smooth, and slightly teasing sensations – it will glide along your shaft, making up for gradual and mellow orgasm. Don't expect roughness from this model: it's pretty soft and won't lead to overstimulation. At the same time, as you move further, it caresses the entire shaft, so each inch of your member will get enough attention.
Pros:
The most compact sleeve in Fleshlight collection;
Average tightness and an intense structure;
Non-expensive.
Cons:
Lacks realism and the suction of a traditional sleeve;
Suitable for a slow build-up of erection – not for a quick play.
14. Shameless (Brandi Love) BUTT
The mother of all MILFs, Brandi Love is a true superstar in the porn industry, so it's not surprising that the Fleshlight modeled after her butthole has a very intricate inner texture. Shameless welcomes your shaft with a pretty tight dotted passage, but one you proceed further, you experience even more mind-blowing sensations. It makes you want to push deeper but its intensity is pretty bearable. Don't let the appearance fool you: it takes some time and effort to cum while penetrating this sleeve!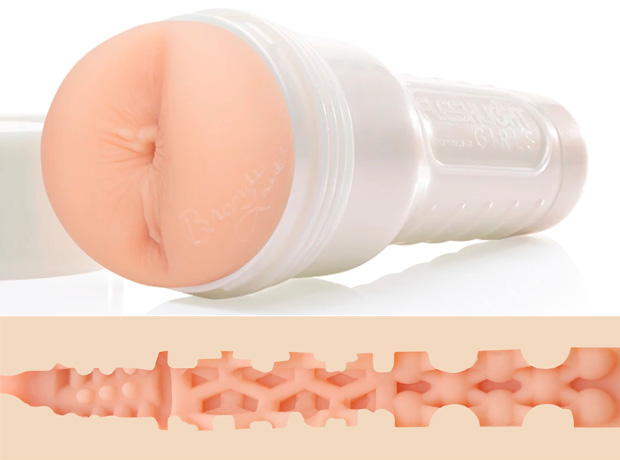 (more photos are available)
However, if you work hard, the reward will be sweet and ecstatic: users especially like the last few inches with large bumps that massage head pleasantly. Thanks to the variating textures, you can switch between the sensations. Although it feels neither like vagina nor like butt, the overall experience is pretty realistic.
Pros:
Great variety of textures;
The optimal intensity and outstanding experience;
Suitable for large-sized shafts;
Pleasant butthole passage.
Cons:
Hard to clean;
For some users, the device lacks the realism of sensations.
15. Lush (Abigail Mac)
If you're in love with Abigail Mac's supple breasts and tantalizing pussy, here's the chance to get more intimate. Meet Lush – the synonym of pleasure and sensual seduction. With its orifice modeled after Mac's pussy and a myriad of fancy textures, this Fleshlight will fulfill your most discreet sexual dreams. Users are in love with the smooth and plump vulvar lips that embrace shaft so tightly and comfy that you want to get further and penetrate the sleeve right to your balls.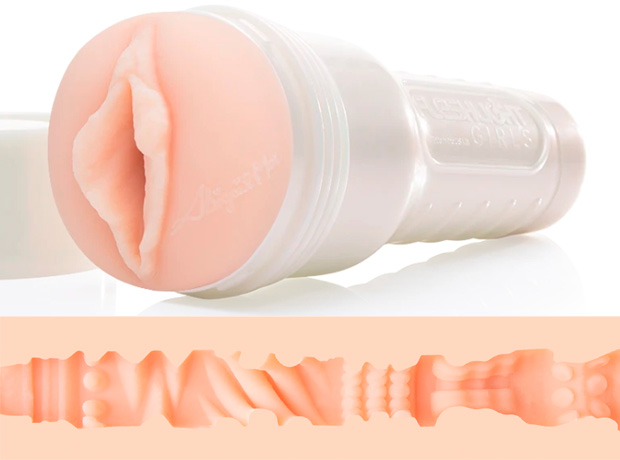 (more photos are available)
The best thing about Lush is that you can totally control the buildup of tension – once it releases, you know it. There is a large variety of textures – inch by inch, you experience different sensations. First, it's fangs teasing your head, next – ribbed chamber that continues stroking your shaft pretty smoothly. Then comes a little bit tighter section. The sleeve finishes with a spacious chamber that allows you to relax. All in all, this thing is recommended for those who need an average level of penetration and prefer the suction effect rather than a strong grip.
Pros:
Different inner textures provide a rich & diverse range of sensations;
Optimal tightness;
Easy to clean;
8.5" insertable length;
Soft & lifelike orifice.
Cons:
Not suitable for a quick shot;
Users with a small penis may lack penetration.
16. Wild (Riley Jensen)
Thousands of men would spend the last dollar to have a chance to discover what's Riley Jensen's touch. You don't need to pay a fortune – just purchase Wild Fleshlight. With its pretty orifice modeled after her famous labia, you will plead for more. The model offers the whole gamut of inner textures and allows you to discover 1001 pleasures. With different chambers following one another, you can't predict what to expect next.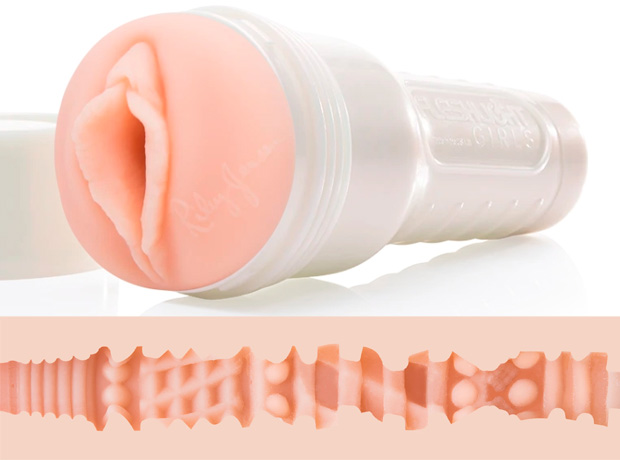 (more photos are available)
Once you penetrate the lips and get teased by the ribbed narrow tunnel, there's a row of long fangs sweetly biting your flesh. Next, comes the chamber with criss-cross ribs – this is a completely different amazing experience. Don't forget that Wild provides a pretty great grip so you won't have a chance to relax. Vary the speed of motions, try this thing hands-free: there's a lot of space for experimenting! You will feel all possible sensations from the anal sex to a quality blowjob.
Pros:
Various textures with large nubs;
The realistic feel that combines different sensations at once (anal, vaginal, and oral);
Suction can be controlled;
Fairly easy to clean.
Cons:
For some users, the tightness and suction aren't strong enough;
It might be a bit tight for large penises and require more lube.
17. Beyond (Madison Ivy)
One of the most gripping models in Fleshlight collection, Beyond sleeve boasts protruding and tight orifice modeled after Madison Ivy's plump labia. This girl has made a lot of fuss on the porn scene, and it's time for you to discover why. Once you try this Fleshlight (mind to use the right amount of lube – don't overdo), you will comprehend why it's called 'Beyond'.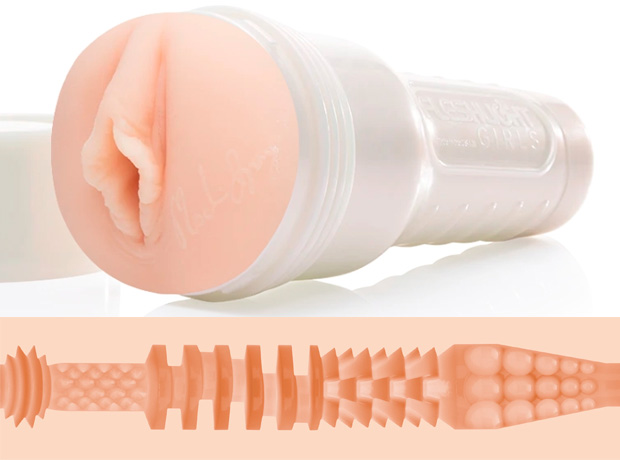 (more photos are available)
The model provides 'just right' amount of suction and pressure. Thus, it would be optimal for users with average and somewhat large penises. Don't forget to perform some foreplay with the lips – it feels just as good as real pussy. The ribbed passages and small nubs will provide enough penetration, but all work should be done by yourself. This model is good for a long quality play, as well as building stamina if the classic Stamina Training Unit feels a bit dull.
Pros:
Suitable for the vast majority of users regardless of penis size;
Plump lips feel lifelike and are ideal for a foreplay;
Various textures;
Allows for different sexual experience.
Cons:
Might lack intensity for experienced and seasoned users;
Expensive.
18. Sugar (Eva Lovia)
If you like sleeves with a medium intensity that make up for mellow, sweet orgasms, Sugar will be the cherry on your cake. The pretty orifice is modeled after Eva Lovia, one of the prettiest representatives of the porn industry. The model offers a decent variety of textures and is perfect for long edging.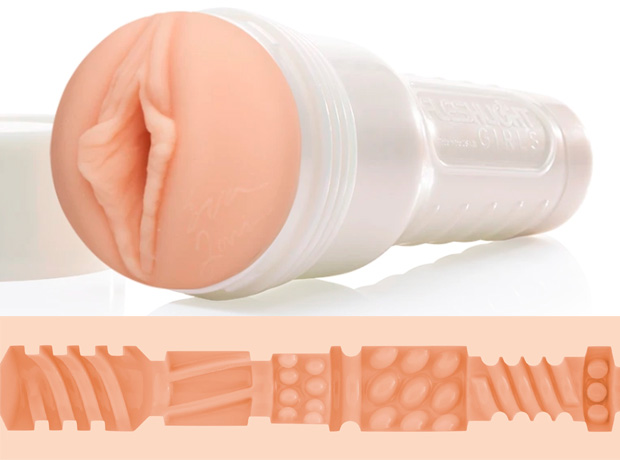 (more photos are available)
The sleeve features numerous chambers with diagonal ribs, dots and nubs – take it slowly and you will feel the wonderful textures one by one. Do not use much lube, otherwise, you will miss on the pleasure. Although this sleeve is not particularly tight, it would be a great toy for girthy guys and those who combine masturbation with stamina training.
Pros:
Various textures;
Easy to clean.
Cons:
Not tight enough, won't be suitable for guys with a below-the-average penis size.
19. Siren (Anikka Albrite)
If you have ever seen the scenes of anal sex with Anikka Albright, you can guess how enormous your pleasure will be when you try Siren – a Fleshlight modeled after her sweet butthole. A half of its inner texture reminds of Destroya – it's all covered with nods providing mind-blowing stimulation.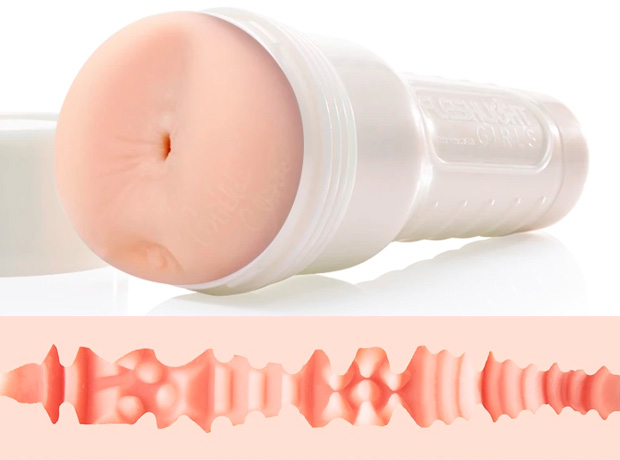 (more photos are available)
What users find the most satisfying about this sleeve is that it provides very diverse experience and allows you to get pleasure from all kinds of textures – ribs, dots, spirals and tight passages. Any other perks? First, you don't' have to use much lube – this thing is tight and comfy enough. Secondly, you can control the suction which, by the way, might get unbearably high.
Pros:
Offers all best inner textures;
Suitable for average and large penises;
Quiet;
Easy to clean and dry.
Cons:
For some users, it lacks realism;
The butthole is quite easy to tear.
20. GO Torque (for Small and Medium Guys)
One more portable Fleshlight in the collection, this ultra-stylish device is fully transparent and features a non-realistic orifice that looks like a jet opening. With its 6.5" insertable length, it would be good for average-sized and small-sized men. This is one of the sleeves that makes you cum without warning – while exploring its tight tunnels with a surprising multitude of textures, you won't notice the orgasmic wave coming.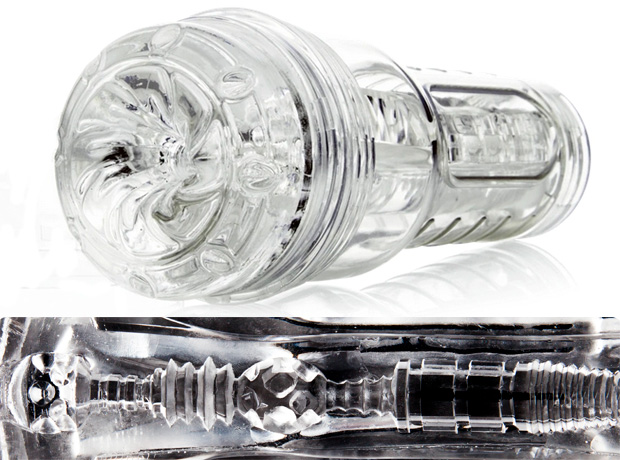 (more photos are available)
Starting with a very tight passage, the sleeve introduces you to the world of pleasure. When you advance, you will be massaged by numerous rings and fangs – get ready! Despite the lack of length, this small thing is super-intense and has a rich inner texture. If you don't care about the realism of sensations and appearance, this model is worth trying multiple times and enjoying different experiences. Let it be your best trip necessity, and you won't regret.
Pros:
Compact, discreet, stylish;
Interesting textures for various experiences;
Optimal price.
Cons:
May be short for large-sized guys;
Hard to clean and dry;
Not lifelike.
21. Mini Lotus – Get Acquainted With Narrow Sleeves
You're new to Fleshlights? Then starting with the Mini Lotus model makes sense: although its inner texture seems to be a bit boring, trust us – this model will tease the penis from the tips to the balls. It's created to make your acquaintance with Fleshlights a highly pleasant experience with ever-lasting memories. Having a 9-inch insertable length, this sleeve is suitable for users with almost any penis size, so don't worry about the inconvenience. The level of pressure and friction is quite right.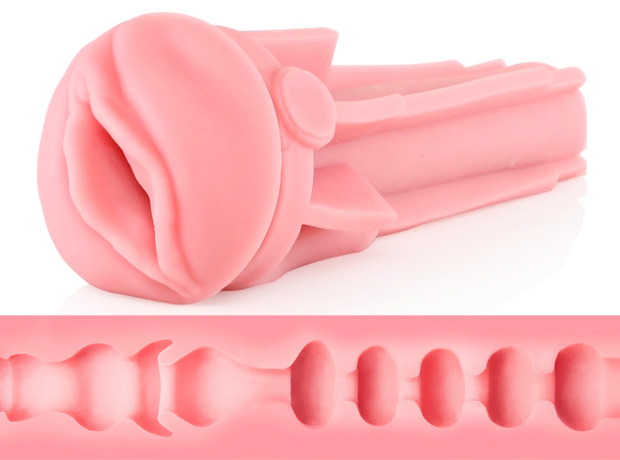 (more photos are available)
Mini Lotus greets you with a pretty pink orifice, and its first chambers seem to be spacious enough. But once you start advancing inch by inch, you get surprised by endless narrow passages – they provide a relentless grip on the head and shaft. You won't be able to escape this sweet pressure – it's distributed evenly all along your penis. The final chamber embraces head allowing the user to reach ecstatic nirvana.
Pros:
Suitable for the vast majority of penises;
Ideal for starters with its basic texture;
Easier to clean than other Fleshlights since it collects fewer residues;
Pretty lady orifice.
Cons:
Advanced users prefer more sophisticated inner textures;
Might be tight for beginners, though suitable for improving stamina;
Bulky.
22. Fit (Nicole Aniston)
Tired of full textures? Fit will provide you with a rich set of sensations: it's been carefully modeled after Nicole Aniston's orifice. By the way, the porn actress participated in the creation of this original sleeve. It welcomes you with a spiral vortex and continues the stimulation with a variety of bumps and different passages. Despite looking spacious, the sleeve is quite intense – you can easily reach a hard climax no matter which chamber you use most.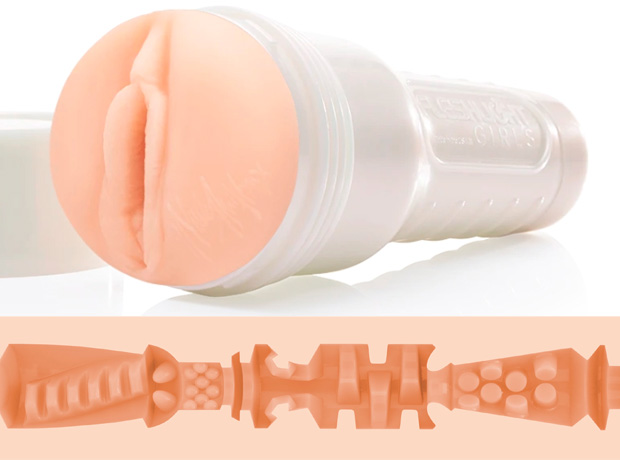 (more photos are available)
This model is highly valued for the large variety of textures. Fit is a great solution for men with large shafts and experienced users – fantastic experience is guaranteed anyway. Orgasming in this sleeve won't be instant, and you will have enough time to enjoy each chamber and bump. The cleaning process isn't too tedious, as well. Despite the crazy look of the inner textures, men admit this sleeve feels pretty realistic, and you should dry going hands-free with it – it will definitely feel like real intercourse rather than bumping a toy.
Pros:
Great variety of inner textures;
Optimal stimulation for quality solo playing;
Not too hard to clean;
9" insertable length makes it suitable for large-size members.
Cons:
It might be gentle for users with low sensitivity.
23. Next Level (Adriana Chechik) BUTT
Intense from butthole to the very end, this model was inspired by Adriana Chechik, the famous porn star known for her crazy gangbang scenes and absolutely shameless approach to anything connected with sex. The butt version is modeled after her derriere, and it promises to get an ultra-strong grip at your member. It's pretty tight and maintains a high suction level, so you can expect a breathtaking orgasm.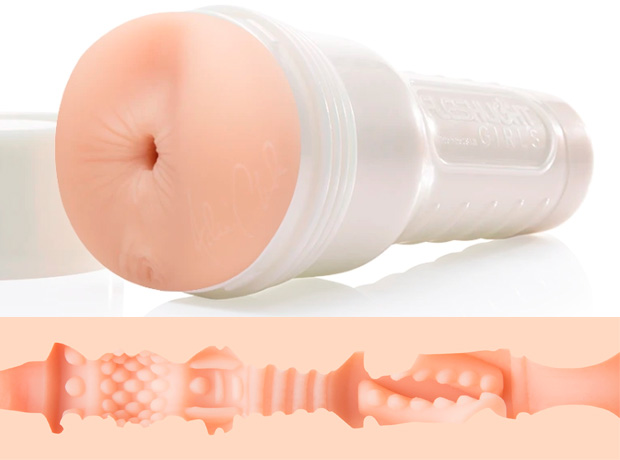 (more photos are available)
The inner structure is something truly extraordinary. Once you penetrate the teasing butthole, you will be welcomed by a row of multiple fangs and dots – a powerful stimulation of head is only the beginning of your bitter-sweet pleasure. The tighter ribbed passage is perfect for shaft massaging, and the last chamber with diagonal dotted ribs feels like something out of this world – the swirled sensation over your dick is something that everyone should try! If you are ready to take care of this pussy and clean it thoroughly, you won't regret buying it.
Pros:
Very intense and fancy inner structure;
8.5" insertable length makes it suitable for men with a large-sized dick;
Lifelike butthole and realistic feel.
Cons:
Hard to clean and dry;
Requires more lube;
It might be too intense for sensitive users.
24. Flight Aviator – A pick for the quick (for Small and Medium Guys)
Sleek and aerodynamically-shaped, Flight Aviator is a great model to boost your stamina. With its fully-transparent design and compact shape, it's a nice addition to your collection of sleeves – the one that can be taken on a journey. The model is tight enough to please the most seasoned users. Fasten your seatbelt and get ready to stay high all night long. This thing will take your mind to the edge of the world!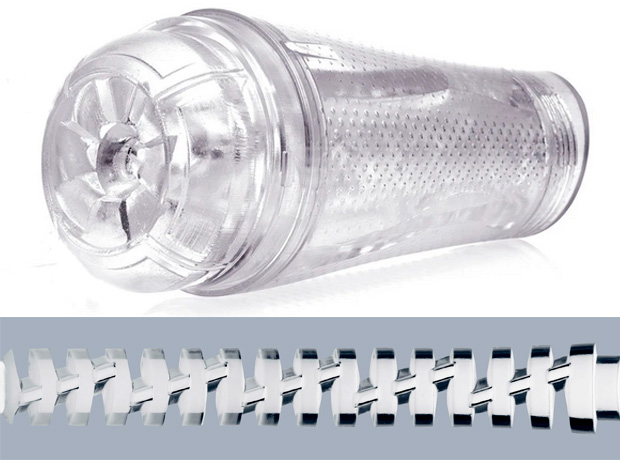 (more photos are available)
Although its inner structure is not very diverse, it provides a larger spectrum of sensations than you expect. Users claim that this thing would rather be good for a quick session. The tightness rather than the structure mostly conditions the intensity. As you see in the picture, the sleeve is narrow and ribbed – experienced users might find it boring. Also, it's worth noting that the thing is pretty noisy – the sleeve can be stored by not used discreetly. A great option for starters and men with a small, not very thick dick.
Pros:
Non-expensive;
Can be stored and carried discreetly;
Not hard to clean, dries quickly;
With its 6-inch insertable length, it's suitable for men with a small penis.
Cons:
The structure isn't diverse – some users lack sensations and stimulation;
Feels too tight for users with a thick dick;
Not realistic design and look (including the orifice).
25. Stamina Training Unit
Want to improve your stamina and be able to last for hours? There's no need to hire a coach – let Fleshlight's Stamina Training Unit be your ultimate assistant! This device is a perfect accessory from the standpoint of inner structure and size: with its 8.5" insertable length, it suits the vast majority of users and can accommodate even pretty thick members. A classic lady orifice makes it appetizing, but the real teasing will be experienced once you penetrate the pussy.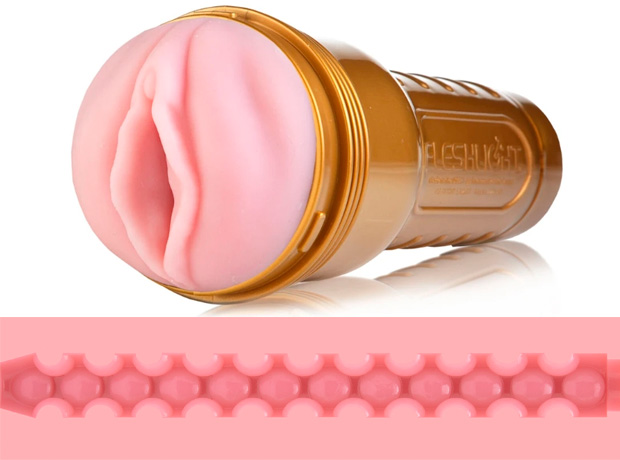 (more photos are available)
Provided in a gorgeous golden case, the sleeve features a pretty narrow chamber with tens of dots and bumps. Looks boring? Well, the Stamina Training Unit is here not for a quick solo. It was created for long-term training. You can control the suction and speed to master the art of maintaining a long-lasting rock-hard erection. This thing is a pleasure to use and is highly recommended for those who want to get acquainted with Fleshlights and improve their durability in bed.
Pros:
Suitable for large penis sizes;
Comes with a convenient case;
Perfect for stamina boost.
Cons:
Not a good choice for a quick flight;
Expensive;
Not compact – cannot be carried and stored discreetly.
26. Obsession (Jenna Haze)
Watching porn films with Jenna Haze is quite challenging – it's almost impossible to control your hard-on. The same happens when you penetrate Obsession, the Fleshlight with a tantalizing orifice modeled after Jena Haze's pussy, and fancy inner structure with long bristles. Will you dare handle your hard-ons while riding this thing? It might be too much even for the most experienced users, but once you master the solo with Obsession, you will understand why it's so highly recommended.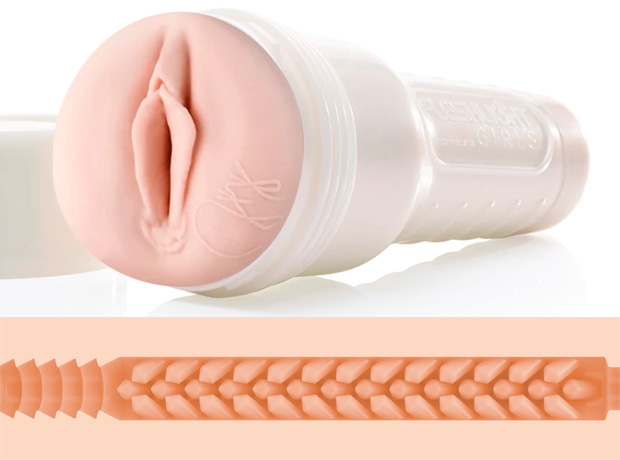 (more photos are available)
At first glance, the sleeve doesn't offer a rich selection of textures – just a ribbed tight entrance and a spacious chamber with long bumps capable of making your member numb. The latter, by the way, make your sessions mind-blowing: many users admit that this is the most intense thing they've ever tried. If you feel confident enough and have a higher-than-average level of stamina, prepare to experience the hardest orgasm in your life.
Pros:
Very intense texture for exceptionally strong orgasms;
Suitable for men with large and thick members;
Realistic orifice.
Cons:
Not suitable for a long play, can be painful for sensitive users;
Noisy;
Hard to clean.
27. Euphoria (Riley Reid)
If you rather prefer anal scenes with Riley Reid, you should try Euphoria. It's not just a replica of the actress' butthole – its crazy inner texture is something completely toe-curling. Unlike some other butt versions, this one distributes the pressure evenly and offers an optimal grip over the entire shaft.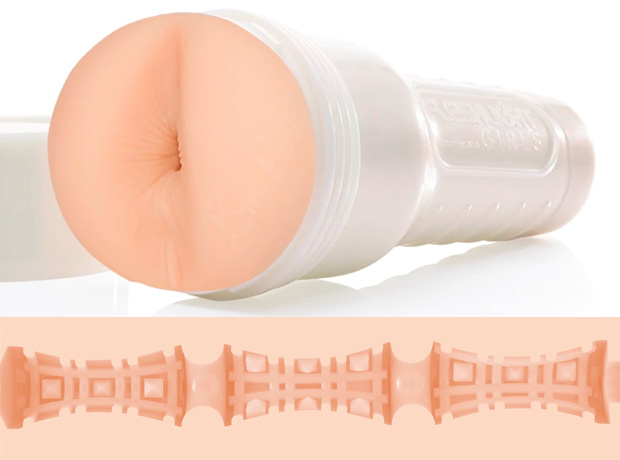 (more photos are available)
This anal sleeve is definitely for someone with great stamina because it even might feel rough when a girthy shaft is completely swollen. What users especially like is the pyramid texture that adds pressure and intensity. Although it's far from real, the rainbow of ultra-intense orgasmic waves totally compensates for that, not mentioning the appetizing butt-shaped entrance.
Pros:
Pretty easy to clean;
Guarantees strong orgasms;
The cap can control suction;
Original texture.
Cons:
Far from smooth and can be too intense for some users;
Requires a lot of lube;
Not very realistic.
28. Tease (Tera Patrick)
From the texture variation standpoint, this is the absolute leader in our top. Tease offers an incomparable set of inner structures – every chamber provides a burst of sensations and mind-blowing orgasmic vibes. Add a bit of lube, adjust the suction level, and you will have an experience that's truly hard to forget.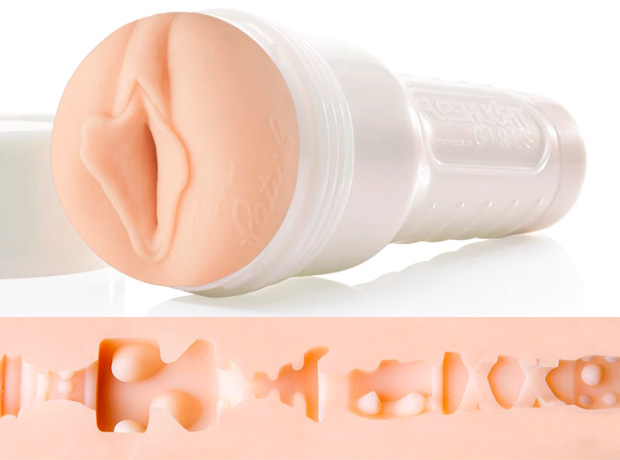 (more photos are available)
From the first inches, Tease meets you with a tight ribbed chamber – but it's just a tip of the iceberg. After that, you will feel the intense massage by the large fangs and advance into a narrow ring. Then, the rollercoaster of feelings will be followed by a tight passage with criss-cross textures. Proceed slowly and enjoy every inch of this never-ending pleasure embracing your penis.
Pros:
The most unique Fleshlight in terms of variety of textures;
Quite intense;
Realistic orifice.
Cons:
Too different textures – it makes some users hard to cum and adjust to the sleeve;
Hard to clean.
29. Goddess (Anikka Albrite)
Recognized for a large number of huge and small bumps, Goddess features a pretty orifice modeled after Anikka Albrite's gentle labia. This model is recommended to be added to any collection, whether you are a starter or a more experienced user.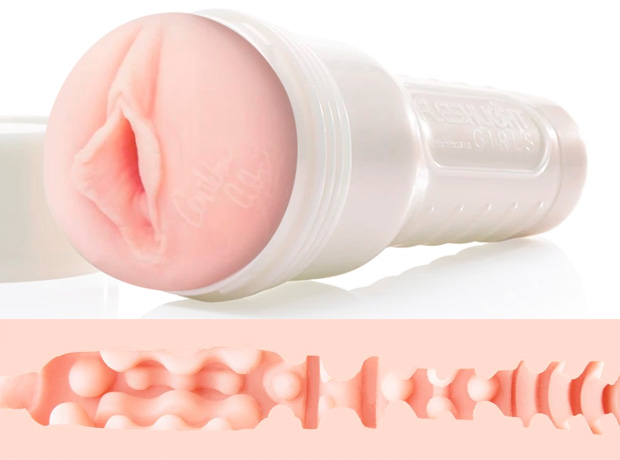 (more photos are available)
At first glance, the sleeve might seem to be boring for some users, but it actually depends on how you regulate the suction and your own performance speed. Users recommend warming it up and adding bit lube: it allows enjoying a highly realistic experience! The sleeve ensures great massaging sensations: sometimes mellow, sometimes rough. Alternate and get the best of both wolds!
Pros:
Lifelike sensations;
Easy to clean and dry;
Suitable for users with large or medium-sized shafts.
Cons:
About 7.5" of insertable length is not enough for a large penis;
Not very stimulating for some users.
30. Indulge (Angela White)
Providing very lifelike sensations, Indulge features a very delicate and fair-skinned orifice modeled after Angela White's vulva. This model is something that you'd like to try again and again. Although not very intensive as Destroya (but close to it), the sleeve makes you want thrust deeper and deeper thanks to a pretty narrow final chamber. Its texture feels smooth and yet stimulating enough – you should indulge yourself by playing with this princess of Fleshlights.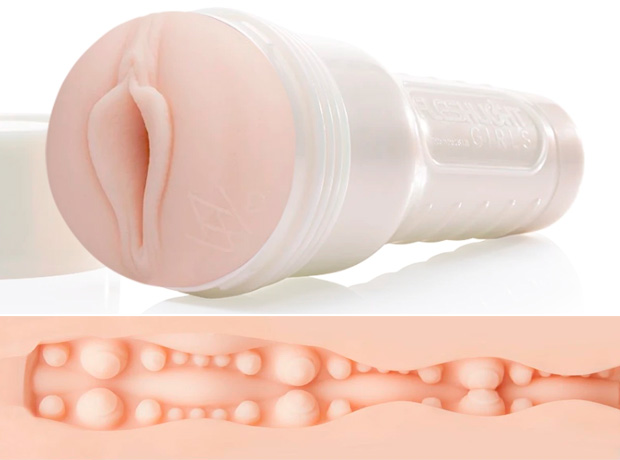 (more photos are available)
Once you enter the sweet orifice, your member will be met by a corridor of bumps: small and large, and they massage the sensitive spots of your shat providing a diverse range of sensations. Sounds boring? Get to the end of the sleeve, and you will change your mind. The tight end will squeeze orgasms out of your penis – we've just warned you.
Pros:
Moderately intense and yet soft;
Bumps provide decent stimulation;
Very lifelike experience.
Cons:
The sleeve should be rotated to reach the desired stimulation effect;
It tends to be noisy.
31. Torrid (Tori Black)
In search of a sleeve for edging and long-term sessions? Let Torrid be your ultimate assistant: with its wild orifice modeled after Tori Black, a hot & famous porn star, you will enjoy every inch of the sleeve. The model delivers a rainbow of sexual sensations with its varied textures. Bumpy and yet soft, it will caress and massage your shaft for a mellow orgasm.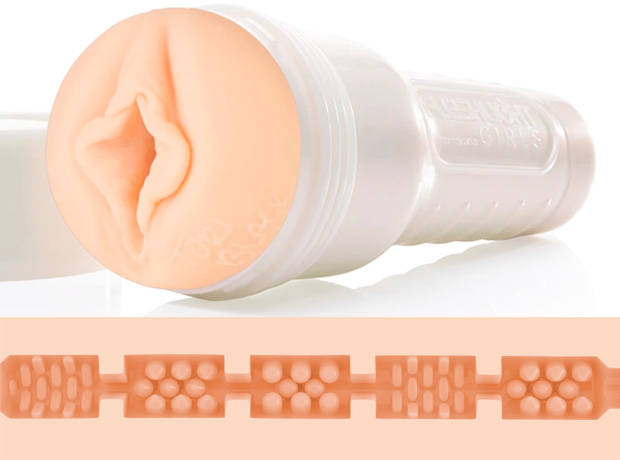 (more photos are available)
What users particularly like about the sleeve is the chance to enjoy all possible types of bumps: the sleeve starts with rounded cubes, hen changes to the classic hemispheric textures, and protrudes into the chamber with disc-shaped nubs and a wide inner canal. In the last chambers, bumps are rearranged and provide a somewhat different experience. Being a pretty soft sleeve, it's recommended to girthier guys.
Pros:
Suitable for men with a large penis;
Not very intense and could be used for edging;
Easy to clean and dry.
Cons:
Some users find it hard to reach orgasm with this model;
Not suitable for beginners – it takes some time to master using this sleeve.
32. Outlaw (Alexis Texas)
Smooth penetration, intricate textures, inviting orifice – all this is about Outlaw, the sleeve with its tantalizing lips modeled after legendary Alexis Texas. This Fleshlight was created to deliver mellow pleasure for men with any penis size. BTW, if you like prominent vulvar lips, this model will exceed your expectations making foreplay and initial penetration simply amazing.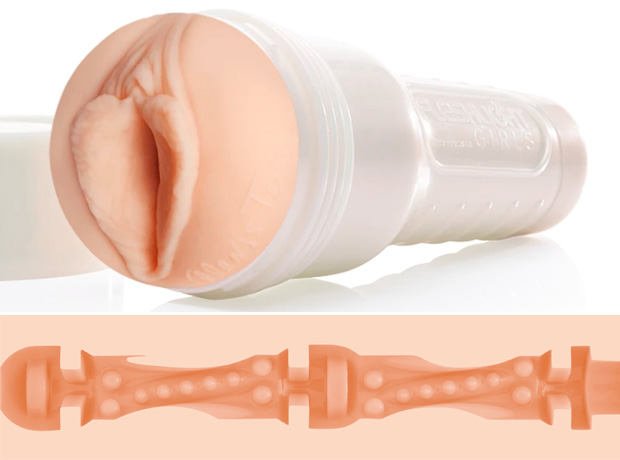 (more photos are available)
The first chamber welcomes your shaft with protruding ribs providing a great stimulation of the head, while the next narrowing chamber with diagonal rows of small bumps slightly massages penis letting you do the rest of the job. If you're a guy with a smaller size, you might not reach the final chamber, but don't worry: the patterns are simply repeating getting tighter. Generally, this is a versatile model for guys with any member size.
Pros:
Suitable for all shaft sizes;
Moderate stimulation;
Suction control;
Easy to clean.
Cons:
Not tight enough for girthy guys;
Not suitable for a quick shot.
33. Reign (Nikki Benz) BUTT
Stunning anal experience? Don't explain anymore – we know what will hit the right spot. Try Reign by Nikki Benz. With its anal hole modeled after her butt, it offers incomparable tightness and can stimulate even the most insensitive men. To get most out of this sleeve, add a generous amount of lube, especially if you need a quick session.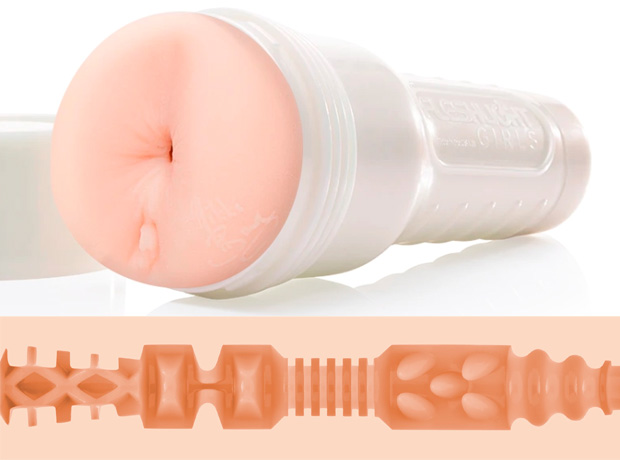 (more photos are available)
Featuring criss-cross ribs, tight rings and square bumps finishing by teasing fangs, this model is nothing to sneeze at for lovers of intense anal-like penetration. Note that this thing is not as narrow as it seems to be – this baby will fit even thick penises, so the model is versatile and should be added to your collection. Don't forget to adjust the suction and try it in your bathroom. Intense orgasms are guaranteed!
Pros:
Tight and intense to a great degree;
Various textures;
Perfect anal experience, even though not very realistic.
Cons:
One of the noisiest Fleshlights;
Requires much lube;
Hard to clean.
34. Lvl Up (Mia Malkova)
Discover a completely new set of sensations! Lvl Up is a true find for sensitive users as you will enjoy every millimeter of this sleeve. Its aesthetic orifice modeled after Mia Malkova, a super-hot porn actress, but it is just the beginning of the story. Everything is good about this sleeve: its textures, suction, intensity, and the cute orifice.
(more photos are available)
The sleeve starts with small bumps and tentacle design – it was a pretty bold decision, but what comes next will completely blow your mind. After this chamber, comes a section with various bumps and a super-narrow passage that provides exceptional stimulation for penises of any size. The section with fangs and narrow tunnels end up with a few more rounds of square nubs. A perfect combination for a fast cum or long-lasting and very arousing edging. Choose your style of handing this baby – it will always be able to reward you well.
Pros:
Variety of textures;
Great intensity.
Cons:
35. Angel (Kendra Sunderland)
If you have ever watched porn movies with Kendra Sunderland, you can imagine the vortex of sensations you'll be sucked into. This sleeve is a must-try for seekers of hot emotions and fancy textures. If you want this angel to be soft and mild, add more lube, but if you need a truly harsh penetration, keep the cap closed for suction to stay on the top.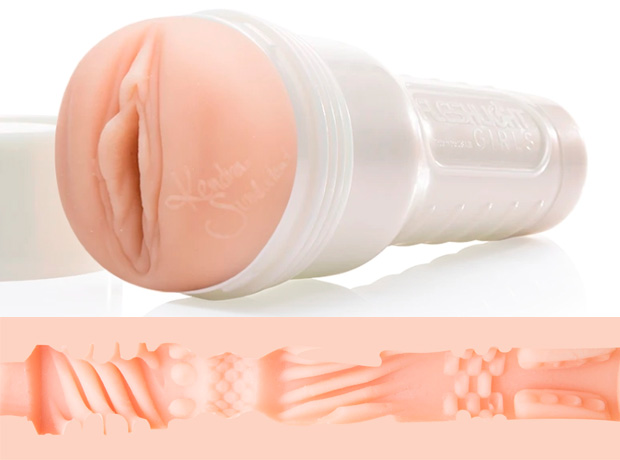 (more photos are available)
The journey to the seventh heaven starts with entering the gentle orifice modeled after Kendra Sunderland's accurate and beautiful vulva. After that, you will enter the tunnel with mind-blowing spiral ribs, but it's only the tip of the iceberg. Followed after one more passage of caressing ribs, there is a chamber with fangs and dots. The final chamber is designed for maximum head stimulation. Take it slowly and enjoy each sensation to a full extent!
Pros:
Amazing inner textures;
Optimal tightness and suction;
Great for edging.
Cons:
The case is noisy;
Hard to clean and dry;
Not realistic.
36. Empress (Adriana Chechik)
Do you adore spiral textures and a moderate level of stimulation? Don't miss the chance to get acquainted with Empress – an amazing Fleshlight modeled after Adriana Chechik's vulvar lips. One of the strongest models in the Fleshlight 'Girls' series, this one will deliver you toe-curling and yet highly realistic experience. If you have a large and long shaft, Empress will be a pure pleasure.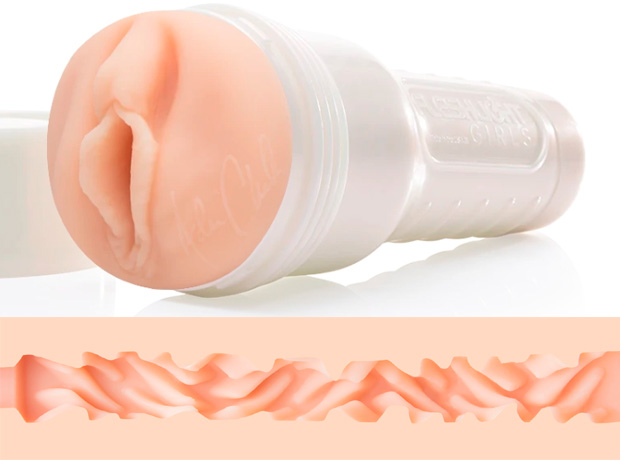 (more photos are available)
Although this sleeve doesn't have a large variety of textures, the multitude of ribs will be enough to provide you with super-intense sensations. Users admit that this model is great for long-lasting solo play and would even be great for stamina training by experienced users. It goes without mentioning a moderate level of noise and low lube requirements.
Pros:
Great for lovers or ribs and spirals;
Suitable for medium- and large-size penises;
Low noise;
Easy to clean.
Cons:
Not intense enough for experienced users;
Lack of textures;
It can't be used for a quick solo session.
37. Butterfly (Dominika)
Fly high with this ultra-intense sleeve that boasts a variety of interesting textures and the butterfly-shaped orifice modeled after Dominika, Czech porn actress featured in movies from the most popular adult sites. Fantasize the most hardcore scenes while you rub against this winged labial lips – it will prepare you well for mind-blowing penetration and eye-popping orgasms.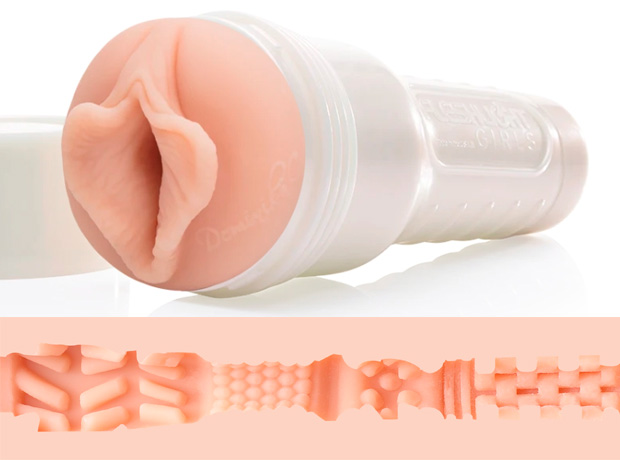 (more photos are available)
Although the first chamber is not as tight as you'd wish, it's all compensated with voluminous ribs and narrower tunnels with bumps, fangs, and other interesting textures. With each inch of the sleeve rubbing against your dick, you will get higher and closer to a fantastic orgasm. While some say tightness is on the low side, the suction and penetration make up for it.
Pros:
Great inner textures;
Unique lips;
8.5" insertable length makes it suitable for users with a large penis.
Cons:
Not tight enough for some users.
38. Heartthrob (Brandi Love)
Lifelike experience with a medium level of penetration is offered by Heartthrob Fleshlight: its gentle orifice is modeled after the vulvar lips of Brandi Love, one of the hottest MILFs on the porn scene. This sleeve was designed to let you enjoy the tight embrace of wavy tunnels with numerous ribs. Feel free to turn the sleeve to adjust the penetration – this thing is here to experiment!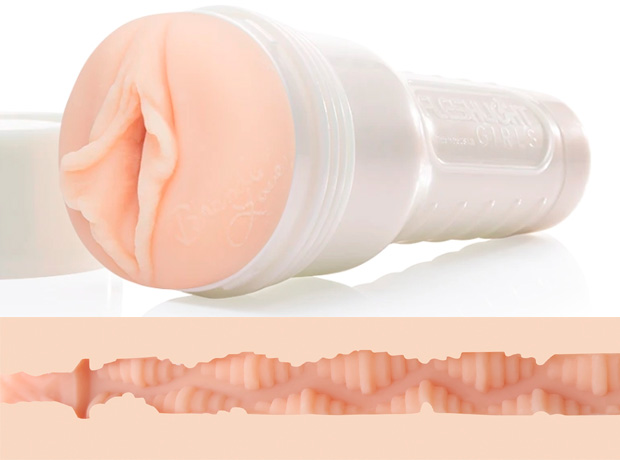 (more photos are available)
When you enter the sleeve, your penis is gripped by a tight section which is proceeded by the long wavy tunnel. Although the structure seems to be a bit homogenous, users claim that this experience is far from being boring – you will enjoy every inch of the sleeve. The cleanup and dry time are pretty short thanks to the lack of sophisticated textures.
Pros:
A great thing for lovers of ribs and wavy textures;
Moderate intensity;
Good for edging and stamina training.
Cons:
Not suitable for super-strong and quick solo;
Lack of textures.
39. Dragon (Asa Akira)
An owner of a very appealing and delicate pussy, famous American-Japanese porn actress Asa Akira has inspired Fleshlight to create Dragon. This sleeve has ribs and spiral textures for a fantastic penetration: tame your big dragon and make it spit fire! The model would be just right for long-lasting solo – the more you prolong the erection, the stronger will be your orgasm.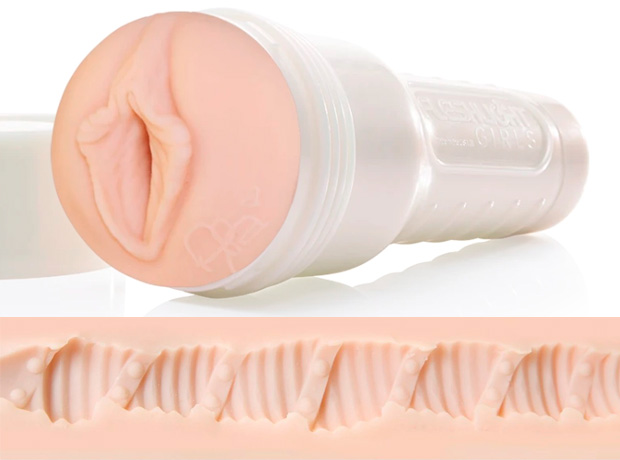 (more photos are available)
Despite its below the average tightness, the sleeve feels fantastic, and its bumps rub so pleasantly against the shaft you will be melting from pleasure. This sleeve has everything for a fully-fledged orgasm – intense and lasting. If you are ready to deal with cleaning and drying, opt for this model!
Pros:
Great for stamina training and building up erection;
Optimal intensity;
Suitable for users with almost any penis size.
Cons:
Hard to clean;
Lack of textures.
40. Storm (Romi Rain)
With its gentle, perfect orifice modeled after Romi Rain's pussy – a famous American-Sicilian porn actress – this Fleshlight is as hot as the girl herself. It offers a crazy combination of textures being moderately aggressive. Get ready to experience a hard-blowing orgasm and truly lifelike sensations – each bump and rib will make you curl toes from pleasure.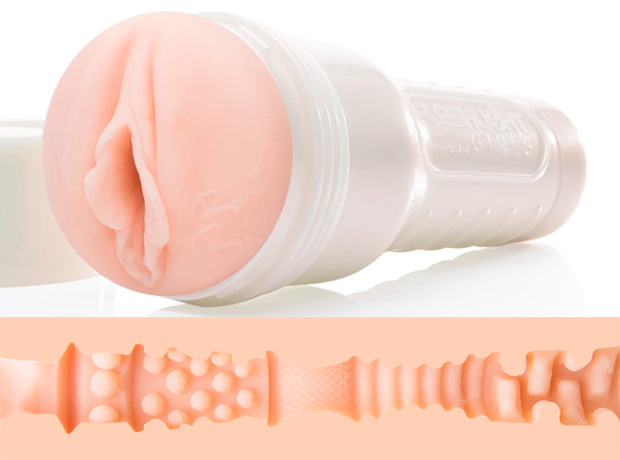 (more photos are available)
This texture will deliver you a blast of pleasure from the start to the end. With its chambers full of nubs, it caresses every inch of the shaft – you can feel each bump. Once you pass the large chamber, you get into the tight passage with ribs, which prepares you for a fantastic final. The square ribs in the last section are designed to penetrate the head strongly so that you wouldn't resist the upcoming desire for a strong cum. Don't deny yourself the pleasure of quality orgasm – this sleeve is definitely worth the money.
Pros:
Great textures;
Strong sensations and optimal penetration;
Suction is controlled to vary sensations.
Cons:
It might be too intense for the owners of large penises.
41. Misfit (Joanna Angel)
If like many sensitive Fleshlight users you don't like the abundance of fangs and nubs and want something more ribbed, Misfit should appeal to you. With its subtle and thin orifice modeled after the vulvar lips of Joanna Angel, a famous porn star, this sleeve guarantees subtle penetration that hits exactly the right spots on your dick without over-stimulation and painful sensations.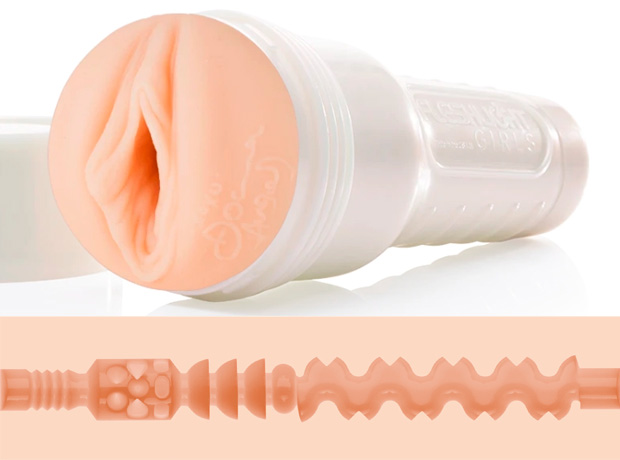 (more photos are available)
Just take a look at this wonderful sleeve: with a decent variety of textures and ribs, it delivers heavenly mellow pleasure. The entrance starts with a narrow ribbed section that introduces you to the chamber with large dots for proper shaft massage. The section gets tighter: while stimulating the entire length of your shaft, the ribs end up by a wavy tunnel – this is where you get closer to the fairy orgasm. Don't forget to add some lube and warm the sleeve up for realistic experience.
Pros:
Optimal stimulation;
Verity of textures and tightness levels
Realistic experience;
Quite easy to clean.
Cons:
Mediocre intensity and grips for some users;
Not suitable for quick and super-strong orgasms.
42. MVP (Nikki Benz)
Versatile, realistic, smooth, gentle – this is about the artificial pussy modeled after Nikki Benz' labia. MVP is created for you to fulfill all your wishes from a fast cum to a long-lasting edging. Control the suction, turn the sleeve in your hands, and vary your experience. You will be able to control orgasms, but if you go too hard, it can sneak up on you without warning.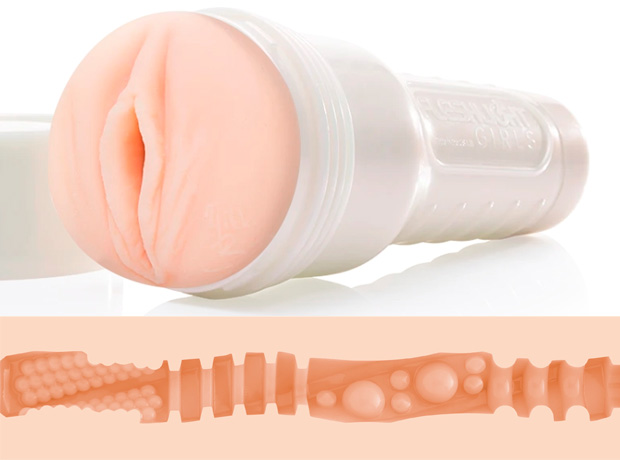 (more photos are available)
The first chamber welcomes you with small bumps and gradually turns into a tunnel with medium-sized ribs. It follows by large nubs that stimulate the head of your cock greatly, which is later squeezed by the narrow final chamber. Not particularly tight but quite intense, this sleeve is here to bring you pleasure you can control and vary. Experienced users may even try stamina training with this device.
Pros:
Various textures;
Suction and sensations can be controlled;
Suitable for large-sized guys.
Cons:
Not tight enough for some users;
Not easy to clean.
43. Danger (Abella Danger)
If you've already had the chance to appreciate the joy of using Destroya sleeve, this model should also add up to your spectrum of sensations. With its gentle orifice repeating Abella Danger's genitals, the Fleshlight offers an awesome variety of inner textures and would be suitable for long edging with a medium level of intensity.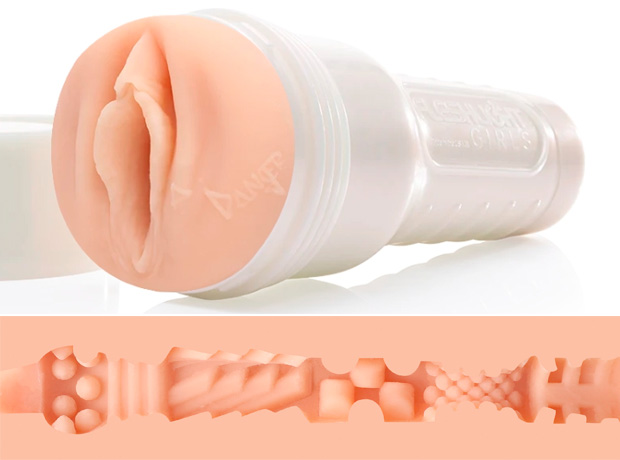 (more photos are available)
The sleeve offers the whole gamut of textures one surprisingly changing after another. First, your cock is teased by short fangs, then it squeezes through the tight rubbed tunnel and gets caressed by diagonal ribs and protruding nubs. The intense finish is guaranteed thanks to tiny bumps and rings – they will massage every little spot on the head to make you suddenly cum. According to users, this thing is moderately intense, and you can adjust the suction to achieve the desired level of stimulation.
Pros:
Optimal tightness;
Various inner textures;
Suction and sensations can be controlled.
Cons:
Not suitable for small shafts;
Requires extra lube to increase the joy.
44. Velvet (Ana Foxxx) BUTT
In search of classic anal sex experience? Don't pass this Fleshlight by: Velvet has a tantalizing butthole modeled after Ana Foxxx, the sweetest chocolate in porn scene. Her soft skin and naturally curved body makes porn fans want to dig their teeth into this flesh – so will be your desire with Velvet Fleshlight. Don't look at the simple inner texture: it's not complicated, but its intensity and suction will make you beg for another solo session again and again.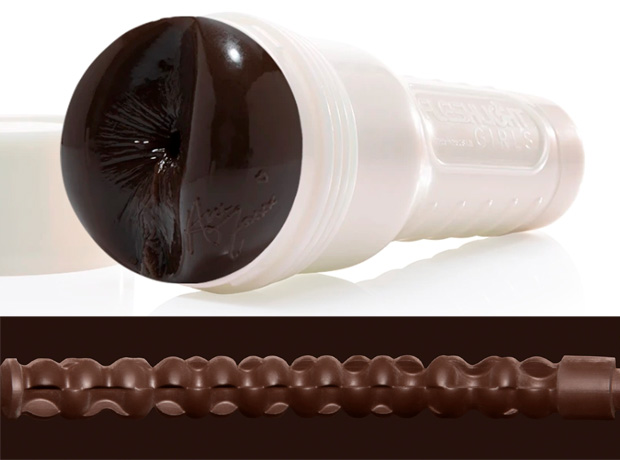 (more photos are available)
The whole sleeve is made of mini-chambers each connected with small ribs, so your whole cock will be penetrated with every inch made. There's no time and place to relax – you will be burning with the pleasure and hard-on rising. The model is highly recommended for men with small penises because it will ensure a tight grip anyway.
Pros:
Excellent anal experience;
Pretty tight;
Great for lovers of dark-skinned complexion.
Cons:
Not diverse texture;
Takes long to dry.
45. Rebel (Kimmy Granger)
Wild, shameless, and definitely rebellious, Kimmy Granger partnered with Fleshlight to create this stunning sleeve. The pussy modeled after her labia is not the only thing inherited by this sleeve: it also provides a booth of intense sexual sensations. Want to try it? Get ready for a quick and head-spinning orgasm!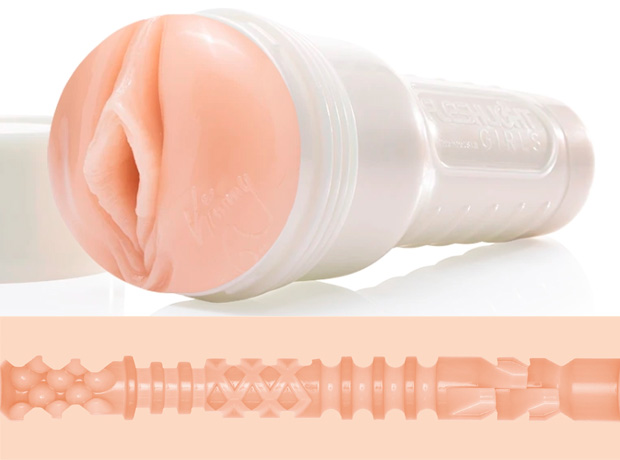 (more photos are available)
The sleeve features a spacious chamber with nubs followed by three chambers with ribs. Then come square fangs that deliver a blast of stimulation for a fantastic orgasm. Don't let the appearance fool you: although the sleeve doesn't seem very tight, it's more intense and narrow than you think. Use it for a quick solo, and you won't be disappointed.
Pros:
Very intense;
Great textures;
Perfect for a quick shot.
Cons:
46. Fleshskins Blue Ice
Probably, the most compact model in Fleshlight collection, Fleshskins will be your best friend on a trip. This sleeve is made to deliver you a blast of pleasure no matter where you are: it perfectly delivers true masturbation experience and enhances it thanks to nubs and ribs inside it. Thanks to its knuckleduster shape, it's easy to handle, so you can make thrusting even faster and more comfortable.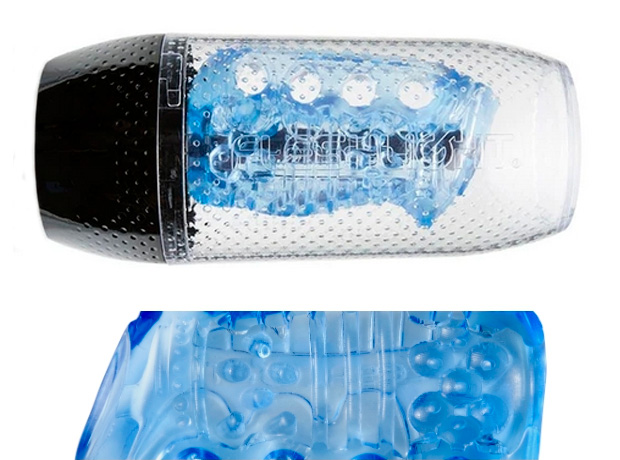 (more photos are available)
This is a basic model for those who either need a compact solution or just search for an alternative to Quickshot. Also, you can try it for your first experience with Fleshlights.
Pros:
Small and compact, easy to carry;
Unique design;
Easy to hold;
Non-expensive.
Cons:
5.1" insertable length is not enough for long shafts;
Very low suction.
47. Royal (Tanya Tate)
One of the most popular British porn superstars, Tanya Tate participate in the creation of this exceptional sleeve. With its delicate orifice molded after her vulvar lips, Royal Fleshlight provides the kinglike experience you'll find hard to forget. Its textures are made to tantalize and tease without limits, and the crazy level of tightness will make you bend on your knees from delight.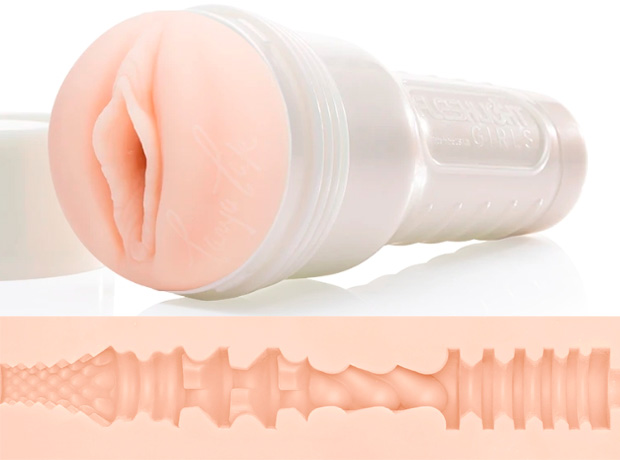 (more photos are available)
The sleeve welcomes your shaft with a tight passage, all covered in small nubs that penetrate head preparing it for even hotter sensations. Further chambers feature ribs, large bumps, and diagonal stripes, the further you move, the tighter it gets. Can you resist the desire to cum? Even though the last chamber is a bit more spacious, ceasing your solo session will be impossible – it evokes an unstoppable wave of sexual tension.
Pros:
Great textures;
Tight enough for the majority of users;
It doesn't require much lube.
Cons:
Hard to clean and dry;
Suction should be controlled to avoid over-stimulation.
48. Attack (Christy Mack)
A perfect fit for realistic and long-lasting cum, this model has an outstanding orifice modeled after Christy Mack – a hot chick that makes guys wildest sex fantasies come true on the screen. This pussy is something to crave for, so is Attack! The sleeve has a cone-like shape that narrows to the end and welcomes the user with a tight ring that evokes senses from the first seconds.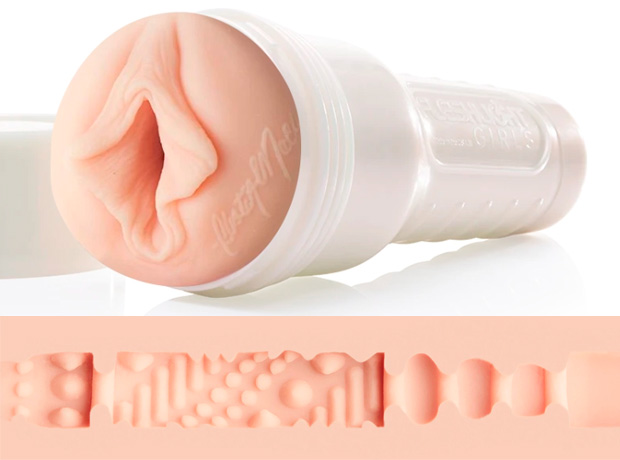 (more photos are available)
This sleeve is quite spacious, so it's highly recommended for girthy and large-sized guys. Use it for training stamina or long-lasting edging and enjoy every second of your sessions. If it feels too much for you, adjust the suction by using the cap – it should make the process more joyful. Some recommend it for beginners and stamina training: the model is worth your attention regardless of the goals.
Pros:
Suitable for men with average and large penis size;
Easy to clean and dry;
Great for stamina training;
Cone-shaped texture appeals to many users.
Cons:
Too large for small-sized guys;
Not very intense.
49. Eden (Janice Griffith)
Have you ever thought about what it's like to visit the seventh heaven? Then try Eden, a fabulous Fleshlight with the orifice modeled after Janice Griffith's vulvar lips. With its sophisticated inner textures, it will make your head go round with pleasure. It will tightly embrace your shaft and deliver a splash of different sensations as you keep moving further.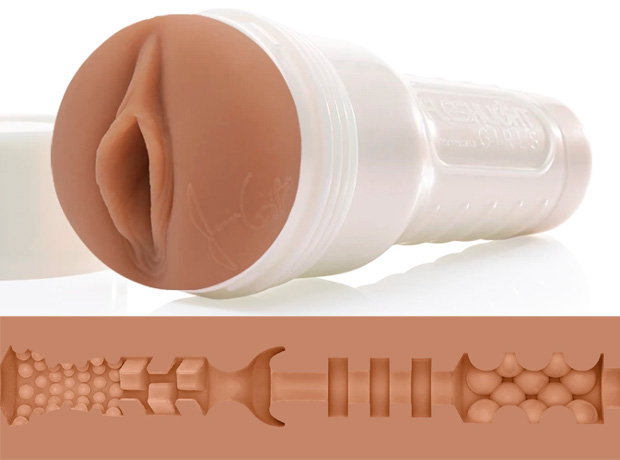 (more photos are available)
When you enter the sleeve, you get embraced by a tight chamber with small nubs, but it's only the beginning. After that, the chamber with fancy square nubs follows – it's something out of this world! The following rings and sections provide the tightest grip you've ever probably experienced. The final chamber has a large number of large nubs that will squeeze orgasms out of your shaft. It goes without mentioning the wild intensity of orgasms coming one by one. This Fleshlight is not for over-sensitive guys!
Pros:
Awesome inner textures with experimental elements;
Very intense;
Suitable for small penises.
Cons:
Might deliver too much penetration for sensitive users;
Hard to clean and dry.
50. GO Surge
This lady will travel to the edge of the world with you – meet GO Surge! Discreet, compact, and yet highly realistic, the artificial pussy like that would be just right to satisfy your appetites at the first demand. The portable version of Fleshlight's legendry model, this sleeve features intricate textures and has 6.5" insertable length – enough for a quick solo.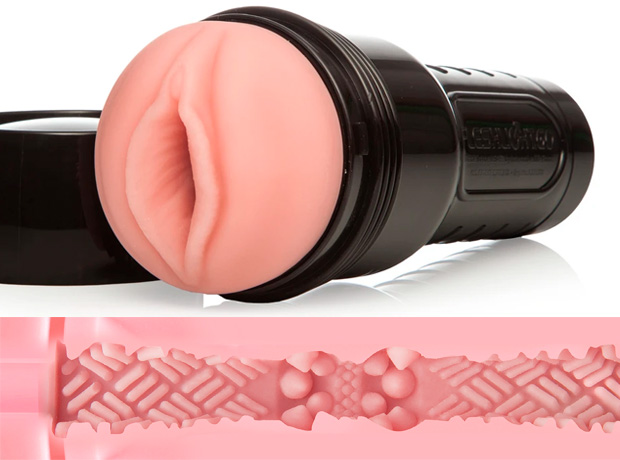 (more photos are available)
What this sleeve lacks in length, it gains in tightness and suction, not mentioning the fancy textures. At first, you might not notice the criss-cross nubs – it takes some time to get the taste of this little marvel. Yet, fangs are impossible to ignore: they are a bit rough, and penetrating this tight chamber is both pleasure and challenge. Whenever you need a quality anal-like experience, opt for this thing.
Pros:
Portable & discreet;
Non-expensive;
Great inner textures;
High tightness for intense orgasms.
Cons:
Lacks smoothness;
Not suitable for long penises;
Not realistic feelings.
Fleshlight Comparison Features
Being in relationships and having regular sex is, of course, exciting, but it inevitably turns into a routine. If you want something to spice up your intimate life, resolving to sex toys is a pretty good decision. Perhaps, the process of playing won't make you thrilled with all these butterflies in your stomach, but everything will be compensated with mind-blowing sensations. We're talking about Fleshlights.
Tight and large, structured with beading and rubbing, heated, imitating pussy and butt – these toys can deliver the best orgasms in your life. However, the choice is so huge you might be embarrassed. Our guide is here to help you find a toy to take you to the seventh heaven.
What exactly is a Fleshlight masturbator?
To put it simply, a Fleshlight is an artificial vagina or anal device used to help men with masturbation. They are named so thanks to flesh-like material that imitates the touch and feel of real skin (it's called "sleeve"). The soft material is placed in a plastic case which also resembles a Fleshlight.
The inner case can be designed to simulate a vagina, anus, or mouth – the sensations depend on the depth, tightness and the inner structure. There's a large number of colors available to represent different ethnicities, while other models are made transparent for the user to enjoy watching the process.
Why are they so popular?
There are several reasons why artificial vaginas are becoming increasingly demanded.
The sleeve is made to provide the most realistic sensations ever – when you use enough lubricant and keep the device warm, you can enjoy a very authentic masturbation process.
The toy is perfect for improving stamina and performance. Users can try new techniques or improve the mastered once – a Fleshlight will last for as long as you can. Alternatively, it can be used for a warm-up before sexual intercourse with a partner.
Such devices are highly adjustable. You can adjust the suction level by turning the bottom cap or choose sleeves with various entrances that imitate an orifice, anus, or lips. It goes without mentioning a multitude of textures available: ribs, dots, spirals – all that turns masturbation into a burst of sensations.
Some Fleshlights are modeled after the body parts of famous pornographic actresses and are named after them. That's a great choice for their fans to both watch and 'feel' their idols. There's also 'Fleshjack' device designed for gay men: the series features models imitating body parts of pornographic actors.
It can be your lifetime toy. Fleshlights are not hard to clean and maintain: when handled accurately, they can serve for years without producing mold or tearing.
A Fleshlight masturbator is a versatile choice for men with different preferences: there is a myriad of models available so that anyone could find a suitable option.
How to Choose a Suitable Fleshlight?
Which Fleshlight masturbator will suit your needs? Let's look at the major types of devices provided.
Classic
This is the right pick for beginners. A classic model has some simple inner structure and an entrance imitating vagina/anus/mouth – you can buy all three to vary your sensations. Such models have an average girth and length (about 10-12 inches).
Go/Flight
This is a portable version of Classic model. Since Go is thinner, it is recommended for users with an average or small penis. If you realize that you don't use the entire length of Classic models, a compact alternative would be just right.
Flight models are even smaller than Go and usually have unnaturally-looking orifices. Their material is a bit more resistant and ensures a stronger penetration, but it's still a perfect option for travelers.
Ice
While the vast majority of Fleshlights comes in natural skin colors, Ice is fully transparent meaning you can see the insides. This model is widespread among couples who want to observe the process in detail. By the way, it's available in all versions including classic, go, and others.
Turbo
This model should rather be used by experienced men. Turbo option simulates all kinds of sex including oral and comes with three points of insertion – the sensations depend on where you penetrate the sleeve from.
Girls/Boys porn star models
As we have mentioned, those Fleshlights are modeled after the famous female and male porn stars. Aside from the authentic body part simulation, users enjoy various inner textures – each model has exclusive 'contents'.
Freaky Fleshlights
If you don't bother yourself with the realistic look, go fancy and try some Fleshlights inspired by horrors, Sci-Fi, and so on. How about having sex with a vampire, zombie or aliens? It sounds terribly awesome.
Vibro
This does not need an explanation. Fleshlights with a vibrating bullet provide a wider range of sensations and also come with three sockets where you can place the electric unit. This is another great treat for experienced sex toy users.
Pros and Cons
Before you rush to a sex toy market to search for a perfect sleeve, let's outline the pros and cons – it will help you understand whether you're willing to handle the item.

| Pros | Cons |
| --- | --- |
| Realistic look and structure make up for lifelike sensations and fantastic sexual experience. | Some users find Fleshlights pretty bulky, heavy, and not comfortable to grip and hold. |
| High-quality Fleshlights can serve for years without losing their shape and flexibility. | The suction isn't enough for some users. |
| The material is temperature-responding and warms up quickly. | Sleeve with inner textures are hard to clean – they require some time for maintenance. |
| Perfect for both solo and couple use. | Silicon models used with water-based lube dry quickly. At the same time, SuperSkin material tends to be a bit sticky. |
| It helps to improve stamina and performance lasting for as long as you need. | If you need a high-quality model with intricate textures, be prepared to pay a pretty penny. |
| A huge choice of models with various sizes and textures. Some toys can be used for traveling. | The material attracts lint and dust easily – it should also be cleaned prior to using. |
Proper Preparation
Although the sleeve looks quite lifelike, it lacks warmth to imitate the feel of the vagina fully. But once you warm it up, you will feel the true difference! How to adjust the temperature? The easiest thing you can do is use some warm water: leave the toy for a few minutes, and it will be ready for use. Alternatively, you can purchase a special sleeve warmer. Too expensive? Leave it wrapped in a hot towel for a few minutes.
When it's warm enough, add lubricant. The lube density depends on the inner texture of the sleeve – it will take some time and experimenting to find out which one works better for you. The thicker is the lube, the less texture intensity you experience. You can start with thick lubricants and switch to water-based ones when you realize there's a need for harsher penetration.
Maximize Your Pleasure
To prolong and increase your pleasure, as well as the item's lifespan, follow a few simple recommendations:
Make sure to use enough lube – it will improve the sensations and reduce unpleasant friction. When the sleeve feels too sticky, drip water, add some more lube, and check how it works. Make sure to use the right type of lubricant! Keep in mind that silicone toys are not compatible with silicone-based lubes, as well as their oil-based counterparts.
In the beginning, your entire experience might seem awkward. It might not seem as exciting as using your hand at the start – you need to get in the groove. Try different items as holders for your masturbator to find out which one works for you better.
Try using the device in the shower where you can get relaxed and enjoy the process fully.
Use the sleeve together with your partner! It may spice up your intimate life and let you discover the new facets of joy.
Remember to rinse the sleeve after every use. If you maintain it properly, it will serve you for years.
Make sure you've got the right size: choose a model according to the penis size. If a model feels too tight, try a bigger option.
Try different textures and structures – some may appeal to you more than others. Fleshlights are all about experimenting.
Do not share your Fleshlight with other users even after using and washing. Your sleeve must be entirely yours (and your regular partner's). This is the basic safety rule that will save you from sexually transmitted diseases and bacteria!
Tips and Tricks
Let's admit that: even such a fancy thing as a Fleshlight can get boring after long-term use, no matter how good it is. The way out? Do not put your toy in a remote corner – experiment with it! We've got a few curious ideas for you.
Your hand gets tired while holding the large case? Try using the toy hands-free: there are various Fleshlight mounts available that allow placing a toy on a wall or any other surface. Experiment with positions, angles, and places, and you will find some new sources of joy.
Take the toy to the shower or bath to get all wet. Aim the water splash at the right places with the right pressure to give the process a slight boost.
There's plenty of lubricants, so why stick to only one? Try different brands with various thickness levels to find out which one delivers the best sensations. A correctly chosen lube can make a night-and-day difference in your masturbation experience.
Let your partner participate. This is not as awkward as it might seem. She or he can hold the Fleshlight or watch you enjoy masturbation. It's perfect for boosting your stamina as well as warming up before intercourse. Your experience might be awesome!
Does the sleeve have several holes? Try all of them – the type of entrance defines the sensations, don't doubt that. If the regular orifice doesn't feel tight enough, you might be satisfied with smaller slots.
Maintenance and Care
It's crucial to sustain the cleanliness of your Fleshlight – all in all, we're talking about your hygiene and health. Maintenance of the sleeve requires some time and effort, so be prepared to take proper care of your toy. Here's what you should do:
Run warm tap water through the entire sleeve and orifice after each use. If possible, take the sleeve out of the case; if not – remove the two shell cap. Clean the device until it's totally clean from sperm and lubricant.
When you deal with an expensive brand model, do not use soap or any other aggressive detergent – it can reduce the toy's lifetime dramatically. Instead, apply 70% isopropyl alcohol to ensure proper cleaning.
After washing, let the toy dry with the caps off. Once the moisture disappears, apply some cornstarch or refresh powder – it will help the sleeve restore its soft structure.
As you see, the maintenance process is pretty easy, and you should repeat this procedure after EVERY use. It will prevent bacteria buildup or mold formation.
Final Thoughts
The modern materials used in Fleshlight sleeves are very lifelike at a touch and look – they feel like a real vagina but add a little bit more pleasure thanks to ribs, dots, and other fancy textures inside. It goes without mentioning all possible orifice types available: they feel like smooth skin and beg you to indulge yourself in the world of endless sexual pleasure.