Long gone are days when owning a vibrator meant having a dirty little secret that made you feel both thrilled and ashamed. Modern women are more open about their bedroom needs and are prepared to take their sexual welfare into their own hands. Today's best sex toys are super-ergonomic, discreetly designed, and very user-friendly devices that look sleek, work without a sound, and fit easily into your purse.

30 Seconds Summary
I am excited to announce my updated TOP 3 picks for March 2022:
Choosing the right vibrator that will meet your individual needs and hopes is tough. Money is not the only thing that is at stake here. An ill-fitted size, awkward design, or subpar materials of the device can lead to physical injuries and eternal disappointment with the sex toys.
Top 40 Thrusting Dildos
This guide contains answers to some of the most important questions you have to ask yourself before buying a sex toy. Hopefully, we can help you make the right pick that will continue to delight you years from now.
1. Fun Factory Stronic Drei — Best Choice You Can Make
The newest addition to the Stronic family, the Drei happens to be one of the most sophisticated and capable thrusting vibrators we've been able to find. Just like its elder siblings – the Eins and the Zwei – the Drei model does not merely vibrate inside you – it thrusts, moves, and makes the whole experience enjoyably lifelike.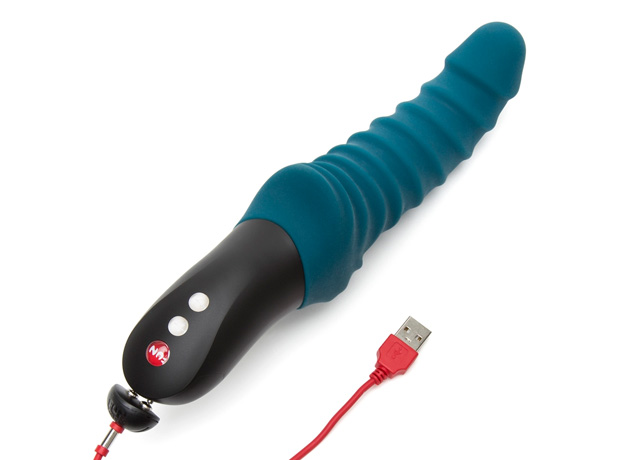 (more photos are available)
The Stronic Drei gives you a handy design with all the right curves and shapes, pronounced ridges, and a flared base that keeps it right where it should be during the play. The medical-grade silicone used in this vibrator is of the highest quality and 100% safe, so there's no need to worry about suddenly getting allergic. It might feel a bit rough at first, especially if you have never been with a vibrator before, but a nice coating of lube will turn the tide in your favor.
The Drei's ten thrusting modes guarantee that everyone will be able to get it to do just what they need, with the intensity and at the speed that they find most suitable. The upwardly facing head of the device is there to ensure easy access to the G-spot without too much effort on your side, while the flared base has a dual function of keeping the vibrator in place and giving your perineum a proper stimulation.
Forget about the old and boring battery-operated dildos for this one is a USB rechargeable toy with lockable buttons to ensure that your fun mate will not accidentally turn on when traveling in your luggage. Last but not least, Drei is unbelievably quiet during use, so you can have tons of fun without anyone's knowing!
Most prominent advantages of Stronic Drei:
Suitable for vaginal and anal fun.
Ten unique thrusting modes for each mood and style.
Flared base for safety and extra stimulation.
Responsive lockable controls.
Waterproof design made of hypoallergenic materials.
Quick USB charging.
Low-maintenance unit.
2. Lovehoney Dream Rabbit — The Best Value You Can Find
Are you looking for a budget-friendly vibrating solution to fulfill your most daring erotic fantasies? You have found it! The Lovehoney Dream Rabbit is a tireless and reliable love machine that offers both vaginal and clitoral stimulation at the same time. The smooth 10-inch silicone shaft with a few ridges at the top feels very realistic when it explores your secret depth in search for the blessed G-spot; in the meanwhile, its cute vibrating rabbit ears provide extra stimulation to your clitoris.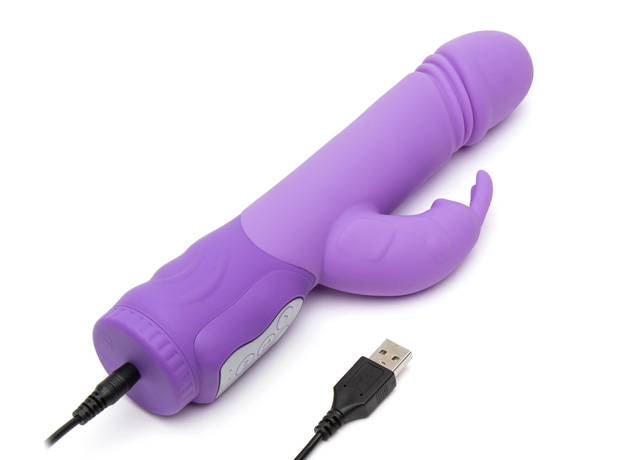 (more photos are available)
The model is equipped with an internal 3-speed metal thruster that allows customizing the pace of your sexual adventure to your individual needs. The silky ears have seven vibrating patterns and three different speeds to tease and please your clitoris any way you like.
The Dream Rabbit vibrator is waterproof, meaning you can take it with you to the shower or Jacuzzi and have much fun experimenting with all the different settings and features. Despite its economical price, the device can easily match some of the more costly and feature-loaded rivals in safety, reliability, and overall performance.
The toy does not use latex that could cause an allergic reaction or reduce the pleasure of the act. Its materials are perfectly safe and feel quite natural to the touch, especially with some amount of water-based lubricant applied in advance.
Most prominent advantages of Lovehoney Dream Rabbit:
The silicone feels soft and natural.
Three thrusting modes to choose from.
The rabbit ears have 7 different vibrating patterns and 3 speeds.
Completely waterproof.
USB rechargeable, travel-friendly sex device.
Affordable price.
3. Robo — Fully Functional Sex Machine
The Robo thrusting sex machine takes mechanical fun to an entirely new level and allows you to fulfull your boldest sexual fantasies. This highly versatile, mains-operated toy comes with anatomically correct dildo and vagina attachments that are easy to assemble and fun to use by men, women, and couples alike!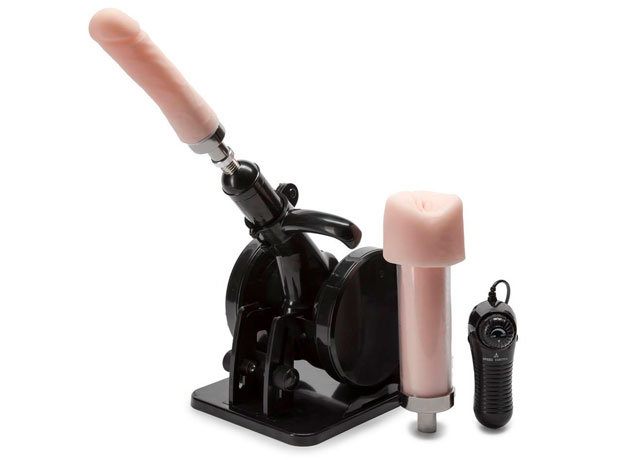 (more photos are available)
The customization options here are numerous and only limited by your imagination. The 360-degree turning arm of the machine allows adjusting the penetration angle and depth to your preferences, and its ergonomic control pad with a scroll wheel manipulates the speed of the thrusting motion.
The Robo has a mounting bracket that will keep this thrusting machine on the spot regardless of your chosen position. If you like to change locations from time to time, there is a temporary fastening solution available – suction cup pads. Using those, you can attach the device to any smooth and flat surface and explore new ways to enjoy sex.
The manufacturer advises applying water-based lube to the device attachments before using them. Doing so will ensure smooth and secure experience with maximum satisfaction for the user.
Most prominent advantages of Robo:
Hands-free sex fun for men, women, and couples.
Customizable thrusting speed, as well as penetration depth and angle.
Compact size allows storing the machine discreetly out of sight.
The device is supplied pre-assembled with a few mountable attachments.
Suction cup pads for fastening the machine to a smooth surface of your choice.
Does not contain any latex and feels like soft plastic.
4. Happy Rabbit Thrusting Vibrator — Double the Pleasure, Double the Fun
The Lovehoney's thrusting Happy Rabbit model is a glamorous, brightly pink toy that screams sex with its every line and curve. The luxury design features a realistically shaped shaft made of soft silicone with a thin silver rim separating the handle that harbors the controls and the charging port. Happy Rabbit boasts as many as 15 different thrusting and vibrating modes powered by its two robust motors.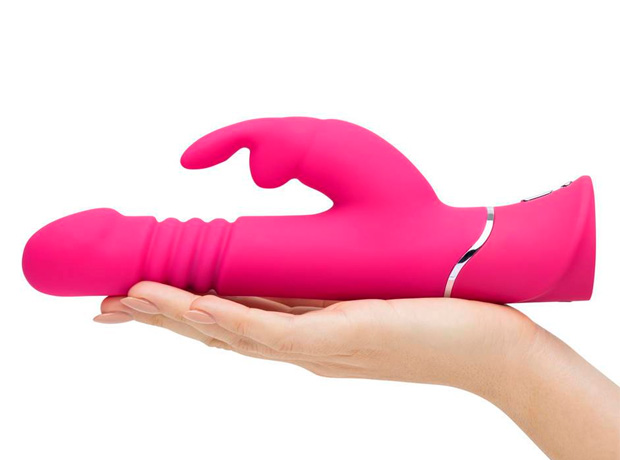 (more photos are available)
Unlike the older models in the Happy Rabbit line, the shaft of the Happy Rabbit Thrusting Vibrator does not actually vibrate; instead, it performs thrusting motions of various intensity that can be adjusted to your immediate goals. This model will be an excellent pick for users who do not like internal stimulation to be too powerful or intense. On the outside, there is a pair of buzzing silicone ears that can offer some ardent clitoral stimulation to those who need it to warm up before or during the main play.
The thrusting part of the vibrator is well-balanced and works nicely, without pushing itself out too much for the ears to lose touch with the clit, which is often the case with less sophisticated sex toys. The ridged section of the device is designed to go inside entirely. Therefore, it does not, in any way, irritate or hurt the sensitive zones at the entrance, but introduces tons of joy and magic to your masturbation experience.
Most prominent advantages of Happy Rabbit Thrusting Vibrator:
15 different motion settings (3 thrusting modes and 12 ear vibration modes).
A well-designed realistic shaft that naturally reaches all the hotspots inside.
Two robust motors, ensuring quiet and steady operation.
Waterproof model for aquatic fun.
USB rechargeable device with lockable controls for stress-free transportation.
5. Velvet Thruster Mini — Deep, Handsfree Penetration
The Velvet Thruster Mini model is a smaller, lighter, and more travel-friendly version of the original full-size Velvet Thruster manually operated sex device. Being lovingly nicknamed "Teddy," this thrusting dildo is capable of delivering up to 125 thrusts per minute at one of its six self-powered speeds.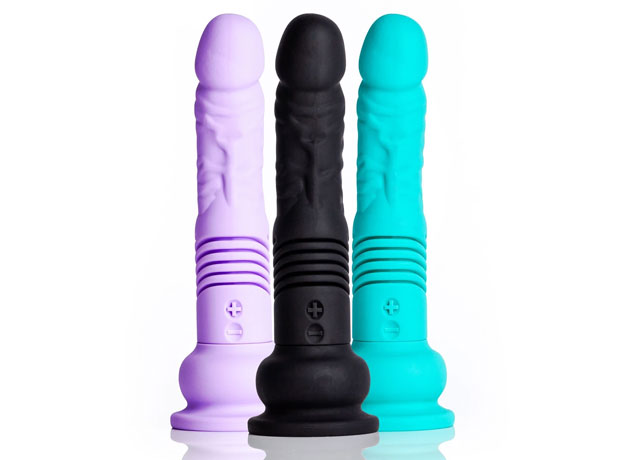 Check Price on PeepShowToys.com
(more photos are available)
Teddy's soft silicone shaft is designed to be anatomically reminiscent of a real penis. It can move 2 inches back and forth, producing the most realistic thrusting sensations and offering a new level of satisfaction with your sex play toy. Its sturdy suction base allows attaching the device to any smooth and flat surface of your choice for easy penetration, with your hands completely free to be doing something else.
The mechanical phallic toy can bend at 30 degrees, giving you more flexibility in choosing the most optimal position for fantastic sex. With a full charge, the Velvet Thruster Mini thrusting dildo can continue working for up to 2 hours. The controls here are very straightforward: pressing its up-and-down arrows will switch between the six available thrusting speeds until you find the one that is best for you.
One more notable advantage of the model is that its powerful motor works steadily and does not halt when you press too hard against the shaft, which is terrific if you like a bit of hard play. Note that the Velvet "Teddy" Mini is a bit noisy and is not waterproof, so its use is pretty much limited to bedroom fun.
Most prominent advantages of Velvet Thruster Mini:
Six thrusting speeds to fit every user type.
Up to 125 thrusts per minute.
Realistically designed velvety silicone shaft.
Reliable suction base for attaching to any flat surface.
Its compact size is perfect for taking the device on a trip with you.
Fully rechargeable; can last for 2 hours on a single full charge.
Easy-to-use controls.
6. Fantasy for Her
The Fantasy for Her USB rechargeable sex machine will satisfy your most secret and private fantasies. Its powerful motor with seven thrusting modes and seven vibration patterns will give you exactly the kind of sexual sensations you've been longing for.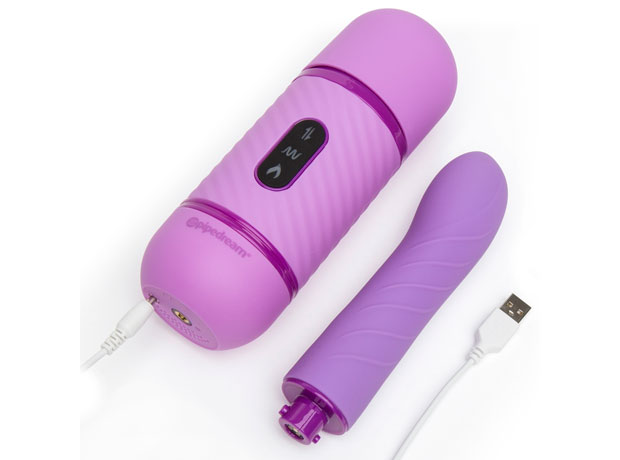 (more photos are available)
Its gently ribbed shaft with a slightly curved head can easily reach and stimulate all your sweetest spots. The model is made of smooth and soft silicone, which can warm up to 40 degrees Celsius to give you the feeling of a real partner moving inside your body.
Fantasy for Her can be used as a handheld thrusting vibrator by those who prefer to set the pace of their sex adventure themselves. Alternatively, you can choose to attach it to a flat surface, using the included suction cup base, and control the machine with a handy remote.
Most prominent advantages of Fantasy for Her:
The machine has a suction cup with a reliable locking mechanism.
Portable device; equipped with a remote control.
Can warm up to 40 degrees Celsius for lifelike sexual sensations.
7 thrusting modes and 7 vibration patterns.
7. Booty Blaster Thrusting Butt Plug
The Booty Blaster Thrusting Butt Plug with its ten different vibration and speed settings will excite every single nerve ending in your body and put your sexual stamina to test. Its dependable suction base for easily attaching the Booty Blaster plug to a flat surface will make sure you explore the entire multitude of exciting anal play possibilities.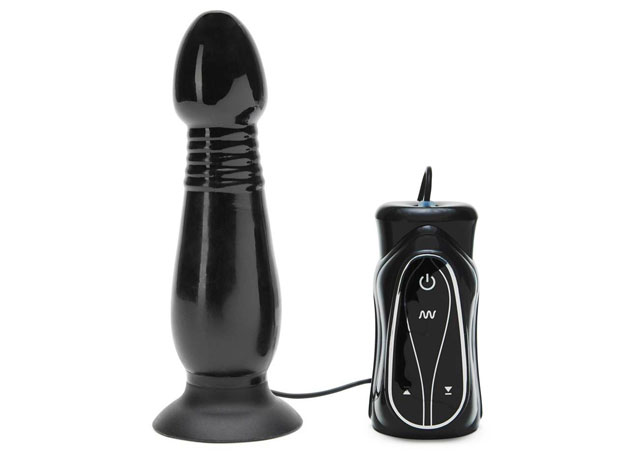 (more photos are available)
This thrusting plug featuring a tapered shaft with a ridged neck and a bulgy head is designed to offer you the maximum possible pleasure from handsfree anal penetration. Don't forget to apply a nice coating of water-based lube, then get ready to enjoy some of the most overwhelming sensations in your life.
With its 3 thrusting speeds and 7 vibration modes, you can easily choose the penetration style you like best. The plug comes equipped with a wired controller, which allows you to play this game solo or share the fun with your partner.
Most prominent advantages of Booty Blaster Thrusting Butt Plug:
Secure and dependable suction base.
Ten different vibration and speed settings for versatile sex play.
Made of soft and smooth plastic.
The device comes with a wired controller for fun at your own pace.
8. Velvet Thruster
Despite its compact size, this device is actually a full-fledged machine for sex, boasting ten different thrusting speeds up to 140 strokes per minute. When operated at its maximum power, Velvet Thruster Jackie can offer you some action-packed play. This outstanding handheld sex toy starts at lower speeds and gradually accelerates its pace, building up the fun.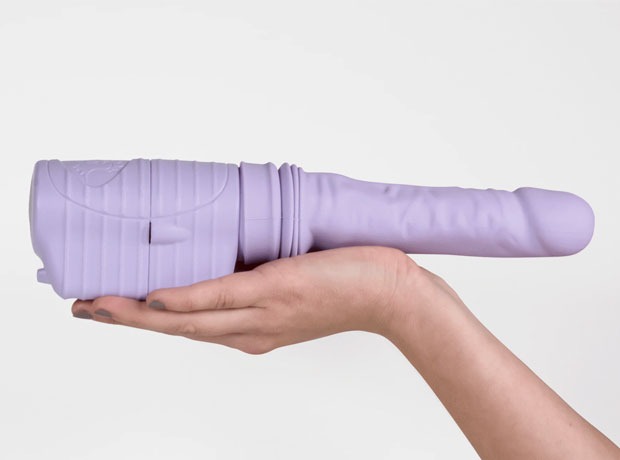 Check Price on PeepShowToys.com
(more photos are available)
The thrust length of the Velvet Thruster self-propelled dildo is 3 inches, which is more than what other similar devices have and is perfect for those seeking proper cervical stimulation. Its well-designed shaft with amazingly accurate anatomic curves and veins, is made of soft and velvety silicone and mimics the feel of a real penis. The Velvet Thruster device is capable of bending at 90 degrees, so finding the perfect position for sex should not be a problem.
The sex toy is waterproof, meaning you can have some fun with it in the shower. Another supercool thing about the device is that its battery life per charge is a whopping 8 hours.
Most prominent advantages of Velvet Thruster:
Ten thrusting patterns to try.
Up to 140 thrusts per minute.
The thrust length of the device is 3 inches.
Flexible and bends at 90 degrees.
Suits for men, women, and couple play.
9. Fun Factory Realistic
This thrusting vibrator will fulfill your sweetest sexual fantasies and make you lose count of your orgasms. Stronic's patented thrusting technology utilized in the toy provides authentic vaginal sex feel. Thanks to its realistic design and a very robust motor with seven speeds and three different thrust patterns, the vibrator can easily reach and stimulate all the most sensitive zones.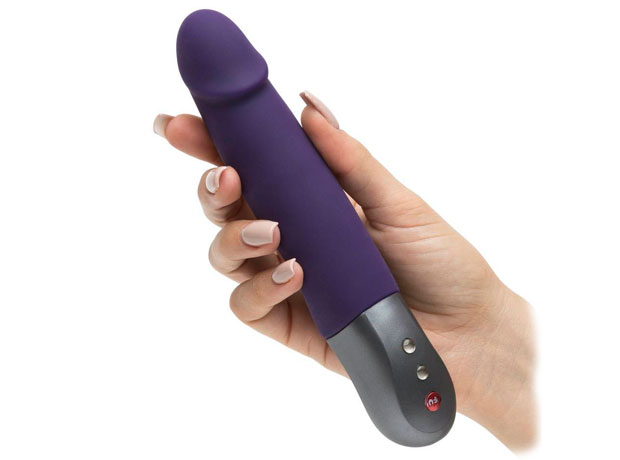 (more photos are available)
Made of soft and durable waterproof silicone, the toy can become a great companion in the bath or shower. Its compact size allows taking your Fun Factory Realistic with you when traveling. Also, you can be sure that the device will not suddenly switch on in your luggage as it is equipped with a reliable travel lock that disables the controls for discreet transportation.
Like all other Fun Factory products, the Realistic adult toy is super-quiet in operation, and its battery will last 2 hours on a single full charge, which is enough to give you plenty of mind-blowing orgasms.
Most prominent advantages of Fun Factory Realistic:
Realistic design with a deliciously accurate anatomy of the shaft.
7 speeds and 3 pulsating modes.
Slightly curved head allows accessing the most remote and hard-to-get places.
Lockable controls for safe and discreet transportation.
10. Lifelike Lover
Lifelike Lover by Lovehoney is an exquisite thrusting adult toy that can become your preferred partner and enrich your sex life for many years to come. Its soft shaft made of 100% body-safe materials with amazing vein detail and lifelike balls at the bottom leaves almost nothing to the imagination. This thrusting dildo offers a great balance between flexibility and sturdiness, which brings it even closer to what a real erect penis feels like.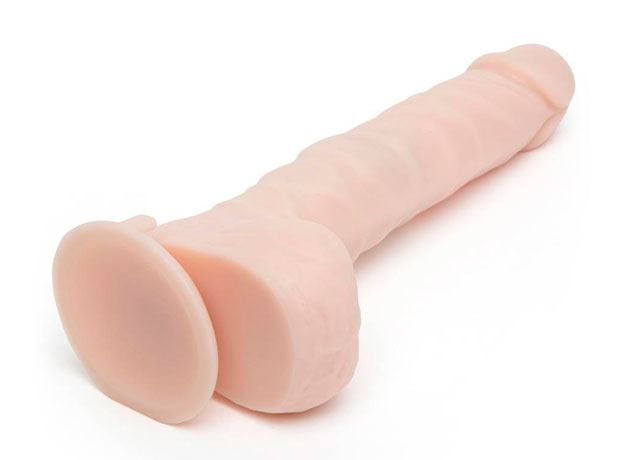 (more photos are available)
One of the best things about this vibrator is its dual purpose. You can use it for solo fun or attach the vibrator to a variety of compatible harnesses and share the excitement with someone else. Such versatility eliminates the need to buy several separate toys with pretty much the same set of functions for situations when you are alone and with a partner.
The model offers you to choose from 3 thrusting modes, 6 intermittent thrusting options, and 3 vibration-only patterns. By pressing the Boost button, you will get 10 seconds of faster thrusting. If you like to keep your hands free for added self-stimulation, there is a dependable suction cup at the base for fixing the device on a clean flat surface.
Most prominent advantages of Lifelike Lover:
Allows combining rotation with thrusting motions or sticking to the vibration-only mode.
100% waterproof design for top-notch fun in the bathtub.
Its strong suction cup keeps the device in place for the entire session.
Well-balanced design of the shaft with pronounced veins for ultra-realistic sensations.
Compatible with a variety of harnesses.
11. Fun Factory Stronic Surf
The Fun Factory Stronic Surf is yet another representative of the Stronic family specifically designed for users who prefer hardcore riding. The sturdy build of its shaft features curves, ridges, and waves that get increasingly taller and more pronounced closer to the handle. The sleek black color of the toy is very eye-catching and can really heat up your imagination.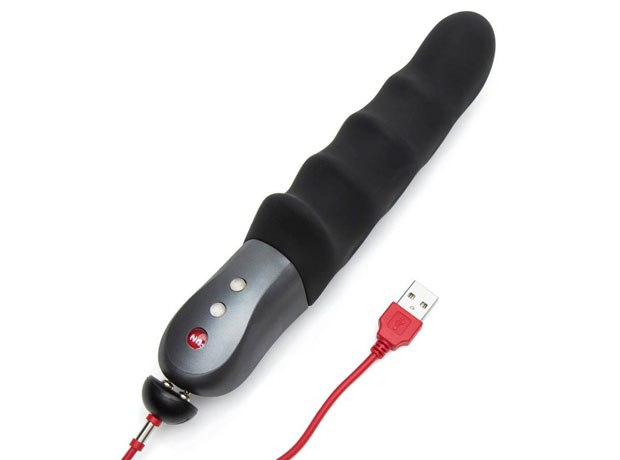 (more photos are available)
Like its siblings and cousins, Stronic Surf is a pulsator rather than a vibrator. The patented magnetic technology utilized here ensures vigorous self-thrusting motions without any need for manual assistance. Despite all the powerful action it produces, Fun Factory Stronic Surf remains surprisingly quiet, with no sudden noises that could distract you or attract other people's attention.
There are ten different speeds and patterns available, so everyone is guaranteed to find a setting that will bring the most intense joy and utter happiness. The battery of this toy is relatively durable and should last around 45 minutes when used at top speed. Once you have drained the battery, the lights on the device will warn you about the need to recharge, which can be done by attaching the included magnetic cable and plugging it into a USB wall adapter or a dock.
Most prominent advantages of Fun Factory Stronic Surf:
Powerful thrusting vibrator for intense sex play.
Pronounced ridges and waves of increasing height for added internal stimulation.
Ten speed and thrusting patterns to choose from.
Watertight design.
USB rechargeable.
12. Love Thrust Vibrator
Throw yourself into the world of hands-free pleasure and hardcore fun with this large 11-inch long thrusting vibrator by Evolved. The vibrator goes in as deep as you can take it, giving all your internal hotspots proper attention and care.
The sturdy suction cup at the base keeps the device strictly in place, giving you the freedom to use your hands for additional clit stimulation or sensual interaction with your partner. While you are busy with that, the powerful motor inside the shaft works tirelessly at three different speeds with the entire device vibrating at your request. To spice up the experience, choose one of its 7 vibrating speed options and see how long you can last.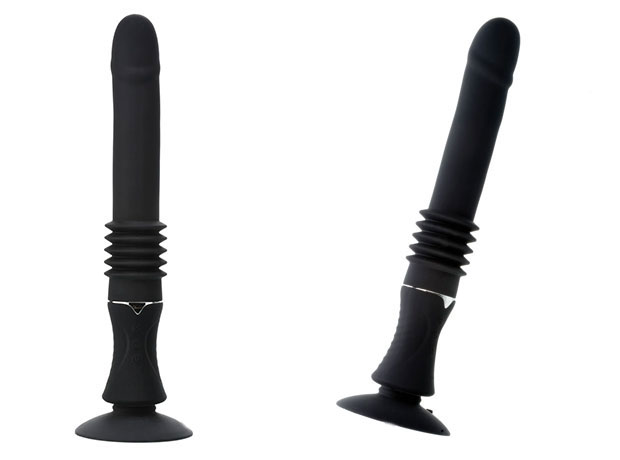 (more photos are available)
Made of smooth and flexible silicone, this sturdy mechanical lover feels fantastic and is very pleasant to touch. Also, being 100% waterproof, it can keep you company in the bath or shower. This USB rechargeable model takes about 2 hours to re-energize before you can ride it again for 50-120 minutes, depending on the chosen mode.
Most prominent advantages of Love Thrust Vibrator:
Extra-long, 11-inch thrusting vibrator for hardcore play.
3 speed modes and 7 vibration options for all-round fun.
Hands-free joy thanks to the strong suction cup base.
Waterproof and USB rechargeable.
13. Fun Factory Stronic Bi Fusion
This awesome sex toy will grant you tons of joy and pleasure thanks to its well-balanced design that combines powerful internal thrusts with flickering external vibrations of the butterfly attachment. Such all-encompassing stimulation of your most sensitive erogenous zones guarantees multiple mind-blowing orgasms.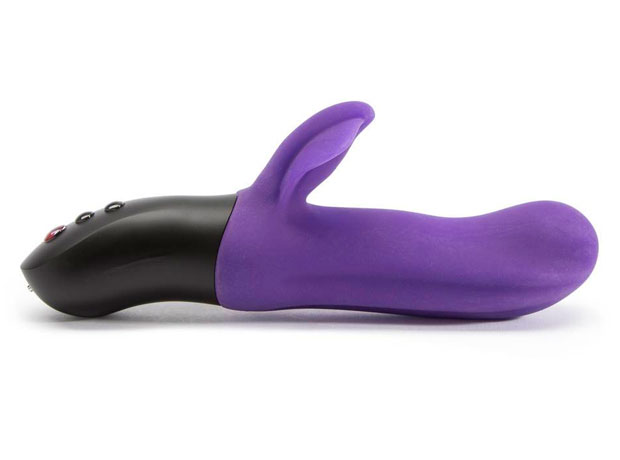 (more photos are available)
This USB rechargeable adult sex toy boasts a whopping 6 vibration options and 8 pulsation patterns. By simultaneously stimulating your G-spot and clitoris, the Bi Fusion model will give you vibrant and lasting sensations, while making your orgasms frequent and increasingly more powerful.
Most prominent advantages of Stronic Bi Fusion:
Dual stimulation of your G-spot and clitoris.
Choose between 6 different vibration modes and 8 pulsation options.
USB rechargeable.
The soft and ridged build of the vibrator makes internal caresses more sensual.
14. Fun Factory Stronic G
The Fun Factory Stronic G toy has everything a modern woman can dream of. It capitalizes on the best qualities of other Stronic pulsators and focuses on caressing a woman's G-spot. The model is lighter and handier than other Fun Factory thrusting products. It is also slimmer, which means it will not tug at your sensitive skin when inside and operational.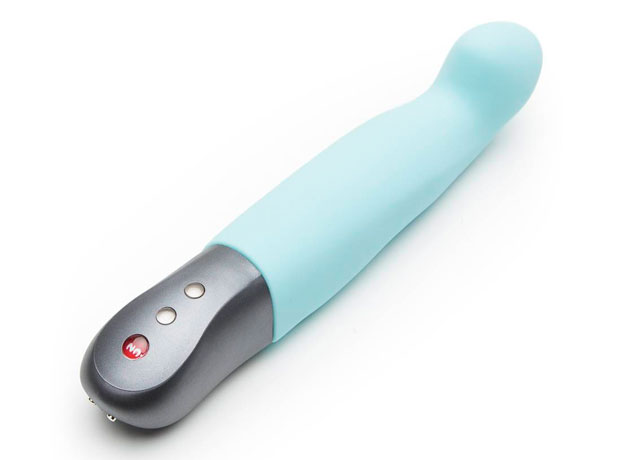 (more photos are available)
The model is recognized for its prominent curved head designed this way to reach and fully cover your sweet G-spot, hitting against it at one of its ten speeds and strengths. Other worthy properties of this sex toy include an innovative motor that ensures silent operation, a magnetic charger, and lockable controls, which make this thrusting pulsator a friendly travel companion.
Note that the Stronic G toy is designed to meet a specific goal of stimulating your hard-to-reach G-spot; that is why it is made to be lighter and slimmer than other pulsators in this product line. If you prefer to feel filled to the brim when using your vibrator, this device may not impress you much.
Most prominent advantages of Fun Factory Stronic G:
The toy stimulates your G-spot with its 10 speed modes and pulsation patterns.
Lightweight and slim.
USB rechargeable, with travel lock for added safety and discreetness.
Its waterproof design allows having plenty of fun in the bathtub and shower.
15. Shameless Seducer
The model fully justifies its name with its shameless 850 thrusts per minute, 4 up-and-down motion settings, and 7 fascinating escalation, vibration, and pulsation options. Its curved shaft with a ridged neck and a prominent head reaches all the trickiest spots, while the teaser outside does its magic, fiddling with your clit.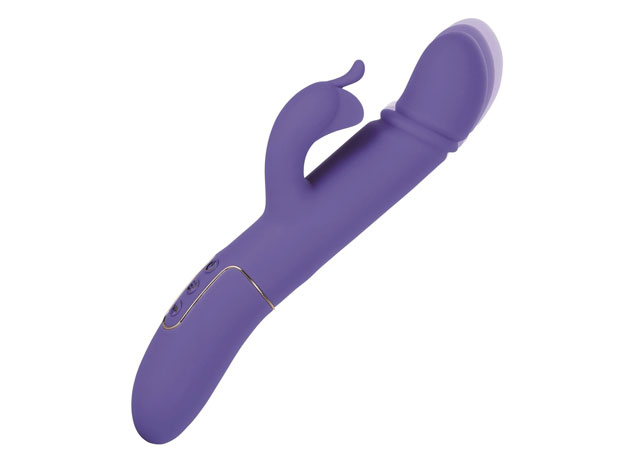 (more photos are available)
This handheld thrusting massager will be a suitable pick for people who prefer an intense ride that ends in an ultra-charged orgasm. However, if you are a fan of more prolonged and sensual pleasure, the device has something to offer to you too. With its 4 different thrusting variations, you can easily adjust penetration intensity and speed to your immediate needs.
As is evident from its design, the device serves a dual purpose: its soft and velvety silicone shaft provides targeted stimulation of your sensitive G-spot, while the delicate butterfly teaser takes good care of your clit on the outside. If double stimulation feels overwhelming, turn off the unused function and proceed with the fun.
Most prominent advantages of Shameless Seducer:
10-inch long powerful massager with a sleek design and easy controls.
Up to 850 thrusts per minute at maximum speed.
Its two separately controlled motors ensure dual functionality of the device.
Four thrusting speeds and seven vibration/pulsation modes to enjoy.
Waterproof and USB rechargeable.
16. Swan Motion
Make the most out of your "me-time" with this luxurious and feature-packed rabbit vibrator. Choose one of its seven delightful thrusting modes and let the Swan Motion take you to the very top of the world. When you feel particularly playful, don't forget to activate one of the 3 teaser settings for superb clit stimulation.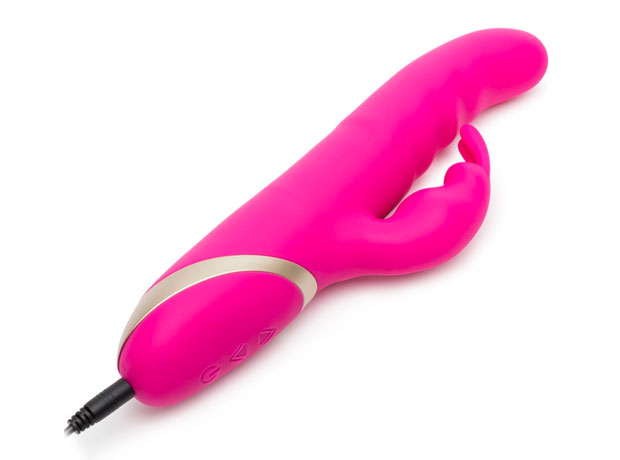 (more photos are available)
Separately controlled teaser ears and shaft allow making your every moment with Swan Motion unique and tailored to your individual needs. This USB rechargeable device can become your faithful travel mate and accompany you on all your trips. Its waterproof design means you can make your morning shower time unforgettable.
Most prominent advantages of Swan Motion:
Its 7 thrusting shaft speeds and 3 teaser vibration modes are exquisitely satisfying.
Ability to tailor your self-love sessions to your specific needs.
Up to 2 hours of uninterrupted fun on a full charge.
Secure locking mechanism for disabling the controls while traveling.
17. Real Skin Hotcock
Give your body the self-loving fun it deserves with the Real Skin Hotcock sex toy. This inexpensive thrusting sex device with surprisingly powerful functionality will keep you warm and satisfied on the coldest of nights. The warming part is not a metaphor here as the toy can actually heat up to 45 degrees Celsius for a more compelling imitation of sexual intercourse with a real partner.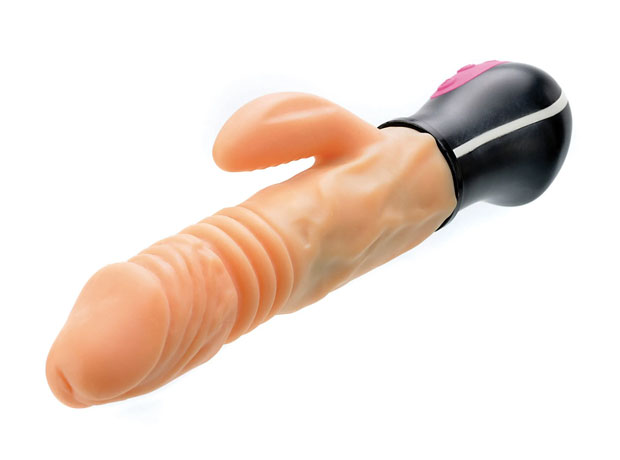 (more photos are available)
This adult toy boasts an impressive range of functions, including 12 thrust/rotation and vibration modes, to keep all your private parts happy. The bendable shaft is made of soft TPE that ensures the "real skin" feel, while the bulging veins and folds make the overall experience even more realistic. The scrotum at the bottom provides a handy base for keeping the toy in place and not letting it dive in too deeply.
Since it is 100% watertight, the device is super-easy to clean and can quickly become your favorite go-to toy in the shower and bathtub. The Real Skin Hotcock toy can be recharged via a USB port using the included USB cable.
Most prominent advantages of Real Skin Hotcock:
A choice of 12 different thrusting and vibration modes.
The shaft head can be heated to 45 degrees Celsius.
Safe and durable materials used in the design ensure the "real skin" feel.
Watertight and USB rechargeable model.
18. Shameless Flirt
Yet another shamelessly fun toy to try if you are looking for some intense and comprehensive G-spot stimulation. The powerful Shameless Flirt massager with its 4 thrusting speeds and 850 strokes per minute will tease your inner sweet spots, giving you the pleasure you have never experienced before.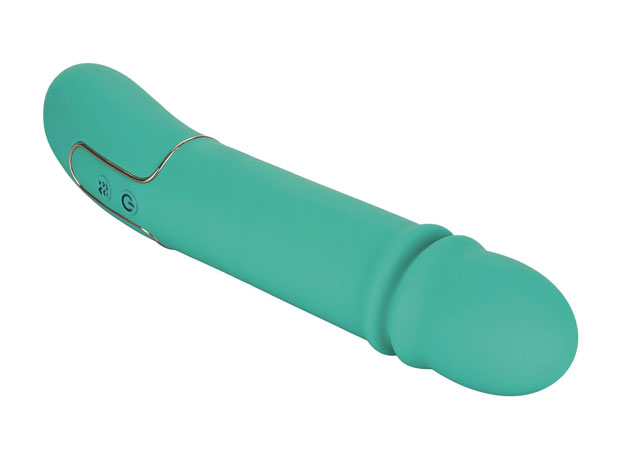 (more photos are available)
The silicone skin of the ergonomic and realistically curved shaft with a ridged neck is exceptionally pleasant to the touch, especially if you put enough water-based lube on it. The pulsating and vibrating fun can go on for 50 to 70 minutes on a single charge. After that, you will need to let it rest for 2 hours while recharging via the included USB cord.
Do not leave your Shameless Flirt companion behind when you go on a trip. Its secure travel lock allows disabling the controls of your vibrator to eliminate the chance of accidentally starting it in your bag.
Most prominent advantages of Shameless Flirt:
Multiple vibration and thrusting modes to choose from.
Fantastic and targeted G-spot stimulation.
Up to 850 strokes per minute at the top speed.
Travel-friendly and USB rechargeable.
The device can give you 70 minutes of nonstop fun on a single charge.
19. NS Novelties Inya Deep Stroker
NS Inya Deep Stroker is a budget-friendly thrusting vibrator with a very decent range of functions. Because of its thick accordion-like folds at the lower part of the shaft, the device cannot boast close similarity to a real-life penis; however, that in no way diminishes its amazing capabilities.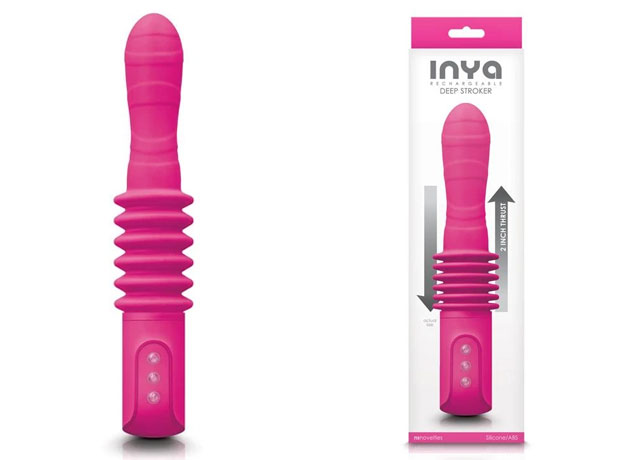 Check Price on PeepShowToys.com
(more photos are available)
Inya Deep Stroker offers its users three different thrusting speeds with 2 inches of the total thrust length. Apart from pleasing you with powerful thrusting stokes, this self-propelled device can be set to vibrate at as many as 10 different modes. Both functions can be adjusted separately, giving you plenty of sexual play options.
The device is made of smooth body-safe silicone that feels super-silky to touch. The device body is covered with gentle abstract textures for added stimulation of your sensitive inner zones. Moreover, this unit requires little maintenance and can resist water well, which makes it perfect for a fun time in the shower or bath.
Most prominent advantages of Inya Deep Stroker:
3 thrust speeds and 10 vibration modes to keep you happy and satisfied.
Affordable self-powered thrusting dildo.
Made of soft silicone and decorated with slightly rippled textures.
USB rechargeable.
Separate controls for vibration and thrust.
20. INMI Ultra Thrust-Her Wand Massager
The INMI Ultra Thrust-Her Wand Massager is a double-pointed pleasure stick that will make any woman happy. Its head offers 4 different massaging functions and can vibrate at 3 different speeds, delivering you loads of nonstop joy. For internal fun, there is a 1.5-inch wide massager tail with 6 inches of insertable length and bendable neck that is also slightly ridged.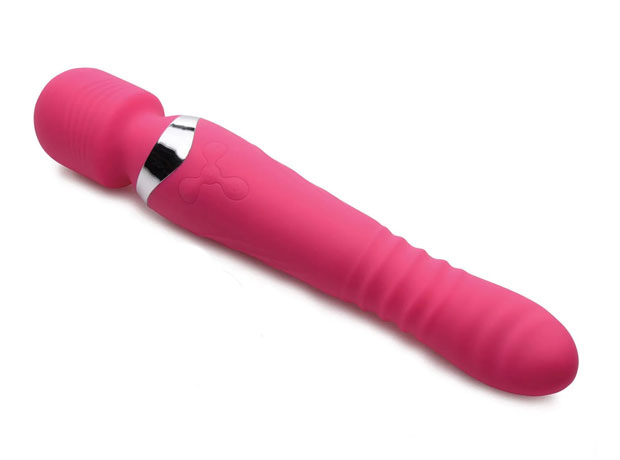 (more photos are available)
Made of premium-quality silicone, the toy is completely safe for people to use. Its mildly curved tail vibrates, rotates, and thrusts, closely imitating vaginal sex with a real partner. The ribbed surface intensifies your sensations and makes your orgasms even more vivid and lasting.
The INMI Ultra Thrust vibrator is made to be watertight so that you can toy with it in the bath or shower. Your partner can join the fun too and use this thrusting magic wand to explore your most sensitive zones to see what makes you come quicker and harder.
Most prominent advantages of INMI Ultra Thrust-Her Wand Massager:
Powerful 2-in-1 sex toy.
Suitable for external and internal stimulation.
3 speed options, 4 thrusting functions.
Waterproof and 100% body-safe.
21. Eclipse Thrusting Rotating Probe
Eclipse Thrusting Rotating Probe is a unisex anal toy that will bring equal joy to representatives of any gender. Open up the world of anal pleasures with this robust 2-motor stimulator, featuring 12 different settings of thrust, escalation, and vibration.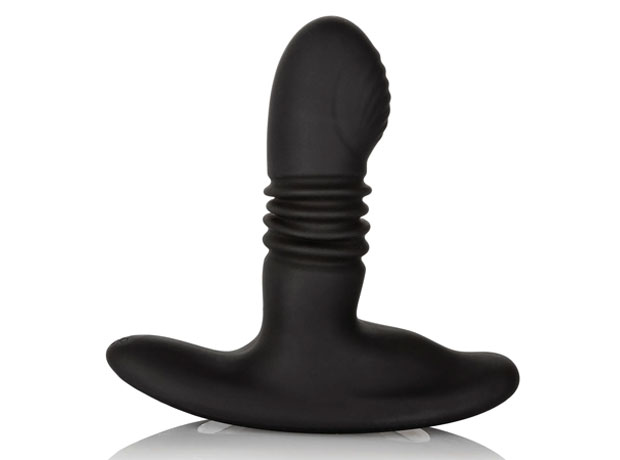 (more photos are available)
Constructed from body-safe silicone, the probe has 3.75 inches of insertable length with a nicely curved shaft and a prominent 1.25-inch long head that can easily reach and gently stimulate all the most thrilling zones inside. Ergonomic design of the toy allows for comfortable and effortless insertion and removal, while the curved shaft ensures that all your internal pleasure points get proper attention.
A total of 12 motion functions means that you can tailor the experience to your specific needs by alternating between strong vibrations, electrifying rotations and powerful thrusts, or combining them into one session to get a mind-blowing, toe-numbing orgasm. This marvelous sex machine is waterproof, USB rechargeable, and is equipped with a security travel lock, which makes it a very desirable holiday companion.
Most prominent advantages of Eclipse Thrusting Rotating Probe:
Anal toy suitable for any gender.
12 exciting vibration, rotation, and thrust functions powered by 2 durable motors.
Travel-friendly.
USB rechargeable.
100% waterproof.
22. Adam & Eve Thruster
With one press of a button, you are guaranteed a world of stunning and breathtaking sensations that Adam & Eve Thruster has to offer. The capable swirl-shaped shaft is built to provide you with three speeds of steady and well-balanced up-and-down thrusts, while its slightly bent head will find and satisfy your G-spot in no time!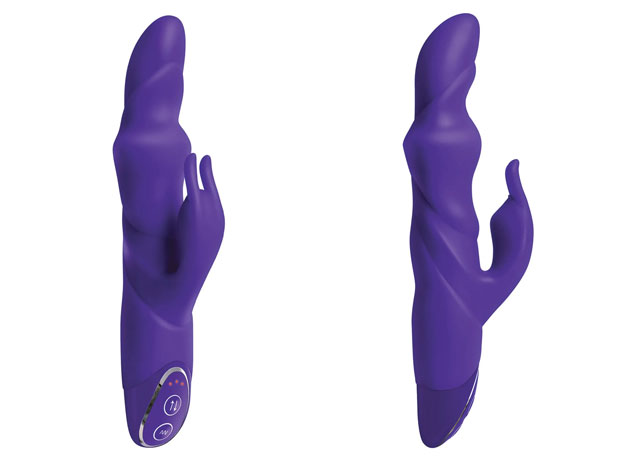 (more photos are available)
Adam & Eve Thruster is a versatile toy, with functionality going way beyond inner stimulation of your sweetest spots. On the outside, the vibrator is equipped with a soft silicone rabbit-shaped teaser with seven different vibration patterns for tremendous clit stimulation.
The product offers 6.5 inches of total insertable length, and its unusual swirl-like form ensures extra-pleasant sensations during vaginal stimulation. Unique textures of the shaft also guarantee that the lube will stick better, providing just the right level of moistening. As an added bonus, this thrusting vibrator is watertight, so you can easily take the fun to the bath with you.
Most prominent advantages of Adam & Eve Thruster:
3-speed motor for steady thrusting motions.
The teaser can be set to operate at 7 different vibration options.
Soft, hypoallergenic silicone ensures a natural feel.
Ergonomic design of the shaft with a G-spot friendly head.
USB rechargeable.
Waterproof.
23. Eve's Thrusting Rabbit
The Thrusting Rabbit vibrator will give you a myriad of mind-numbing sensations you have never experienced before. Its velvety body-safe silicone shaft with an angled head and prominently ribbed neck will carefully explore the secret depths of your womanhood and stimulate your G-spot with gentle but powerful half-an-inch deep thrusts.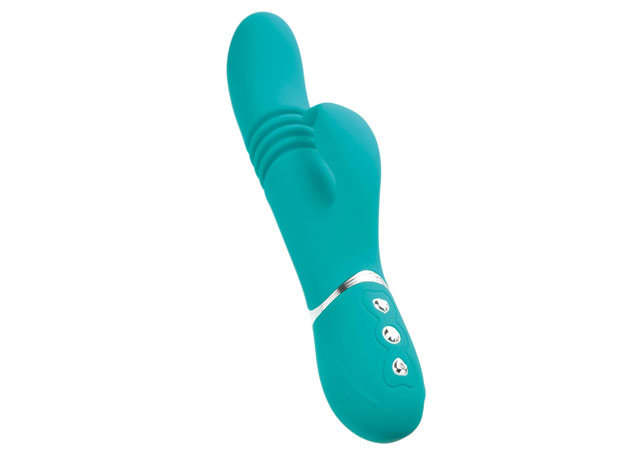 (more photos are available)
While choosing between the vibrator's ten fabulous thrusting modes, patterns, and speeds, don't forget to test its bunny-shaped teaser for clit stimulation. Its tireless vibrating ears will send surges of pleasure throughout your body, causing one bright orgasm after another. The model is propelled by three robust motors – one is for thrusting, and the other two are to ensure steady in and out vibes. Individual controls for each motor allow you to personalize your every session with the Eve's Thrusting Rabbit vibrator to your needs and wishes. You can try every function separately or mix different settings for full-scale stimulation of your most sensual zones.
If you are looking to make your shower time more entertaining, this 100% waterproof rabbit vibrator will make a great companion. At its top speed, the device can last 1.3 hours before the need to recharge it arises. When set to work in a more delicate mode, the toy can give you a whopping 4 hours of fun.
Most prominent advantages of Eve's Thrusting Rabbit:
Nicely curved shaft with a soft head that targets your G-spot.
3 robust motors with separate controls.
Ten excellent thrusting modes and speeds.
Ten vibration and pulsation options.
USB rechargeable and waterproof.
24. Jack Rabbit Signature
The Jack Rabbit Signature is a versatile and sturdy toy that packs enough amazing features and options to give you the ultimate pleasure. Having all the traditional characteristics of a thrusting vibrator, the Rabbit Signature model boasts one significant improvement that easily makes it one of the best products in its category – an intensely thrusting head with 3 different speed settings.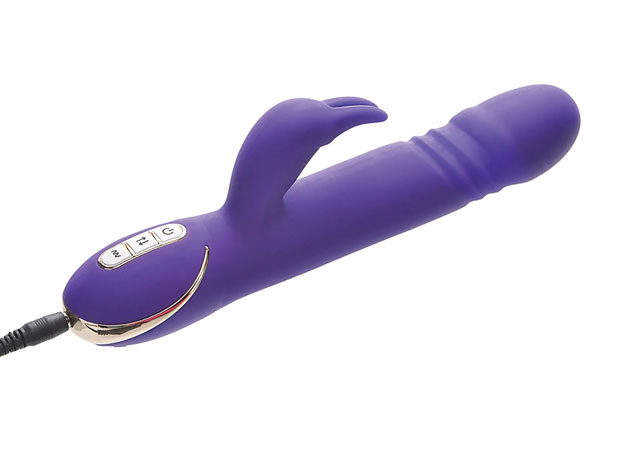 (more photos are available)
The soft and velvety silicone shaft with a delicately ridged neck and a slightly bent tip feels extremely comfortable and ergonomic, giving all your crucial hotspots proper stimulation. When you want extra-powerful sensations, turn on the bunny teaser and pick one of the 7 vibration functions available here. Adjust its rhythm, pulsation, and escalation to your mood and get ready to see what the famous Jack Rabbit is capable of!
Customizing your sex play is easy with this toy as there are individual controls for thrusting motions and vibration. You can test them one at a time or activate all at once, depending on your needs and preferences. Also, your morning showers will get much more excitement with this waterproof Jack Rabbit.
Most prominent advantages of Jack Rabbit Signature:
Lavish rechargeable silicone toy with a thrusting head.
3 thrust speeds to choose from.
7 terrific teaser functions for mind-blowing clitoral orgasms.
Waterproof for aquatic fun.
Lockable controls will give you peace of mind while traveling.
25. Enchanted Teaser
Enchanted Teaser is a highly capable thrusting vibrator with a very affordable price tag. Its set of features cannot but impress: the model boasts 4 different shaft rotation and thrust functions, further enhanced by 12 awe-inspiring vibration options. The rotating head at the top of the shaft massages your sweet spots, while outside, the soft flickering teaser does its magic on your clit.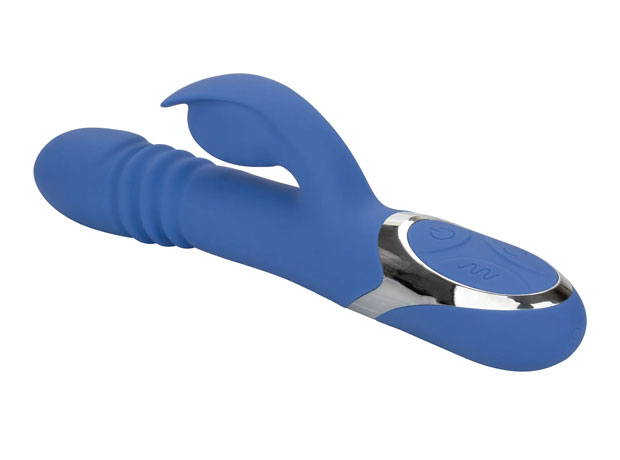 (more photos are available)
The ridges on the smooth and soft silicone body guarantee added joy, and the waterproof design of the vibrator means that you don't have to part with your new sex buddy when taking the shower. The massager is USB rechargeable and takes 2 hours to re-energize before giving you 50-65 minutes of uninterrupted fun.
Most prominent advantages of Enchanted Teaser:
Rotating head for targeted G-spot stimulation.
4 thrust speeds and 12 modes of vibration.
Watertight design for wet fun.
Made of safe and durable soft silicone.
5 inches of insertable length.
USB rechargeable; lasts up to 65 minutes on a single charge.
26. Eve's Perfect Pulsating Massager
Introduce added variety and excitement in your sex life with a new exciting thrusting toy by Adam & Eve. The soft quilt-textured shaft of the Eve's Perfect Pulsating Massager will deliver unique and powerful sensual enjoyment as it moves back and forth inside you on its own.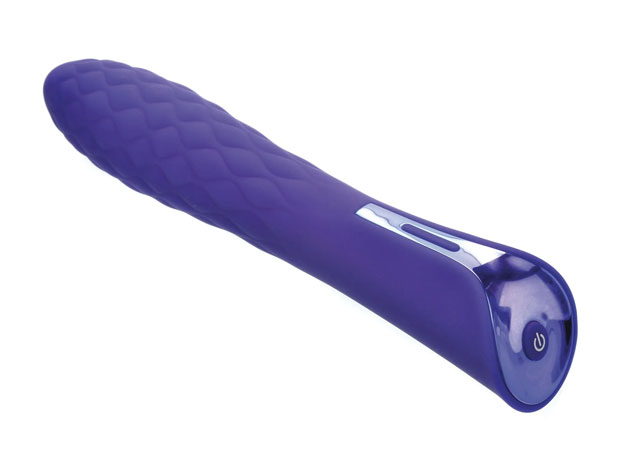 (more photos are available)
This robust and tireless 8-incher with 4.5 inches of insertable length offers a choice of as many as seven different modes and speeds. Test them all to find out which function gives you the most pleasure! If you are in the mood for some clit stimulation, Perfect Pulsating Massager can do a great job of caressing your external sweet spots too!
When inside, the quilted pattern of the vibrator's soft silicone shaft will provide additional stimulation in the right places. Moreover, such a unique texture keeps the lube better, ensuring smooth sliding and eliminating the need to reapply the lube frequently. This self-thrusting sex device is 100% watertight, meaning you can take it with you to the shower and enjoy your most memorable erotic experiences there.
Most prominent advantages of Eve's Perfect Pulsating Massager:
Fabulous quilt-patterned design for additional stimulation.
Seven thrusting speeds and modes to try.
Watertight design.
USB rechargeable; 1 hour of charge time grants you 65 minutes of fun.
27. Inya Revolve
Inya Revolve is the king of deep and all-encompassing stimulation, in and out. The model neatly packs all the best vibration, rotation, and thrusting stimulation functions into one compact but powerful toy. This well-rounded sex device features a bulbous head that pushes and rotates at 3 different speeds, and a pair of buzzing ears outside to make sure your clit doesn't feel abandoned.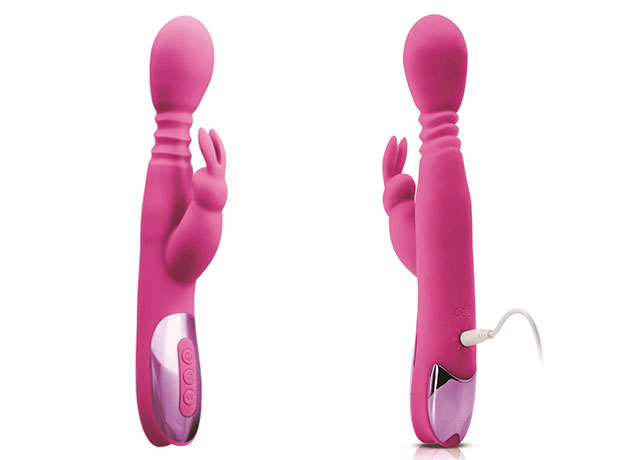 (more photos are available)
Inya Revolve is powered by 3 robust separately controlled motors, each having its own scope of responsibilities. The first is in charge of the head, making sure it thrusts and spins at the speed that is just right for you. The second motor operates the vibrating teaser and regulates its 10 pleasure modes. Finally, the last one is there to warm up the device and provide you with a more natural feel. All in all, the little guy is capable of delivering you as many as 30 unique settings for ultimate joy!
Most prominent advantages of Inya Revolve:
Rotating and thrusting head that heats up at your demand.
3 rotating/thrusting speeds and 10 unique vibration modes.
The sex toy is 10.5 inches long, with 5 inches of insertable length.
USB rechargeable device can last up to 3 hours on a single charge.
28. Thump It Dildo
The Thump It Dildo looks and feels incredibly realistic due to the novel Kinetic technology employed here that ensures the best erotic stimulation you have ever tried! The powerful weighted magnets inside the lifelike shaft produce a robust thumping motion that makes you think the device is thrusting like crazy even when it remains still inside you.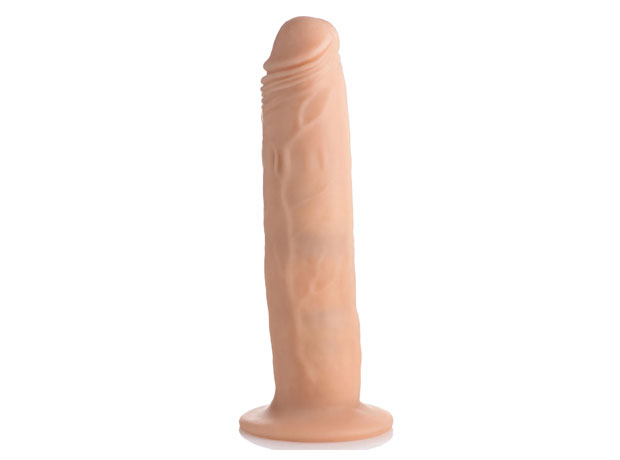 (more photos are available)
The Thump It model is loaded with exciting features and options you will definitely want to try! Its 7 stimulation modes include 3 different speed options and 4 thumping patterns, so finding your dream setting should not be a problem.
Once you know which particular dildo function makes you tick, use the suction cup at the base to attach the device to a flat surface and go give yourself a good time. The remote control will allow you or your partner to quickly switch between the different settings without interrupting the ongoing process. The flared base of the dildo is perfectly compatible with the majority of regular-sized harnesses, which is great if you like some strap-on play.
Most prominent advantages of Thump It Dildo:
A highly realistic thumping dildo with remote control.
7 sensational stimulation modes.
Compatible with most averagely sized harnesses.
Waterproof design for fun-filled bath time.
Can last up to 60 minutes in the most intense mode.
29. Powerful
Whether you are looking for some foreplay aid to spice things up between you and your partner or want a full-time mechanical boyfriend, the Powerful thrusting vibrator with 7.5 inches of insertable length will come in very handy. Its realistically shaped soft silicone shaft with a nicely rounded head and pronounced veins will make you feel like riding a real flesh-and-blood penis.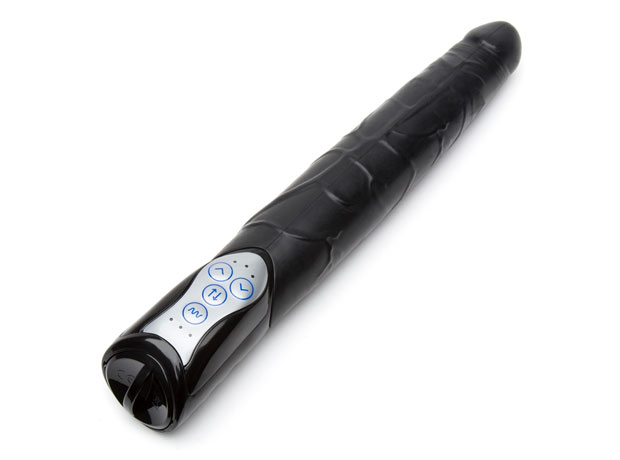 (more photos are available)
With 10 different functions of vibration and thrusting that the device has to offer, you are guaranteed to find a setting combo that will take you to the moon each time. Switch between its three thrusting speeds and seven vibration patterns using the easy-to-handle push buttons at the base of the sex toy. For a more comfortable and smoother ride, don't forget to coat your Powerful friend with some water-based lube.
Most prominent advantages of Powerful:
Sleek and elegant design with realistically bulging veins and a rounded tip.
10 different thrust speed and vibration settings to mix and match for ultimate pleasure.
User-friendly controls.
Suitable for solo fun and couple use.
30. Shegasm Pro-Thruster
Shegasm Pro-Thruster is a luxurious self-thrusting pleasure tool for women seeking comprehensive internal and external stimulation. The vibrator successfully combines two top-notch intimate functions in one compact toy. This love device with 4.5 inches of insertable length and three different speeds will caress and tease your G-spot with well-balanced inch-long thrusts that can be gentle or intense depending on your mood. The rippled surface of the soft shaft will provide an extra thrill, massaging your most tender zones.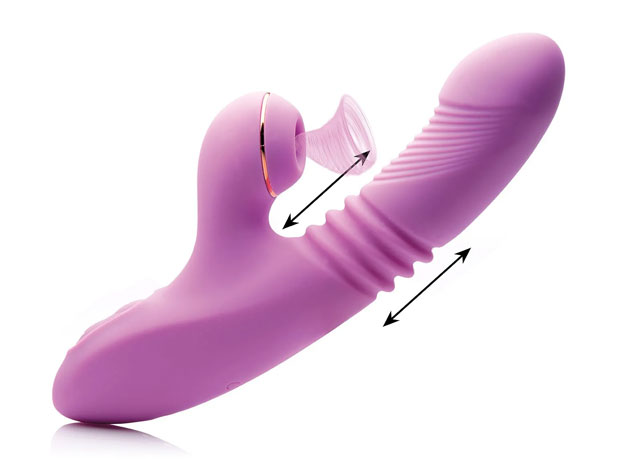 (more photos are available)
While the shaft of this love device is busy working on your G-spot, discover new dimensions of pleasure with the external stimulator. This soft and flexible teaser is designed to work on your clit and produces 7 different patterns of pressurized pulses, imitating the kind of suction sensations you get during oral sex.
This versatile and powerful sex toy is waterproof, so feel free to take it with you to the shower or bathtub for some epic aquatic action. Materials used in Shegasm Pro-Thruster are 100% phthalate-free, hypoallergenic, and durable, meaning you can enjoy the toy safely for many years to come.
Most prominent advantages of Shegasm Pro-Thruster:
3 thrusting settings for delicate or intense G-spot stimulation.
7 powerful suction settings for oral sex imitation.
Ergonomic rippled shaft makes your sensations more realistic.
USB rechargeable device; lasts up to 90 minutes on one full charge.
Waterproof design containing body-safe materials only.
31. Eve's Pulsating Dual Massager
The Pulsating Dual Massager is a phenomenal toy that will help you explore your sexual needs in the most comprehensive way possible. This USB rechargeable massager has seven different functions of pulsation and vibration, all of which are geared towards satisfying your sweetest sexual longings.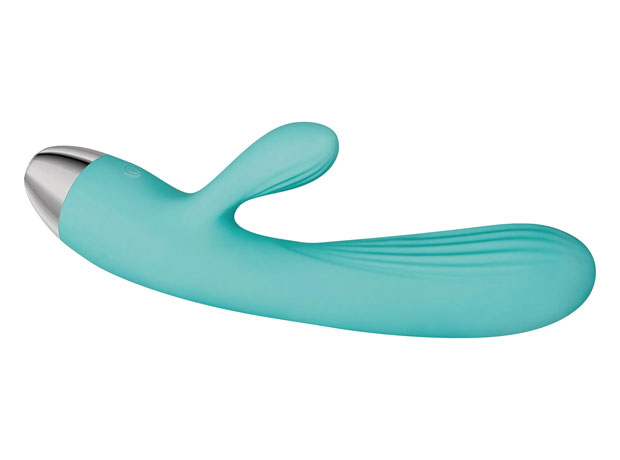 (more photos are available)
Its soft, slightly angled shaft with vertical ridges on one side vibrates and pulsates deliciously, imitating a flesh-and-blood partner thrusting back and forth inside you. The warming function allows the vibrator to heat up to your natural body temperature, making the entire experience even more lifelike. The external teaser works tirelessly on your clit, sending waves of pleasure up and down your spine until your whole body is shaking uncontrollably.
The waterproof design of the massager lets you be as creative in the shower as you want. Moreover, the device is capable of giving you 40 whole minutes of nonstop action after just 2 hours of charging.
Most prominent advantages of Pulsating Dual Massager:
The toy nicely combines pulsating motions of the shaft with exciting clit vibrations.
7 vibration and pulsation functions for utmost satisfaction.
Vertical ridges maximize the sensations.
Enable the warming feature for an extra realistic feel.
Waterproof and rechargeable.
32. Power Pounder
This Power Pounder black joy toy is a versatile USB rechargeable device that provides you with steady and powerful thrusting and vibration action for mind-blowing orgasms. Its big, 2-inch wide silicone shaft with bulging veins and pleasantly rounded tip is slightly angled to imitate the look and feel of a real flesh-and-blood penis. Its ribbed silicone handle offers a handy grip on the toy for safe and comfortable use.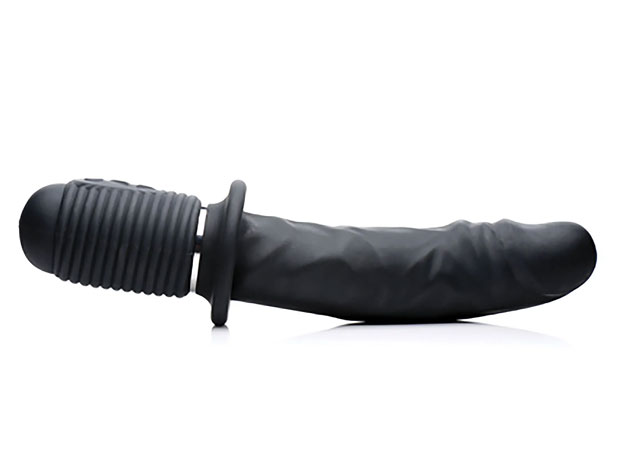 (more photos are available)
Treat your pleasure parts to 7 delicious thrusting speeds and 10 thrilling vibration functions for targeted G-spot-specific stimulation. Power Pounder is built using premium-quality silicone that does not contain phthalates and is completely body-safe. The sex toy is also made to be watertight to ensure that the fun never stops.
On a single full charge, the device should be able to last for around 45 minutes at its top speed. When running on lower settings, the Power Pounder can keep you happy for two whole hours. Note that its 6.75 inches of insertable length and ultra-powerful thrusting action make this vibrator more suitable for advanced sex toy users.
Most prominent advantages of Power Pounder:
Ultra-powerful thrusting motion.
The total of 6.75 inches of insertable length.
7 thrusting speeds and 10 vibration functions.
USB rechargeable; 100% waterproof.
Ergonomic silicone handle ensures tight and steady grip.
33. Thrusting Anal Plug
Thrusting Anal Plug is a 6.25-inch tall and 1-inch wide silicone sex toy that will totally rock your world with its powerful and consistent inch-long thrusts. Choose one of its 3 robust speeds and 6 awesome vibration patterns to give your precious butt a nice pounding.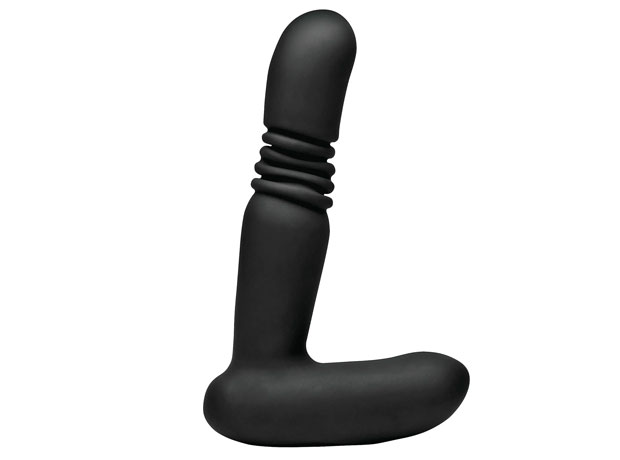 (more photos are available)
Ergonomic design of this thrusting plug and its ridged neck ensure utmost satisfaction with every use. The warming feature built into its prominent rounded head allows the device to heat up to your natural temperature for more comfortable and lifelike sensations.
Controlling the plug is easy with its 3 simple push buttons at the base or a remote that allows turning the device on and off and switching between its many settings from as far as 25 feet away. Made with top-quality, body-safe materials, the Thrusting Anal Plug is fully waterproof for exciting experiments in the bathtub.
Most prominent advantages of Thrusting Anal Plug:
5 inches of insertable length with inch-long thrusts.
Ridged neck for extra-powerful stimulation.
3 speeds and 6 vibe patterns to pick from.
Remote control for hands-free fun.
Warming head for more lifelike sensations.
34. Brutus
Brutus is a 2-shafted sex toy made of durable and body-safe glass. Each end of this glass toy is designed with a specific form of stimulation in mind. Thus, the thicker shaft, which measures at 6.5 inches long and 1.5 inches wide, with its raised veins and lifelike head is best suited for vaginal play – solo or with a partner.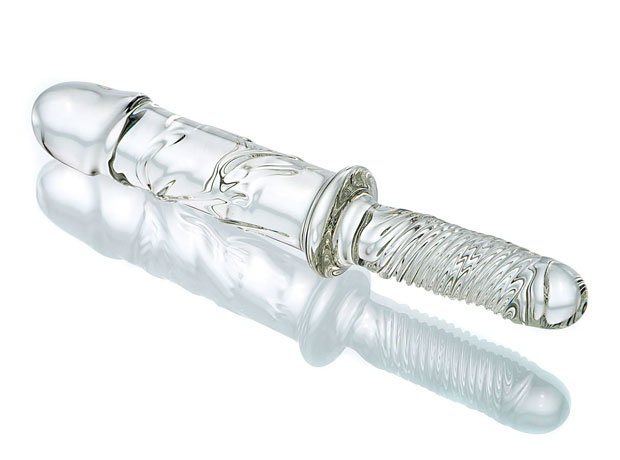 (more photos are available)
The smaller end of the Brutus thruster dildo is perfect for anal play or for when you need to warm up before the main show starts. It is 5-inch long and one-inch wide with riffles that stick out nicely, providing additional stimulation to your sensitive zones.
Entirely made of glass, the toy allows experimenting with temperatures. Warm it up in hot water or cool it down to the needed degree and give yourself or your partner a whole bunch of unique and thrilling sensations. The Brutus dildo can be used with any lube of your choice for a smoother and more comfortable slide.
Most prominent advantages of Brutus:
2 riffled shafts for all types of sex play.
Perfect for experimenting with temperature stimulation.
Durable, hypoallergenic, body-friendly glass.
Suited for anal and vaginal fun.
35. Eve's Deluxe Thruster
Deluxe Thruster is here to make sure your G-spot and clitoris get the best possible care and love. This luxurious and powerful toy will tease your hotspots with its 3 thrusting and twirling speed options, while its extra-long external stimulator is tending to your clit.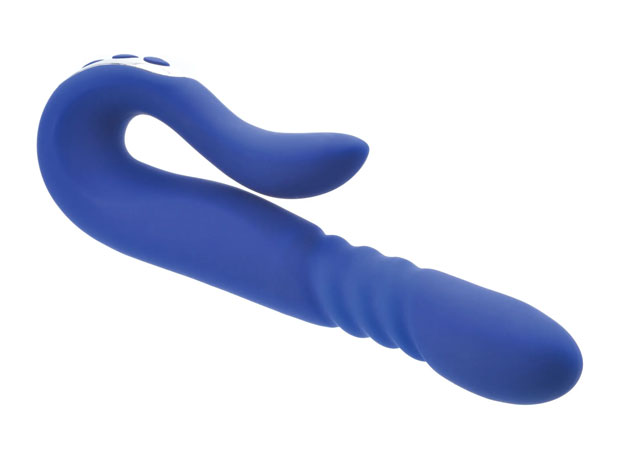 (more photos are available)
The soft and realistic head of the Deluxe Thruster will hit right on your G-spot with tantalizing, half-inch long thrusts, and its riffled neck will stimulate your other sweet inner zones. While the smooth and silky shaft is busy working you from the inside, choose and activate your favorite clit teaser function for all-around stimulation.
The device is super easy to use and is made of ecological, skin-safe materials. It is USB rechargeable, meaning you will not have to stock up on batteries to keep the fun going. Just plug the Deluxe Thruster into any USB port and leave it there for 2.5 hours. On a full charge, the toy will be buzzing you out of your senses for 40 to 120 minutes.
Most prominent advantages of Deluxe Thruster:
A powerful thrusting rabbit vibrator with extra-long clit stimulation part.
Try all of its 3 thrusting speeds and 9 vibration modes.
G-spot-friendly head shape and ridged neck ensure greater satisfaction.
40 to 120 minutes of uninterrupted fun on a full charge.
Easy controls for separately manipulating its 2 motors.
36. Devine Heat Up
Give your sweet G-spot some of the most delightful sensations in the world with this Devine Heat Up
Dynamic thruster. Feel its powerful thrusting action inside you, while the teaser outside is working ceaselessly on your clit area. Toy with this sex device solo or have your partner join the fun!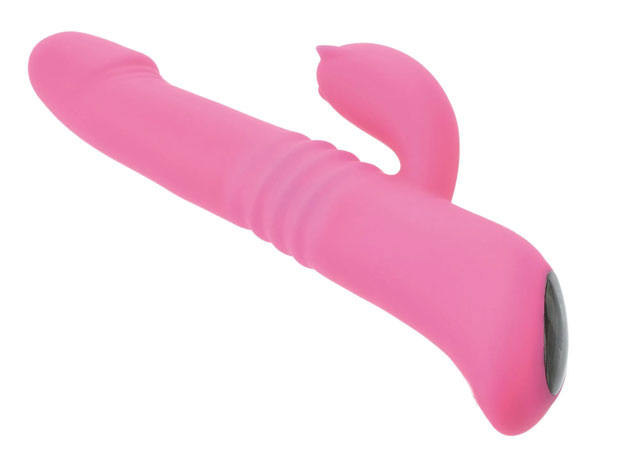 (more photos are available)
The 9-inch long thrusting shaft of the Devine Heat Up vibrator with a bulging head and ridges around the middle is made to please you in every way imaginable. With the 9 thrusting rhythms available here, it'll we easy to choose what makes you scream with joy.
The warming option allows heating the vibrator to your natural body temperature to make it feel like a real flesh-and-blood boner. All functions of the Devine Heat Up vibe can be controlled independently. Turn them on simultaneously for all-encompassing joy or activate just one to give yourself more targeted stimulation.
Most prominent advantages of Devine Heat Up:
A delightful mix of 9 thrusting, vibrating, and warming functions.
Two motors can be controlled individually.
Swollen head makes for a more targeted G-spot stimulation.
USB rechargeable; a single full charge allows for 90 minutes of playtime.
Waterproof.
37. Zalo Sweet
You will not get any vibrations here, as this bullet-shaped sex toy is all about thrusting. The elegant and stylish Zalo Sweet offers 6 superb thrusting modes for relaxed and hands-free fun. The silky shaft made of premium-grade silicone has delicate ridges that stimulate all the right zones inside you and push your sensations through the roof.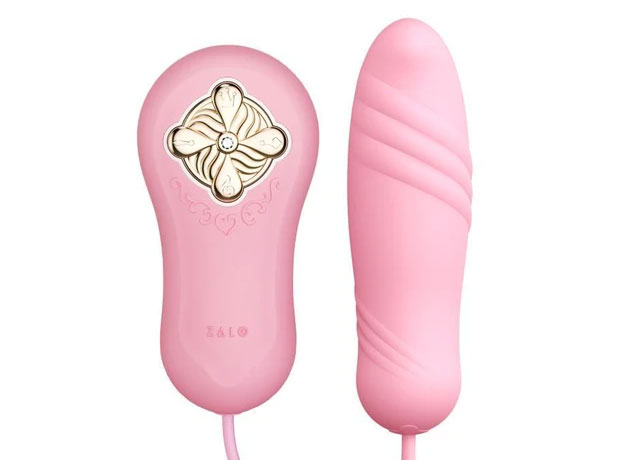 Check Price on PeepShowToys.com
(more photos are available)
The toy has a special mode that allows it to warm up and match your body temperature in just two minutes, making the entire experience even more realistic. Now, it feels like there is a real, throbbing and thrusting penis inside you!
Zalo Sweet is USB rechargeable, so there will be no more battery fuss for you. Made of skin-safe, ecological materials, the toy has a very smooth, lifelike feel to it. The model comes with a decorative luxurious storage tube.
Most prominent advantages of Zalo Sweet:
4-inch long thrusting bullet that boasts sleek design and impressive functionality.
Choose from 6 different thrusting modes.
Silk-soft shaft with delicate ridges for added satisfaction.
The pre-heating option helps warm up the device in under 2 minutes.
USB rechargeable.
38. Jack Rabbit
The Jack Rabbit thrusting vibrator will make a great addition to your collection of beloved sex devices. The vibrator is a very capable and feature-loaded toy that has something unique to offer even to the most versed users. Inside the shaft, there are several rows of stainless steel beads that rotate and thrust at different speeds, providing you with unparalleled sensations.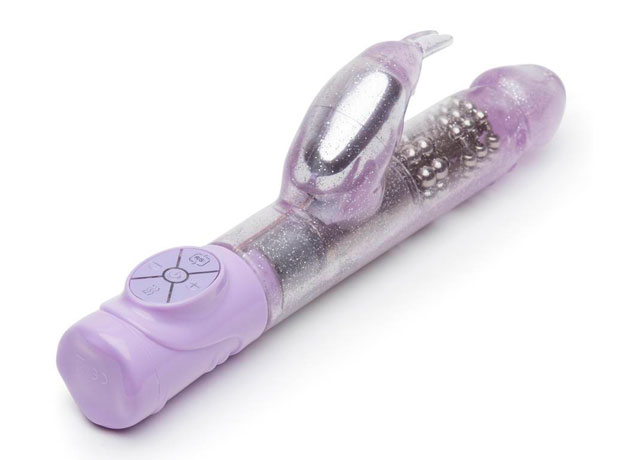 (more photos are available)
The soft and flexible fluttering teaser on the outer side has 10 different vibration modes that will have you shaking and screaming with pleasure in no time. For extra-vigorous internal stimulation, the jelly surface of the shaft is covered with nodules that gently rub against your inner walls as the vibrator moves up and down your vagina.
Intensify your sensations even further by applying enough water-based lube on the shaft before setting it to work. The vibrator is waterproof, so don't forget to grab it when going to the shower.
Most prominent advantages of Jack Rabbit:
10 exhilarating vibration and thrusting functions.
Thrusting soft shaft with several rows of rotating steel beads.
Nodules on the jelly surface make the sensations more powerful.
Buzzing soft rabbit ears on the outside ensure proper clit stimulation.
Easy to use and water-friendly.
39. Jack Rabbit Petite
This Jack Rabbit's younger brother knows a thing or two about how to make a woman happy and satisfied. Despite its compact size that makes Jack Rabbit Petite a dream travel companion, this sex toy can offer an impressive range of cool features for internal and external fun.
Its 5-inch long shaft made of the soft jelly material with tiny nodules for extra stimulation thrusts and rotates inside you at 3 varying speeds, teasing, pumping, and massaging your sweetest spots. At the same time, the bunny ears outside work at 4 different vibration settings, taking good care of your clitoris.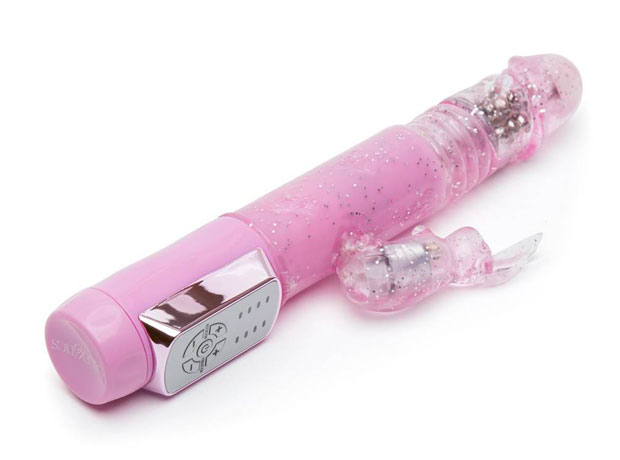 (more photos are available)
The shaft and the ears of the Jack Rabbit Petite vibrator have separate controls so you can tailor the experience to your immediate needs. Because of its petite size, the product will be an excellent pick for people who are new to toying and prefer to start small. It is recommended that you apply some water-based lubricant on the shaft before the sex play begins.
Most prominent advantages of Jack Rabbit Petite:
Compact size, perfect for beginners.
Dual stimulation with its thrusting shaft and flickering teaser ears.
External teaser with 4 vibration settings.
Nodulous soft shaft operates at 3 different speeds.
40. Endless Pleasure
The Endless Pleasure thrusting vibrator is a novel sex toy that closely imitates real sex by combining powerful back-and-forth thrusting motions with actual gyration. The soft jelly penis-shaped shaft has a rippled texture that will stimulate your internal hot zones and give extra-powerful sensations.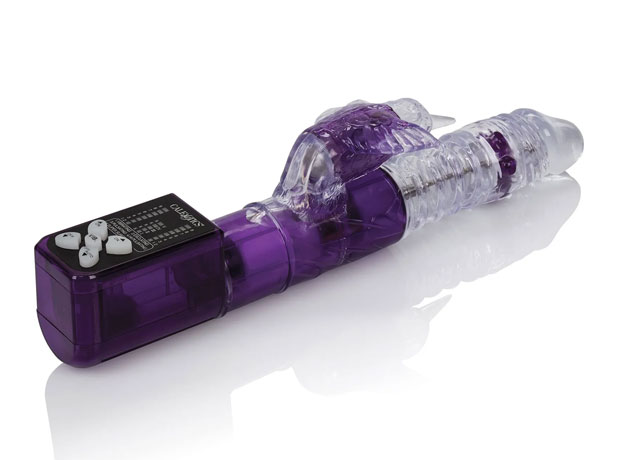 (more photos are available)
The colibri teaser on the outside caresses and pleases your clitoral area, pushing you over the edge with each new touch. Both the swirling and thrusting shaft and the buzzing teaser can operate at 8 different speeds along with 3 modes of pulsation and vibration. Choose settings that you like best, mix them as you wish, and get a truly unique sex toy experience tailored to your individual needs.
As the shaft moves in and out, the set of whirling beads under the ridged neck intensifies your pleasure from the gyration motion. The Endless Pleasure model is a highly advanced device best suited for more experienced sex toy users that are comfortable with its longer-than-average shaft and super-powerful set of pleasure frills.
Most prominent advantages of Endless Pleasure:
Soft silicone shaft produces powerful thrusting and gyrating motions.
Swirling beads and the external colibri-shaped teaser provide additional stimulation.
3 vibration functions and 8 speeds give plenty of space for creativity.
Uses soft jelly materials that are very flexible.
Thrusting Sex Toys Comparison Features
In this section of our review, we will try to comprehensively answer some of the most essential and frequently asked questions about how to choose, use, and look after you thrusting sex toy to make sure it serves you long and gives you all the satisfaction you deserve.
Are you just thinking of buying your first thrusting pleasure device and want expert advice on how to pick the right one? You are sure to find this guide helpful.
What is a thrusting vibrator?
Thrusting vibrators are a type of self-moving sex toy that has come the closest to imitating the look and the feel of a real, flesh-and-blood penis. Of all masturbation products, these devices are the most capable of reproducing the thrusting, pulsating, and suction sensations you experience when having vaginal, anal, or oral sex with a live partner.
Thrusting vibrators can be made specifically for men or women, or they can be unisex toys used by both partners, separately or together. Depending on the person's level of experience, these thrusting sex assistants can have an impressive scope of features geared towards stimulating different internal and external hotspots.
Some target your G-spot or P-spot, while others are designed to massage deeper erogenous zones. There are toys that focus on external stimulation of the clit and those that combine all of the said functions. Compared to classic vibrators, these toys provide a much more realistic feel of extra-deep, super-intense penetration with powerful thumping and pulsating motions.
Types of Thrusting Vibrators
Thrusting vibrators tend to come in a variety of shapes, sizes, and forms. With regard to the kind of stimulation they provide, these toys can be divided into four main groups: external, internal, combo, and anal.
External thrusting vibrators
External vibrators are used on the clitoris and labia to imitate the kind of sensations you usually get from oral sex. Toys like this are suitable for people who either don't want any vaginal/anal penetration or need additional clit stimulation during such penetration. Their looks can vary greatly, depending on how much surface you wish to cover with the toy and which functions it is equipped to perform.
Internal thrusting vibrators
These toys are meant to work inside your vagina, massaging its erogenous zones and stimulating your G-spot. Typically, they have a more or less realistic cylinder-shaped shaft with a rounded head at the top. Some also have a scrotum, pronounced veins, riffles, and ridges to give your sensitive zones more stimulation. Many thrusting vibrators for internal use come slightly angled – either at the top or with their entire shaft – to be able to reach and massage your G-spot.
Commonly called rabbit thrusting vibrators because of their distinctive shape, these sex devices are designed for simultaneous stimulation of your internal and external erogenous zones. Combo vibrators look like regular dildos with an arm, which remains outside to stimulate the clitoral area, while the main shaft is working busily inside.
Unlike regular internal thrusting vibrators and dildos, sex devices for anal play are usually slightly shorter and sturdier. They come attached to a base that adds stability during use and prevents the toy from sucking in or getting stuck. These toys can also have different attachments and textures that enhance the user's sensations.
How to Choose The Best Thrusting Vibrator?
Which thrusting sex device will be best for you depends entirely and exclusively on your needs, preferences, ultimate goals, and budget. Some users say the bigger the vibrator is, the better. Others assure that it is not the size that matters, but the number of different functions it has and how well it performs them. One thing is for sure – with such a large variety of products to choose from, there is a perfect toy for everyone.
To be confident that your new sex toy will not disappoint you upon unpacking and first use, take your time and do proper research. Compare all the different options presented on the market before you take out your credit card.
Don't rely solely on the description provided by the manufacturer or seller. Read specialized forums to learn what other users have to say about this particular product. Also, remember that most videos by YouTube bloggers are sponsored by manufacturers, which makes them an unreliable source of information.
Carefully evaluate your individual needs to know which size and type of vibrator you should look for. Always factor in the following crucial aspects: the planned frequency of use, the level of experience you have with similar toys, your preferred stimulation type, whether or not you will share the toy with your partner, etc. Beginners will be better off with a smaller-size throbbing bullet, while advanced users can experiment with thrusting dildos of up to 8 inches in length.
Which Material Is The Best?
The material of your future thrusting vibrator is another crucial factor to consider. Make wrong choice, and the toy will give you much discomfort and can even cause an allergic reaction. Moreover, products that use low-quality materials are much more susceptible to damage. They tend to bend, break, crack, and deform very soon despite all your best maintenance efforts.
The most common materials used in thrusting vibrators from reputed manufacturers are plastic, silicone, TPE, and glass. They all have their advantages and downsides, so choosing one should again depend on your personal preferences.
Plastic is usually less demanding in terms of cleaning and sanitation. It becomes very smooth when lube is applied to it. Plastic thrusting toys will be a great pick for beginners because of their easy insertion and soft texture.
Silicone is favored by many because of the realistic feel such toys have. The material is soft, flexible, and very durable. Often, silicone devices are made to be waterproof, which means you can have fun with them in the bath or shower.
TPE is something in between plastic and rubber. Combining the properties of both, TPE can easily be made very soft or hardened to the point where it feels almost like rigid plastic. TPE vibrators are usually smooth and flexible, boasting an adequate degree of elasticity.
Glass vibrators are rising in popularity now. These toys are hard, slick, and heavy. They are super-easy to look after and allow for an unparalleled temperature variety.
There are also materials that you must avoid by all means, as they can pose real danger to your health. They primarily include materials that contain phthalates. This highly toxic chemical can cause cancer, infertility, and other severe health complications.
Also, try to avoid buying vibrators made of jelly-like materials. Porous in nature, jelly toys easily trap dirt, dust, and bacteria. Once these find their way inside the toy, little can be done to remove them. Using such vibrators without a condom may lead to yeast, bacterial vaginitis, and other infections. Moreover, these products often have an unpleasant rubber smell, and almost all of them contain phthalates.
How to Use a Thrusting Sex Toy?
Most thrusting vibrators and toys today are designed to be very intuitive and user-friendly. Using them requires minimum experience and preparation. The best way to learn how to use a particular thrusting device is, of course, to read the manual provided by the manufacturer. There, you can also find helpful suggestions on sex positions and accessories that you may enjoy most.
Always make sure that your favorite thrusting toy is clean, dry, and sufficiently charged before you start playing with it. If it is a battery-powered device, check that the batteries are in perfect condition and work stably. Apply proper lubricant to make the experience even more enjoyable.
First, insert your vibrator without switching it on. Try thrusting it in and out manually at different angles to find out which positions work for you and which don't. If it's your very first sex toy, you'll want to start on the lowest possible settings until you are sure the device feels comfortable and is not causing any painful or unpleasant sensations.
Proper Maintenance and Care
Taking good care of your beloved thrusting vibrator and cleaning it after each use is not too hard or time-consuming, but is an essential thing to do if you want the sex toy to last longer and bring tons of pleasure rather than discomfort or health problems.
Take a look at this list of helpful sex toy care tips that will make sure your buzzy friend is in the top-notch shape the next time you are feeling playful and in need of some private time.
Always clean your thrusting vibrator or dildo
Cleaning your sexy plastic friend after each one-on-one session is the simplest and most effective way to prolong its service life and avoid unnecessary complications for your health in the future. Even though it seems like an obvious thing, the statistics shows that a lot of people neglect to do it on a regular basis.
Bacterial vaginosis, yeast, or a sexually transmitted disease do not sound like much fun, so we suggest that you make it your good habit to take your toy with you when heading to the bathroom for a quick wash-up after a passionate session of self-loving.
All you need to keep your vibrator in a tip-top condition is some warm water, a special antibacterial solution, and a clean cloth. Don't use hand sanitizers, as alcohol contained there is too harsh for silicone and plastic. Neither should you rely on regular soap to kill all the bacteria. The best thing to do is to treat it with a special toy cleaner suggested by the manufacturer. It is usually safe for the vibrator materials and is efficient in removing all the funky stuff found on the toy.
Rinse the vibrator with warm water first and then spray a sufficient amount of cleaner on it.
Leave the disinfecting solution to work for around half a minute before you start cleaning the toy.
After you have thoroughly cleaned every part of the toy, rinse it with warm water again.
Wipe the toy dry with a clean towel.
Note that not all thrusting vibrators and dildos are not watertight, so they should never be submerged, however briefly. Just pour some toy cleaner into water, then soak a clean cloth in it. Don't forget to wring the fabric properly before using it on the toy. Gently rub the toy with another cloth soaked in clean warm water, then wipe it dry.
The method you choose to clean your vibrator or dildo depends on the materials it is made of. Thus, toys made of silicone, stainless steel, or boron glass are non-porous, so you can safely submerge them in water to clean. Jelly, TPE, and latex toys, on the other hand, have a porous texture and require a gentler cleaning and a much more meticulous drying.
Pay attention that different toys have varying cleaning demands, so always check with the manufacturer's instructions before you choose cleaning materials to avoid damaging the product in some way.
Inspect your toys for damage routinely
No sex toys, however premium, are protected against damage, especially if you are a heavy user. Even a light rip, a minor crack, or a tiny splinter might become a cause of pain and traumas. Check your toy for any visible damage every few weeks to make sure nothing stands between you and your orgasms.
Pick the right lube
If chosen incorrectly, some lubricants can damage your favorite vibrating toy and spoil your sensations dramatically. The majority of oil-based lubes have a degrading effect on silicone sex toys, while silicone-based lubricants can harm "real-skin" vibrators. The good news is that water-based lubrication products are widely approved for use with almost any type of toys and are completely safe for both the user and the buzzer.
Store your sex device properly
Keeping your mechanical buddy tucked under your bed and out of sight is not necessarily the best option. The soft silicone material, which many of these vibrators are made of, easily gathers dust, dirt, and grease that are bad for you and the toy.
A proper way to store the device would be to put it into a box and place it somewhere away from moisture, heat, and direct sunlight. Also, do not forget to remove the batteries if you are not planning to use the toy for some time. It will help prevent leakage and corrosion. Do not store all your sex devices in the same box as certain materials can interreact unsafely.
Tips and Tricks
Finding the right thrusting sex toy is not as complicated as it seems, especially if you carefully read and follow all the instructions presented in this buying guide. Among the 40 different models of vibrators, pulsators, and dildos reviewed here, there is sure to be the one that will meet all your expectations and make you happy to the fullest.
Learning how to make the absolute most out of your play with a vibrator is going to take some time. By practicing regularly, you will eventually come to understand how to get the toy to do what you want it to do. Here are a few simple but practical tips and tricks that will help make each use of the toy a pleasure worth living for:
Always use it with lube
Abundant natural lubrication is a dream. Getting nicely wet for sex is especially difficult if there is no real partner around, and you have to do all the work yourself. To avoid any unpleasant sensations during the insertion or in the heat of the ride, always apply a sufficient amount of water-based lube on the toy before use.
Try all the settings available
You wouldn't want to miss out on any of the fun that your new sex toy can offer. Start small if you are new to this or are concerned about the size and intensity. As you get more comfortable with the toy, try a different vibration pattern or increase the thrusting speed for more breathtaking sensations. Even if you already know which function turns you on the fastest, experimenting with the other settings may be an eye-opening experience.
Add other toys too
Depending on how versatile your thrusting device is, you may choose to complement your play with other sex toys as well. Using an anal plug or a nipple stimulator will make the entire thing much more exciting and your orgasms brighter than the sun. Mind that manipulating a few sex devices at a time may be challenging if you are not an advanced user, so consider asking your partner to assist. It can be so much fun for both of you!
Set the right mood
Creating the right atmosphere for sex is important not only when you are with a real partner. With the lights dimmed, candles lit, and music playing, you are likely to feel much more relaxed and comfortable, exploring all the different ways to satisfy your sexual needs.
No rush
The best thing about owning a thrusting vibrator is that it always plays by your rules. This magnificent sex toy is prepared to work as hard as it takes to send you to the moon, or give you as much time as you need to loosen up and fully embrace the new experience. If it is too overwhelming for you at first, just put the vibrator aside and go about your business until you are ready to try again. No feelings will be hurt, we promise!
Try deep thrusting and G-spot stimulation
No woman should go through life without experiencing a mind-numbing G-spot orgasm at least once. Alas, such a healthy and satisfying thing is not always possible when you are with a real partner. The sex toy industry today seems to be well aware of a modern woman's needs and offers a wide range of devices built to target your sweetest internal spots. If you want to know what heavens look like, make sure the adult thrusting toy you choose is capable of deep massaging and intense G-spot stimulation.
Do not get discouraged if your very first thrusting sex toy does not live up to your expectations. Keep looking and experimenting, and you are guaranteed to find the one that will make you truly, madly, unconditionally happy.
Final Thoughts
Thrusting sex toys are an excellent thing to have if you need a quick and sure way to customize your sexual experiences to your individual needs and likings. These little guys can work tirelessly for hours, while you lay back and enjoy. With a wide array of thrilling functions that these toys have, such as rotation, vibration, pulsation, escalation, thrusting, clit suction, and G-spot massaging, you are guaranteed the most splendid pastime!
If you are currently without a partner, thrusting vibrators and dildos will provide you with a worthy alternative. Not only do they look and feel real with all those bulging veins, rounded tips, soft textures, and self-warming abilities. They are also capable of imitating the lifelike thrusting, pulsating, and sucking motions that you experience during actual sexual intercourse.
Moreover, you can regulate most functions with a simple push of a button and change the settings such as speed, intensity, and pattern as often as you like until you strike the right balance. It is also important to mention that today's sex devices are made to be completely body-safe, easy-to-operate, travel-friendly, and waterproof so that you can enjoy their company as you like and when you like.
All in all, there are many good reasons why you should own a thrusting vibrator. We hope that our detailed guide will help you make an enjoyable purchase to bring you a lifetime of joy and satisfaction.